Maltipoos are friendly, intelligent, and adorable, and can quickly win the hearts of many pet parents. Having a dog that can adapt to a big or small household and loves to play fetch as much as it loves to snuggle on your lap, it is no wonder that so many people are eager to adopt these adorable pups.
So, it's no surprise that we have a list of the best Maltipoo breeders in Wisconsin for you. But potential dog owners need to make several decisions before bringing a dog home.
Some articles you may like: 5 Best Cavapoo Breeders In Wisconsin and 5 Best Aussiedoodle Breeders In Wisconsin!
Maltipoo Puppies In Wisconsin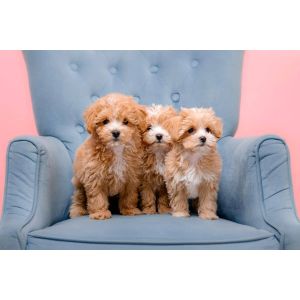 The first thing they should do is search for the right breeder. The importance of finding the right breeder cannot be overemphasized, as it would determine the quality and health of your puppy. Some pet parents buy unhealthy puppies from irresponsible breeders to cut corners. This can lead to severe issues in the future and the pet owners end up frustrated.
If you have chosen to add a Maltipoo puppy to your family, make sure to get all the health certificates from the breeder. Maltipoos are family-friendly, hypoallergenic, affectionate, and easily trainable companions but only when they get the right environment from a young age.
Experience is one of the vital things you should consider when looking for a breeder. Breeders relatively new in the space have a lot to learn, and they tend to learn with their puppies. The last thing you want is to go home with a puppy from a learner.
That is why we have conducted thorough research and curated a list of the best Maltipoo Breeders in Wisconsin. We carefully selected highly reputable breeders that raise healthy, quality puppies and provide lifetime support. Read on to find out more about the best places to buy Maltipoos in Wisconsin.
Check out for more: Best Maltipoo Breeders in Arizona and Best Cockapoo Breeders in Michigan
1. Simply Sweet Puppies
Consider those who have been in the industry for several years and have a lot of experience in breeding and raising quality puppies. Hence, we have selected the most experienced breeders in the industry for you. Simple Sweet Puppies is a highly experienced Maltipoo breeder in the state and takes pride to be the well-known breeder among the community.
Simple Sweet Puppies is a family-owned business, and they do what they love – breeding and raising puppies. The family's goal is to provide dog lovers with healthy, happy, and well-socialized puppies. They are focused on providing families with the most pleasant puppy-buying experience possible and treating them as they would like to be treated.
Besides Maltipoos, Simply Sweet Puppies also raises other designer dogs, including Poodles, Parti Yorkies, Yorkshire Terriers, Shihpoos, and Morkies. Also, the breeder prepares the puppies emotionally and physically for the transition to their new homes.
In order for their puppies to blend seamlessly into their new homes, they housebreak them for some time. The housebreaking process includes crate, potty, and behavioral training. SSP ensures the puppies are conversant with different sounds from cars, TVs, home appliances, and the environment before sending them home.
The puppies from this breeder are well-mannered and easy to train, thanks to the breeder's additional efforts. Simply Sweet Puppies also focuses on the health of their pups. All their babies receive age-appropriate vaccinations, including breeding dogs. The puppies also get dewormed every two weeks until they leave for their forever homes.
The breeder ensures the pups are vet-checked before leaving for their new family. All the pups from this breeder come with a one-year limited health guarantee to protect against unforeseen health conditions.
SSP does more than just breed and raise the pups; they also help other small breeders to climb up the ladder. They help other small family breeders advertise and sell their puppies.
However, they conduct extensive research and testing before selling puppies from other breeders, as their integrity is at stake. This family's puppies sell out fast, so you have to reach out to them in time to reserve your fur baby. However, a deposit is required to validate the reservation.
Maltipoo Breeder Information:
2. Wisconsin Puppy Patch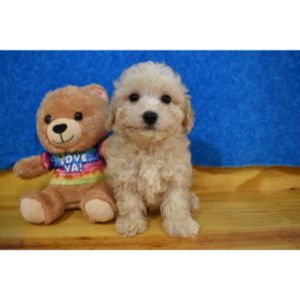 We scrutinized many breeders in Wisconsin while finding the right one for you. Fortunately, Wisconsin Puppy Patch emerged as one of the best after matching it against our strict criteria. LeRoy Fhlug is the owner and manager of this breeding program, and he has been raising animals since he was a kid.
Fhlug grew up on a family farm in Chilton, WI, and raised beef cattle for a few years. He has been a dog lover right from childhood and owned two Bichons early on. He eventually ventured into the breeding space out of a love for dogs. Fhlug derives joy in raising and providing happy, healthy puppies for families to adopt.
One of the major focus areas of Fhlug's breeding program is temperament, as he strives to produce even temperamental dogs. To ensure the puppies have the desired temperament, Fhlug only breeds dogs with certain traits. In addition to assessing its breeding dogs' temperament, this breeder also checks for health.
He tests the dogs for several health conditions, especially those associated with the breeds it produces. Another reason we like this breeder is its great effort to ensure the puppies are kid-friendly and suitable for various families.
Fhlug runs the puppies through several training programs. He teaches them how to use the crate, where to potty, how to climb stairs, basic dog commands, etc. The puppies are socialized in all ramifications, ensuring you do not go through a lot of stress while raising them.
Fhlug takes great care to maintain a safe, loving, and clean environment for its puppies and dogs, ensuring they are always safe and free from diseases.
He also pays close attention to who adopts his puppies. You need to answer some essential questions for the breeder to determine if you are a great fit for their puppies.
Wisconsin Puppy Patch is a licensed breeder focused on small dog breeds. They produce Maltipoos and other small breeds, including Yorkipoos, Cavachons, Morkies, Aussiedoodles, Goldendoodles, and more.
Maltipoo Breeder Information:
3. The Puppy Patch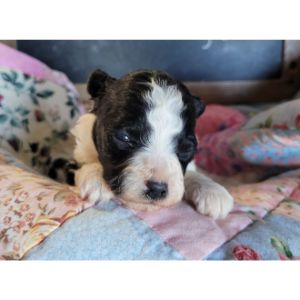 The Puppy Patch is one of the friendliest breeders in Wisconsin. This breeding program is owned and operated by Patti. Patti loves making new friends and sharing her passion for dogs.
She values every customer and creates long-lasting relationships, even years after the sales. Patti is a mom, grandma, and great-grandma with a lot of love to give. She has been breeding and raising wonderful companions since 1989 and contains over three decades of experience.
This breeder loves kids, gardening, and animals. She finds great joy in nurturing animals and watching them grow. Patti is very good with dogs, and she placed hundreds of beautifully raised puppies in many homes over the decades.
Her breeding philosophy has always been to produce puppies of sound genetics and gentle temperaments. She aims to provide dog lovers with puppies that will enrich their lives and fill their homes with joy for many years to come.
You will enjoy the great company of this breeder's dogs for years without any genetic health issues, thanks to her standard breeding process. She tests her sires and dams for various genetic problems before breeding. In addition to being cuddly and cute, Patti's puppies are guaranteed to be sound and healthy.
Patti is committed to serving her customers, and she stands behind her puppies for life. She provides her pups with the best care via premium food, daily contact & affection, and a sound healthcare regimen.
Also, she ensures the puppies are up-to-date on vaccines and other medication before leaving for their homes. Patti's puppies are well-socialized, making them suitable for homes with kids and other pets.
Maltipoo Breeder Information:
4. Top of the Ridge Kennel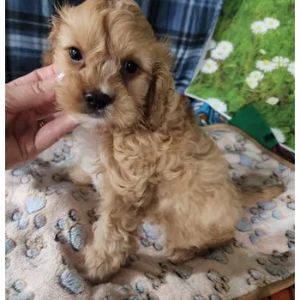 Top of the Ridge Kennel is a very caring, experienced, and reputable family breeder. This breeding program is 100 percent legit, licensed, and functional. The farm is located in Kendall, WI, but they ship puppies to various parts of the state.
Top of the Ridge Kennel has a clean, secure, and well-maintained facility for raising its puppies. They take great care of their puppies, ensuring they are always in perfect health and shape.
The family ensures all its puppies are fully vet-checked with up-to-date shots and vaccines. They also aim to make the process of buying puppies easy by offering doorstep deliveries. Hence, you do not have to leave the comfort of your home to buy a puppy from this breeder.
This breeder allows visits to its kennel; you can stop by to see your puppy and spend some with them. However, visits are not allowed until the puppies take four sets of shots. Also, the breeder does not release its puppies until they are eight weeks old.
Maltipoo Breeder Information:
Conclusion For Best Maltipoo Breeders In Wisconsin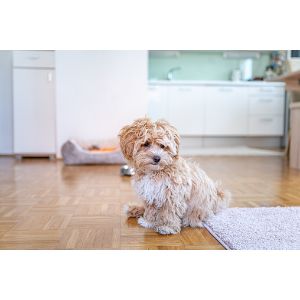 The demand for Maltipoos has surged in recent years because of their loyal and affectionate nature. These dogs are friendly, playful, easy to train, and make great family pets.
However, they are also demanding, as they do not like to be left alone for a long time. There are some health issues with Maltipoos, but the best breeders in Wisconsin know how to prevent them and provide lifetime support to their customers.
You will also like: