Are you having a tough time finding Aussiedoodle breeders in New Jersey? You've come to the right place! A cross between an Australian Shepherd and a Poodle, an Aussiedoodle is an adorable Doodle that you will come to love. It is a combination of the two most intelligent purebred dogs. You simply cannot go wrong when you adopt this beautiful and dynamic hybrid.
When on the lookout for a designer breed, the Aussiedoodle should be on the top of your mind. It is purposefully bred and is known for its charming looks. An Aussiedoodle can learn to manipulate extra treats, sneak food from your refrigerator, and open doors.
To keep the Aussiedoodle happy and well-behaved, you have to ensure that it always has something to do. Exercise is recommended along with an ever-changing training regimen that focuses on different areas.
If you want to make sure that you bring home the best Aussiedoodle, it is crucial that you choose the best breeder. Luckily, we have created the ultimate post just for you. It takes a close look at the top Aussiedoodle breeders in New Jersey.
So, what are you waiting for? Let's dive right in.
Other articles you may like: 4 Best Bernedoodle Breeders in New Jersey! and Common Animal Breeding Terminology!
1. Sunny Dae Golden Doodles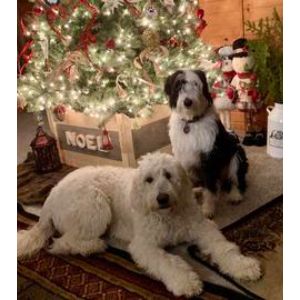 One of the best Aussiedoodle breeders in New Jersey is Sunny Dae Golden Doodles. It is committed to breeding some of the most beautiful Doodles out there. You can rely on the breed to find a gentle, loving, and well-tempered dog.
When you get a pup from Sunny Dae, you can expect it to become your companion for life. Each Aussiedoodle that is available for adoption has a great personality. As it is a licensed breeder, it follows the highest breeding standards. Hence, you have nothing to worry about.
As the puppies are raised in the stunning Appalachian Region, New Jersey residents just need to drive for a few hours to reach the breeder. Socialization is encouraged by the breeder so that each pup has no trouble adjusting to a new home.
Only the best food is provided to the puppies so that they have all the nutrients needed to grow into healthy adult dogs. The Aussiedoodle you decide to adopt will receive a combination of vaccinations from the 5th to the 8th week and would be dewormed.
Once the dog of your choice is 8 weeks old, you should be able to take it home. Sunny Dae would also provide a health certificate along with the registration papers.
Aussiedoodle Breeder Information:
2. Emma's Hope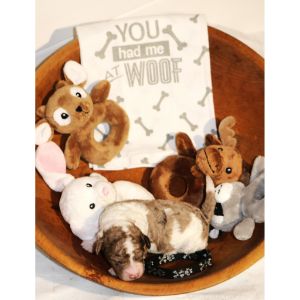 The next breeder that has some of the best Aussiedoodle puppies in New Jersey is Emma's Hope. The dogs that are available have been bred by health-tested, and DNA screened dams and sires. The breeder only offers a few litters every year as it is not a kennel.
Only the most adorable mini and Moyen size Aussiedoodles are available that you will want to carry with you wherever you go. The dogs are treated as family members and get to live at the breeder's home.
Emma's Hope decided to breed Aussiedoodles after conducting extensive research and is committed to raising the top-of-the-line Doodles. Having an extensive experience in the field ensures that you have nothing to worry about.
The pup you decide to adopt will be socialized when you adopt it as soon as it reaches 8 weeks of age. The breeder encourages play by providing countless opportunities. There is even a dedicated play area where puppies can go up and down ramps.
A great thing about Emma's Hope is that it provides potty-trained puppies that make your life a whole lot easier. It also uses early neurological stimulation techniques to raise healthy Aussiedoodles. If your puppy application is successful and you manage to adopt a dog, you will also get a 2-year health guarantee.
Aussiedoodle Breeder Information:
3. Sterling Brook Doodles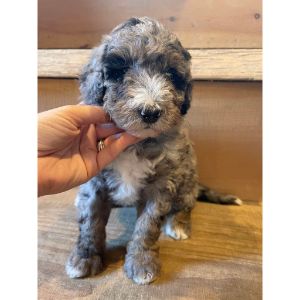 Another breeder that offers Aussiedoodle puppies for sale in New Jersey is Sterling Brook Doodles. Each dog is given a healthy and happy start in life. The breeder focuses on quality rather than quantity. It raises the Doodles with love and care.
New litters get to spend time with kids and develop social skills. If any of the pups gets ill, it receives medical treatment. Other dogs available include Bernedoodles and Goldendoodles. The breeder will pair you with the pup of your dreams. In fact, it takes note of your requirements and the puppy's personality and temperament for the best pairing.
Since Sterling Brook Doodles is a family-run breeder, it follows the highest standards of care. With over a decade of experience, it has offered premium puppies to interested pet parents. Nothing is more important for the breeder than the health and happiness of its pups.
Dog adopters will receive a health guarantee along with vaccination worming records. If you are ready to bring home a Doodle, the breeder has got you covered. All you have to do is submit your puppy application to start the adoption process.
Aussiedoodle Breeder Information:
4. Prosperity Pups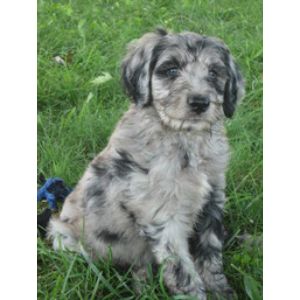 Prosperity Pups is a well-known Aussiedoodle breeder that residents of New Jersey can visit to find the perfect puppy for their home. Having extensive experience raising dogs, it goes out of its way to raise loyal and loving Doodles.
Having provided Mini Aussies for more than a decade, the breeder will discuss your options with you so that you are able to decide which puppy to bring home.
To show your interest in bringing home a Doodle, all you have to do is reach out to Prosperity Pups. It will take care of everything for you.
Aussiedoodle Breeder Information:
5. Drew's Aussies & Doodles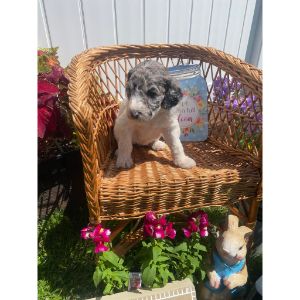 Drew's Aussies & Doodles is a family-run breeder that raises Aussiedoodles on a farm with ducks, chickens, cats, and kids. From the moment a dog is born, it is showered with love and attention.
As both the parents of each pup have been genetically tested, you can expect to bring home a healthy pet. The dogs come with a puppy pack that has a toy, a blanket, and current vaccination records. Offering lifetime support, the breeder will put you at ease.
Generally, the Aussiedoodles that are available have blue merle, red merle, phantom, and tuxedo colors. As the breeder has a litter, you just need to show your interest to be placed on the waitlist.
Once the Aussiedoodle is old enough, you should be able to meet with the puppy in person. The breeder regularly shares videos and pictures so that you can decide which one to bring home.
Aussiedoodle Breeder Information:
6. Puppy Spot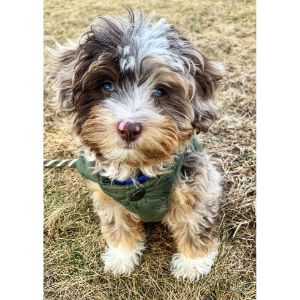 Last on the list of Aussiedoodle breeders in New Jersey is Puppy Spot. It is a popular platform that residents of New Jersey can use to find a healthy and happy Aussiedoodle as well as any other breed. As it is a community, you can rely on it to connect with a responsible breeder.
The platform ensures that only the best breeders are able to connect with interested dog lovers. It goes out of its way to improve the life of every puppy it raises. Having placed thousands of puppies, you will find the platform to be useful.
Forget about experiencing any search headaches as Puppy Spot takes care of everything. It provides private travel options as well so that you can have a puppy shipped to your desired address. You will also appreciate the fact that a 10-year health commitment is offered.
Aussiedoodle Breeder Information:
Conclusion For Aussiedoodle Breeders In New Jersey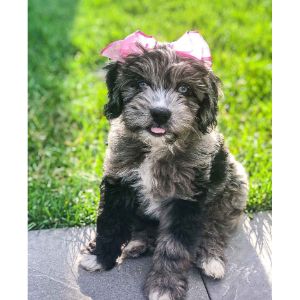 Aussiedoodles are hypoallergenic dogs that every sensitive dog lover can bring into his or her home. Even if you do not suffer from any allergy, you will find it to be a great option, especially if you get a second or even third-generation Aussiedoodle.
Adventurous and hands-on dog owners will find the Aussiedoodle to be the perfect pet. As it tends to be highly intelligent, there is nothing that you cannot teach it. Make sure that you choose a reputable breeder to avoid any inconvenience. It is the only way that you can stay on the safe side.
Even though there might not be a breeder for Aussiedoodles in New Jersey, you still have the option to get the pup of your choice shipped to your address.
You will also like: