A Labradoodle is an adorable mix between a Labrador and a Poodle. Labradoodles come in various sizes, ranging from standard, miniature, or toy, depending on the size of their parent dogs.
They are extremely easy-going, curious, and friendly. All of their traits are startlingly similar to those of a small child, and like any human child, they can fill your house with joy and happiness.
If you live in Massachusetts and want to buy a dog that is hypoallergenic, non-shedding with a beautiful silky coat, then a Labradoodle is an easy choice, and here are some of the best Labradoodle breeders in Massachusetts to help you find one.
Other articles you may like: 5 Best Bernedoodle Breeders In Massachusetts! and What Happens if You Breed a Dog Without Breeding Rights?
1. Tip of the Shore Labradoodles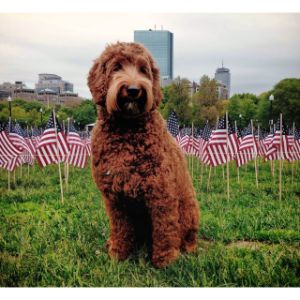 Tip of the Shore Labradoodles is located in Duxbury, Massachusetts. The facility is in a seaside community where the dogs love to play and swim. The dogs are no strangers to the sea, and the beach is their favorite place to play. On their website, the breeders claim that their neighborhood is lovingly known as Doodleville!
Labradoodles are known for their teddy bear look, and the Tip of The Shore Labradoodle Breeders specialize in raising beautiful small and medium-sized dogs with a distinctive teddy-bear look.
The Tip of the Shore Labradoodles breed multigenerational Australian Labradoodles, and as such, they are hypoallergenic, non-shedding, active, and extremely friendly. They are raised to be true companion dogs and are very loyal.
The breeders claim that their facility is certified by the leading Australian Labradoodle associations in America. These Labradoodle puppies for sale in Massachusetts are tested for hips and elbows by OFA testing and eye health tested by the in-house veterinary canine ophthalmologist.
In addition, the dogs are also tested for genetic health. The tests include PRA testing, cardiac evaluation testing, and genetic validation as well. All dogs are tested to the utmost sense of satisfaction where genetics are concerned.
The Tip of the Shore Labradoodles is a proud breeder raising healthy, active, and beautiful puppies. You can purchase one from the breeder for $3400 + tax. The payment has to be made in three steps:
Step 1: Deposit a non-refundable fee of $400 to reserve your spot in an upcoming litter
Step 2: Deposit a non-refundable installment of $1500 after a litter has been assigned to you and your assigned pup is 4-weeks old
Step 3: Pay the remaining amount, i.e., $100 + tax, when you come to take the puppy home at 8-weeks
Labradoodle Breeder Information:
2. Juniper Hill Labradoodles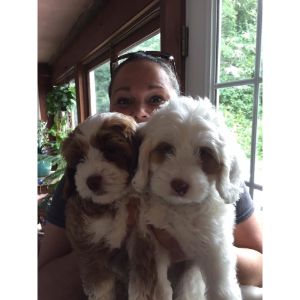 Located on the shores of Beverly, Massachusetts, Juniper Hill is a heaven on earth for dogs. It is an 8-acre facility that comes with a natural pond. The dogs love their time on the grounds, and their favorite pastime includes swimming in the natural ponds.
The owner shares her story about how she came to love the Australian Labradoodle breed. She and her family had always been dog lovers, but ever since they decided to buy their first Labradoodle in 2013, they have become attached to the breed.
She says that the Labradoodle's teddy bear look, non-shedding coat, and hypoallergenic quality made it the perfect fit for her family. So, soon after, she and her family started breeding Labradoodle themselves.
Juniper Hill breeders are a small, home-run business. Therefore, they rarely have puppies ready on demand. All the puppies have to be reserved in advance, and they update their site regularly so you can be notified as soon as a litter is available.
All their dogs come with a microchip, veterinary records, the appropriate vaccinations, a dog bed, dog food, a blanket with litter mates' scent, and the pup's favorite toy,
If you want to reserve a puppy at Juniper Hill, you must make a $500 non-refundable deposit and keep checking their site religiously for updates. The staff is extremely efficient and will get back to you in record time.
Labradoodle Breeder Information:
3. Atlantic Labradoodles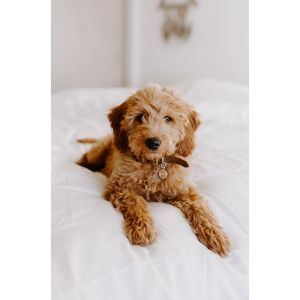 Atlantic Labradoodles is a "Gold Paw" breeder of the Australian Labradoodles Association of America (ALAA).
Atlantic Labradoodles and the owner have had quite a love story when it comes to the Labradoodle breed. The owner claims that she has been in love ever since she bought a Labradoodle for her granddaughter.
Noticing the mannerisms, the gentle nature, and friendly attitude of the breed, the owner decided to breed the dogs herself! In her experience, Australian Labradoodles make for the perfect pet.
The Atlantic Labradoodle breeds hypoallergenic, non-shedding, allergy-friendly dogs. Puppies from Atlantic Labradoodles come with a list of the following benefits:
Spay/neutering
1-month free pet medical insurance
Vaccinations
Deworming
Microchip
Pedigree assurance
Warranty for genetic health
Medical records
Litter scented towel
The breeder also provides you with an option to have your puppy delivered to your doorstep with some extra expense, which solidifies the position of Atlantic Labradoodles as one of the best Labradoodle breeders in Massachusetts.
Labradoodle Breeder Information:
4. Forest Hill Labradoodles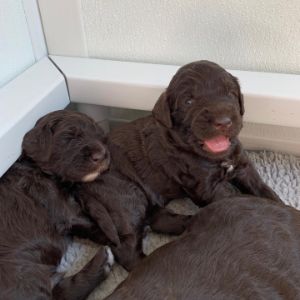 Forest Hill Labradoodles is located in Manchester by The Sea, Massachusetts. It is a small-scale, home-run business, and the breeders are all family members. The business started when the family experienced the loss of their matriarch. To cope with her passing away, the family adopted Labradoodles.
To their surprise, the dogs helped them with their grief. The dog's compassion and loving nature eased their pain so much so that they decided to start breeding them to share the joy of having a Labradoodle with the rest of the world.
Forest Hill breeds Labradoodle puppies for sale in Massachusetts. They specifically breed Australian Labradoodles.
The breeders claim that no matter the size of your home, the Labradoodle can fill it to the brim with joy and love! The facility is a member of the Australian Labradoodle Association of America and the Australian Labradoodle Club of America.
The dogs come with a full health guarantee, genetic testing, eye exams, and a genetic profile. All their dogs' information is readily available on the Forest Hill Labradoodles website, alongside some super cute pictures of the dogs themselves.
Labradoodle Breeder Information:
5. Deuce's Doodles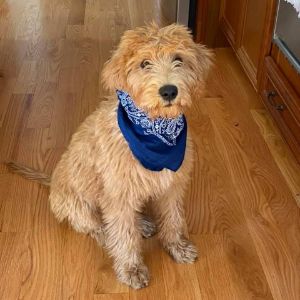 If you are looking for Labradoodle breeders in Massachusetts and live near the New York border, consider Deuce's Doodles. Deuce's Doodles is a family-operated, small-scale business that breeds Labradoodle puppies. They strive to produce dogs that are hypoallergenic, non-shedding, and allergy-free.
The Labradoodle pups are raised right inside the owner's house. From the moment they are born, the pups receive the warm and loving care of the Deuce's Doodles Labradoodle family. They are never put inside a kennel and are practically members of the family.
Due to this, the Labradoodle puppies are extremely well-tempered, gentle, and friendly. The highly social upbringing of the dogs makes them ideal for children, adults, and seniors. This is one of those Labradoodle breeders that makes sure that the dogs' health is up to standards; they are all adequately vaccinated and genetically tested for any mutations.
The Labradoodle dog breed makes for the perfect companion, and if you buy one from Deuce's Doodles, you will have a companion for life, as they say. They are hypoallergenic, non-shedding, and allergy-free, making them perfect for people that are prone to fur allergies.
Deuce's Doodles Labradoodles are intelligent, great with children, loyal, friendly, and make for the best service or therapy dogs as well.
Labradoodle Breeder Information:
Conclusion For Best Labradoodle Breeders In Massachusetts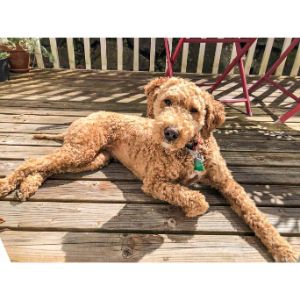 Labradoodles make for excellent companion dogs. They have also been used for the purpose of therapy and service dogs due to the nature of traits that are genetically passed onto them. The Labrador and Poodle themselves are excellent companion breeds, and their resulting mix – The Labradoodle- is a friendly and loyal dog with an endearing teddy bear look.
If this breed is what you are looking for in a dog, then all you need to find are good Labradoodle breeders in Massachusetts. If you are unsure which breeder suits you best, here is a list of things you can check before buying your dream pup.
Firstly, check if the breeder is a certified breeder. This will make sure that any dog you purchase is genetically sound with a pure pedigree.
Secondly, make sure your chosen breeder passes all the health checks. Breeders that ensure the health of their dogs religiously are the ones you can trust.
Thirdly, if you cannot visit the facility in person, it is best to choose a breeder that delivers to your location. Ensure your satisfaction by communicating with the staff online and telephonically.
Lastly, if they are ready to deliver your pup, confirm if they employ the services of a flight nanny that will accompany your pup to your home. That way, your pup will be safe and secure all through its long journey to its new and forever home.
Choosing the right breeder makes all the difference in the world; a puppy from an unethical puppy mill is bound to suffer from health and temperament issues leading to extensive medical bills and emotional trauma.
On the other hand, a puppy from an ethical breeder will bring light & joy to your life with their sweet disposition. Therefore, double-check and verify the breeder before making a decision.
You will also like: