Is your home missing a cute and affectionate puppy? If yes, then you should consult Aussiedoodle breeders in Virginia to get yourself the perfect companion. Opening your heart and home to a loyal friend like a dog is to have your life filled with smiles, laughter, and joy. Many dog lovers prefer a particular breed based on their traits and how low or high maintenance these dogs are.
The Aussiedoodle is one of the most popular designer dogs by far. It is a cross-breed of an Australian Shepherd and a Poodle, making it an intelligent, friendly, and affectionate dog.
Other articles you would like: Goldendoodle Breeders in Virginia and Sheepadoodle Breeders in Virginia.
Aussiedoodle Puppies In Virginia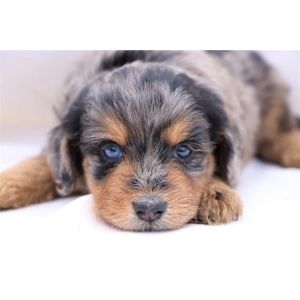 Bringing an Aussiedoodle home means bringing one of the most intelligent dogs into our home. Aussiedoodles are the kind of dogs we often see in videos; the ones who help their owners carry goodies and perform clever tricks.
Because they are intelligent dogs, you can teach them to do anything! From finding and bringing you things to learning complex commands, the Aussiedoodle picks everything quickly. Now that you know about the basics and pros of having an Aussiedoodle, here are some of the reputable breeders selling Aussiedoodle puppies in Virginia:
1. Big Lick Poodles and Doodles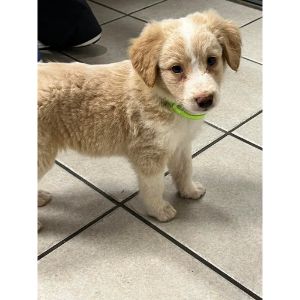 Stacy Smith is associated with Big Lick Poodles and Doodles, and she has been running it for the past 10 years. It is an in-home breeding program that claims to breed healthy puppies as family pets or service dogs.
As the name implies, Big Lick Poodles and Doodles have cute Poodles and doodles for adoption. The breeder ensures that every puppy gets lots of love and attention so they can grow up into well-adjusted puppies.
In addition, this breeder guarantees enrichment and socialization of the Aussiedoodle puppies. The breeder uses desensitization, crate training, potty training, sit command, and litter box training enrichment methods.
The first-time puppy owners don't have to worry about the Aussiedoodle chewing or biting on the stuff at your home because this breeder teaches them the "No" biting and chewing commands.
Often the person adopting pup questions if they are old enough to be separated from the litter or even their mom. The Big Lick Poodles and Doodles do not release puppies to new homes until they are 9 weeks old.
A puppy's health is one of the owners' major concerns. Big Lick Poodles and Doodles understand this concern and promise optimal health for their puppies.
They start age-appropriate shots for the puppies at 6 weeks and deworm them every two weeks. They also offer a 1-year health guarantee. You can take the puppy to a vet to check for any genetic disorder diagnosis. If such a case appears, they allow you to return the puppy.  
So if you are looking for Aussiedoodle puppies for sale in Virginia, you must visit their page and apply for the puppy you want to adopt. You will be asked to provide information about yourself and what you are looking for.
Aussiedoodle Breeder Information:
2. Tumbling Creek Poodles and Doodles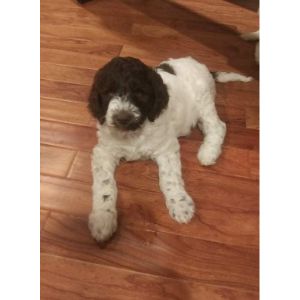 Tumbling Creek Poodles and Doodles is run by a dedicated woman named Merissa Taylor, a certified professional dog groomer. She has been into grooming for the past 12 years, and she thinks that Aussiedoodles are the perfect family dogs that are even-tempered and so social.
The enrichment and socialization at Tumbling Creek Poodles and Doodles involve human interaction. While the breeders interact with the puppies daily, they also include other people to become a part of the puppies' socialization experience.
To let the puppies interact with a variety of trusted people, Tumbling Creek Poodles and Doodles also open their doors to family and friends who want to cuddle or spend some therapeutic time with the pups.
Moreover, after the puppies have received their initial shots, they are taken for car rides and to dog parks to raise calm and intelligent puppies. The enrichment methods include crate training, basic obedience commands, and socializing with children and the elderly.
They also involve the pups in socializing with cats. If you adopt them, you won't have to worry about the leash walk or potty training.
Merissa sends her puppies to their forever home with a microchip, breed club registration, toy with mom's scent, puppy food start bag, collar, vaccination, and health certificate. They also offer pick-up or other means of transportation if you want your pup to be delivered elsewhere.
Furthermore, the puppies come with a 2-year health guarantee to cover genetic conditions or disorders. The puppies are available to be taken home after 9 weeks; by this time, they have had their shots, deworming, and basic training.
The breeder ensures that the puppies are groomed as early as possible so they are not afraid of trims and baths. If you are looking for a well-versed and responsible Aussiedoodle breeder in Virginia, Tumbling Creek Poodles and Doodles are worth checking out.
Aussiedoodle Breeder Information:
Other articles you would like: Bernedoodle Breeders in Virginia and Maltipoo Breeders in Virginia.
3. Kaigan Kennels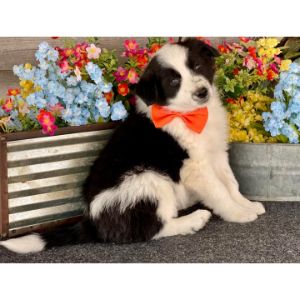 If you are looking for Australian Shepherds, Border Collies, Bulldogs, French Bulldogs, Bordoodles, Assorted Doodle Crosses, or Aussiedoodle puppies for sale in Virginia, Kaigan Kennels can help you find the right match.
The puppies raised at Kaigan Kennels are well-behaved and socialized. The person behind Kaigan Kennel is Laurel McComas; she firmly believes in puppy culture programs and thinks it is a breeder's responsibility to shape the emotional responses of the puppies in the best positive manner.
The unique practice that Kaigan Kennels follow is the Volhard Puppy Aptitude tests at 7 weeks. They give the test result to the owner upon adoption. Puppies at Kaigan Kennels are properly socialized and trained for the transition.
Kaigan Kennels offer a 1-week leash and crate training program and a 3-week puppy basics program. They also have a 6-week house basics program, so you get a well-behaved and well-trained puppy as a first-time owner.
The breeder's enrichment methods are puppy culture, crate training, leash training, biosensor training, basic manner, doggy door training, and potty training. With such an extensive socialization regime, you can rest assured that you will have to make minimal efforts to get your dog to adjust to their new house. 
The puppies are sent home with an AKC registration, blanket with mom's scent, bone, food starter bag, puppy collar, early vaccination records, and health certificate. Furthermore, The puppies at Kaigan Kennels are dewormed at 2, 3, and 4 weeks, and they get their first vaccination at week 6.
Finally, Kaigan Kennels offers a 2-year guarantee covering any congenital disabilities affecting the life expectancy of the puppy.
Aussiedoodle Breeder Information:
4. Dreamy Night Doodles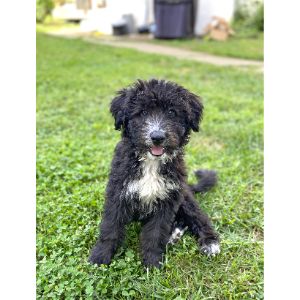 Looking for reliable Aussiedoodle breeders in Virginia? Dreamy Night Doodles offer the best breeds of Poodles, Bordoodles, and Aussiedoodles.
This breeder raises each puppy with lots of attention, love, and puppy culture. The pups' parents are free of structural and any genetic disease. Moreover, the breeder uses puppy culture and ENS as enrichment for puppies.
They take their puppies to pet-friendly stores in crates to get them accustomed to noises. The puppies are also familiar with the music, babies crying, and a puppy party where they experience and feel different surfaces and sounds.
Their training ensures that they are well-behaved and socialize with people of all ages, including children and adults. The puppies at Dreamy Night Doodles are introduced to texture and sound stimulation, various surfaces, crate training, potty training, and name recognition from an early age.
Their puppies are dewormed about 4 times before being released to their new homes. The breeder deworms their dams every 10 days before whelping. They ensure that all the puppies leave at least with one DAPP2 vaccine if they stay longer than 8 weeks.
The puppy visits a vet at 6.5-7 weeks to get a clean bill. They also have a health guarantee of 2 years to cover any genetic disease if diagnosed. When it's time for you to take the puppy home, you will be getting a blanket with its littermates scent, a microchip, toys with mom's scent, one month's free insurance, and a puppy food starter kit.
Aussiedoodle Breeder Information:
How To Choose The Best Aussiedoodle Breeders In Virginia?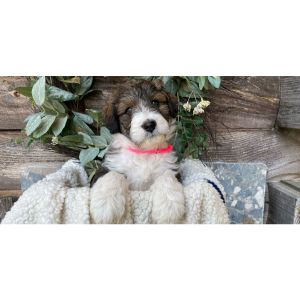 Many first-time puppy owners are confused about which breeders to trust and where to pick them. One of the best ways to find reputable breeders is to look for their online presence and the reviews left by the people.
If you are still uncertain who to choose, we suggest you compare a few breeders' information and look for what they are offering and how they have raised their puppies. Of course, you can always connect with them via email. Once you've finalized a breeder, you can visit them in person for your satisfaction.
Conclusion For Best Aussiedoodle Breeders In Virginia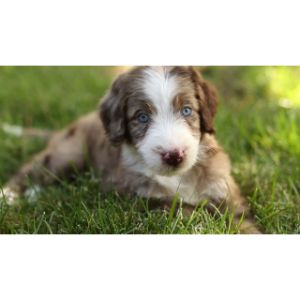 Aussiedoodles got their fame over the last few decades. Although most of the cross-breed history is unknown, the parent breeds are known for their intelligence and reliability in herding and hunting. Aussiedoodles come in all shapes and sizes; however, the standard size is 25lbs. to 70lbs. They are high-energy, active, loyal, discerning companions, affectionate, and devoted to their families.
Remember that they crave constant attention. You can always contact the breeder for more guidance. The Aussiedoodle breeders in Virginia are always available for their customers to help them settle with the puppies in the best possible manner.
You will also like: