When you mix a poodle with a Bernese Mountain Dog, the result is an affectionate, loyal, and playful teddy bear of a pup called a Bernedoodle. These dogs are great with children, and they'll be content as an "only pet" or in the company of dogs you already have in your home, which is why we have a list of the best Bernedoodle breeders in Minnesota for you to go through.
Some other articles you may like: 3 Best Maltipoo Breeders In Minnesota! and 4 Best Cockapoo Breeders In Minnesota!
Bernedoodle Puppies In Minnesota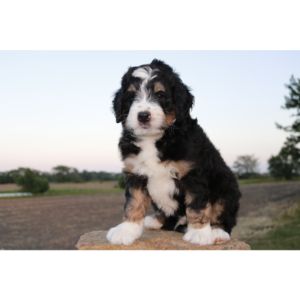 If you live in Minnesota and think a Bernedoodle might be a good option for your family, you'll want to check out this list of the most reputable breeders in the state. These kennels will breed puppies in a responsible way, making sure the health and well-being of your dog are considered.
Whether you're looking for a standard or a mini Bernedoodle, there are kennels in the state that you will want to consider. Always interview your kennel team, and when possible visit in person for the best chance of adopting the perfect puppy for your household.
1. Northwood Doodles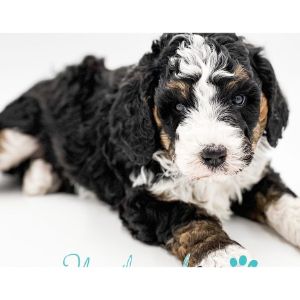 Northwood Doodles specializes in breeding Goldendoodles, Sheepadoodles and Bernedoodle. They've been in business for over a decade, and have a 50-acre family farm where they raise these happy, healthy puppies. They are a family of six, and your pup will be brought up in the company of kids as well as other dogs.
Before you put a deposit on a puppy, you'll need to meet with the kennel team. You can interview one another and determine whether your family and Northwood Doodles is a good fit.
Then, you'll place a $200 deposit to be put on the waiting list for a dog. Once puppies are eight weeks old, you'll be responsible for the remainder of the balance before you can bring your puppy home. Prices vary, but you can expect to pay between $3,500 and $4,000 for your Bernedoodle.
Northwood Doodles uses a guardian dog program; in doing so they're able to produce several litters each year. All guardian families are vetted by Northwood Doodles and are also guaranteed to be safe and healthy environments for dogs and their puppies. Your pup will be up to date with veterinary care by the time he or she goes home with you.
Bernedoodle Breeder Information:
2. Houskerville Doodles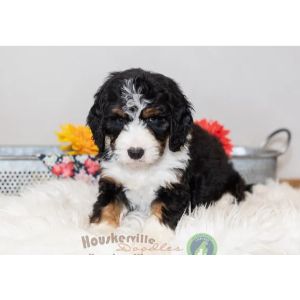 Houskerville Doodles is located in Lancaster, Minnesota, and is another family-run business situated on a farm. Their 80-acre property provides plenty of space for Bernedoodles to run, play and learn while they're growing strong enough to join your family. Your pup will be loved and played with by the family's five children and will be well-socialized by adoption day.
Puppies born at Houskerville Doodles are kept in a comfortable kennel at night and are allowed outdoor time during the day. Your dog will be looked after by a vet and will receive all appropriate vaccinations and deworming treatments before going home with you.
Adoptive families are required to put down a $500 non-refundable deposit to hold a puppy. In addition to Bernedoodles, Houskerville Doodles raises poodles, Goldendoodles and Aussiedoodles. Contact the breeder to determine to price for your puppy, as it may vary based on its characteristics.
Bernedoodle Breeder Information:
3. Bouncing Bernedoodles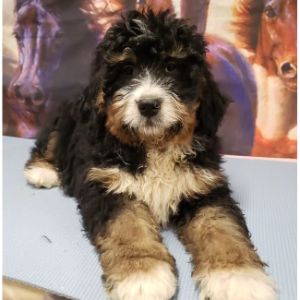 Bouncing Bernedoodles is next on our list of the top Bernedoodle breeders in Minnesota. This kennel is just outside Rochester, and they specialize in the Bernedoodle breed. They don't produce mini Bernedoodles, only small and medium standard pups. 
Your Bouncing Bernedoodle comes with a one-year health guarantee, and every puppy is thoroughly health-checked by a vet before they're sent home to adoptive families. Of course, you'll receive records of your puppy's vaccinations and deworming, and Bouncing Bernedoodles is happy to provide information about the genetic testing done on parents.
There is a $500 non-refundable deposit required to reserve a dog, and prices begin at $1,200. Speak with the breeder about the specifics of pricing on a particular puppy. Breeding rights are not sold; you'll be required to spay or neuter your puppy as part of your adoption contract.
Bernedoodle Breeder Information:
4. WhiskeyCreek Bernedoodles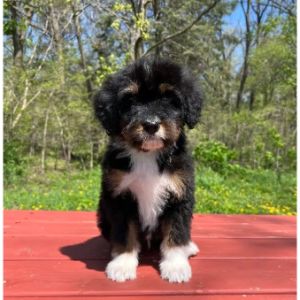 WhiskeyCreek Bernedoodles is another of the best breeders in Minnesota, and they use quite a few dams and sires, so there's usually a large selection of puppies available. They have placed puppies all over the country, and their dogs are known for their social, friendly temperaments.
Because the Bernedoodle breed is not recognized by the AKC, your puppy will not be registered. However, all of WhiskeyCreek's dams and sires are purebred dogs, and the kennel is happy to provide proof of their AKC registration. 
As is true with most breeders, you'll be required to fill out an application to adopt a puppy from WhiskeyCreek. Once you've been approved, you'll be asked to choose from one of the available puppies. The deposit required to hold a dog is $300, and you can expect to pay between $2,500 and $3,000 for your dog.
Bernedoodle Breeder Information:
5. Stone Ridge Doodles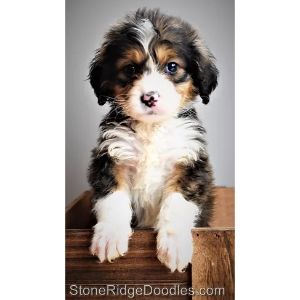 Stone Ridge Doodles are experts in doodles, having had experience with Bernedoodles, Sheepadoodles, Bernedoodle, and Labradoodles. You can check out the available litters on the Stone Ridge website, but there are typically several of each type of breed listed. Check back frequently and get on the waiting list for a dog as soon as you're able.
The cost to adopt a dog will vary based on age and coloration, and Stone Ridge offers "packages" with its dogs. So while one family may wish to simply adopt a pup, another may choose to add grooming gear or even potty training. You'll need to speak with the kennel directly about the prices of individual puppies.
In addition to puppies, Stone Ridge offers stud service as well as guardian home opportunities. If you're interested in either, contact the kennel for the availability and requirements for each program. Not all families will be accepted, and you must be local to Anoka County, Minnesota.
Bernedoodle Breeder Information:
6. PuppySpot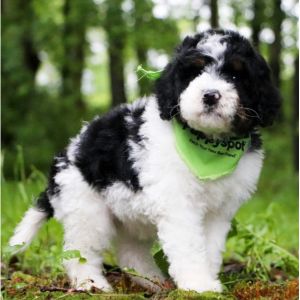 PuppySpot is a nationwide network of guardian families, and while these families specialize in a number of breeds, you can certainly find Minnesota Bernedoodles on the site! You can search PuppySpot by breed; a list of available Bernedoodles will populate, and you can click through to find more info about each little pup.
The price of each dog may vary depending upon the breeder, but you'll always pay the same amount for the transport of your dog, no matter where he or she is coming from. You may choose to pick up your puppy in Missouri, have him or her delivered to your home, or hire a travel nanny to accompany him or her.
PuppySpot guardian families are required to be licensed by the USDA, and each is screened before being permitted to list puppies for sale. Your breeder will have been through a criminal background check and is subject to surprise visits. This helps ensure the safety and health of your puppy before he or she is delivered to you.
Bernedoodle Breeder Information:
7. Archer Hill Farm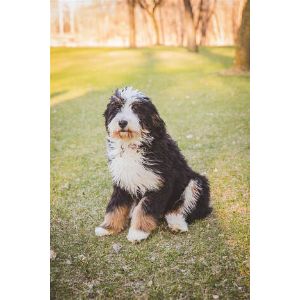 The last of the Minnesota Bernedoodle breeders on our list is Archer Hill Farm. This is a small-scale, family-run business in the southern part of the state, and they produce Bernedoodle, Goldendoodle, and Aussiedoodle puppies on their family farm. Your puppy will have contact with children, dogs, cows, chickens, and cats before joining your family.
When you fill out the application to adopt an Archer Hill Farm pup, you'll be asked about your home, your family, and your experience with dogs. Once you're approved, a $500 deposit will be required to be placed on the waiting list, and the balance of your total will be due at eight weeks when you pick up your puppy. Archer Hill Farm does offer delivery of puppies.
Breeding rights are not available, and you'll need to have your dog spayed or neutered by a year old. If this is done, you'll enjoy a two-year health guarantee against genetic conditions, and a one-year guarantee against certain other conditions.
Bernedoodle Breeder Information:
Conclusion For Best Bernedoodle Breeders In Minnesota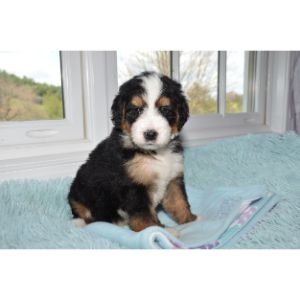 The best Bernedoodle breeders in Minnesota are responsible and will care for the health of your puppy, caring for him or her in the weeks until you bring your new friend home.
This list contains top kennels that have a strict "no puppy mill" policy, so you can be sure your dog is coming from a healthy and safe home. Choosing a breeder from this list can help you select a pup that will be a valuable addition to your family.
You will also like: