Sheepadoodles are a cross between an Old English Sheepdog and a Poodle, and the dogs are becoming more and more popular across the United States. Because of their rise in popularity, more and more puppy mills are springing up in the country – these kennels do not care for puppies in a manner that's responsible or even safe for the animals. With that said, we've got a list of the best Sheepadoodle breeders in Minnesota.
Other articles you may also like: 7 Best Bernedoodle Breeders In Minnesota! and 4 Best Cockapoo Breeders In Minnesota!
Sheepadoodle Puppies In Minnesota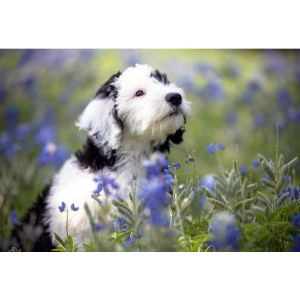 You can help to combat puppy mills by choosing a reputable Sheepadoodle breeder in Minnesota. Your Sheepadoodle will be looked after medically, socialized, and raised in a healthy environment, increasing the likelihood that he or she will be a wonderful addition to your family for years to come. Here is a list of the best Sheepadoodle breeders in Minnesota
1. Northern Lights Doodles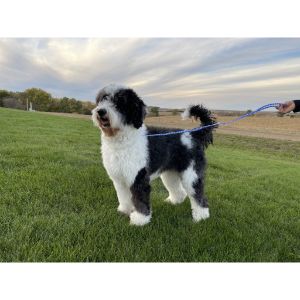 Northern Lights Doodles is one of the best Sheepadoodle breeders in Minnesota, not just for their responsible practices but also for the beautiful puppies they produce. The kennel specializes in Goldendoodles, Sheepadoodles, Bernedoodles, and Englishdoodles; check the website for information on available and upcoming litters. 
Northern Lights Doodles makes use of a guardian home program, which means that dams, sires and litters are cared for personally by responsible families. If you are interested in becoming a guardian home, this option may be available. Contact Northern Lights for more information on the application process.
Your Sheepadoodle puppy will come with a one-year health guarantee, and you will be required to spay or neuter your dog as part of this agreement. You will be required to place a $300 deposit to reserve your puppy. A standard Sheepadoodle will cost, in total, between $2,500 and $2,800. 
Sheepadoodle Breeder Information:
Check out for more: Best Sheepadoodle Breeders in Ohio and Best Sheepadoodle Breeders In California
2. Country Roads Sheepdogs & Doodles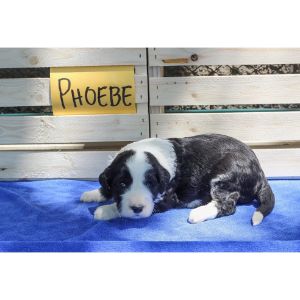 Next on our list of the top Sheepadoodle breeders in Minnesota is Country Roads Sheepdogs & Doodles. Like many other kennels, this team doesn't specialize solely in Sheepadoodles. Instead, they offer both Sheepadoodles and Goldendoodles, both standard and mini. 
The responsible breeder is located in Faribault, Minnesota, but they do not permit visitors to their home. This is for the health and safety of the dogs, and the team will schedule a virtual meeting with your dog upon request and appointment.
Dogs are vet-checked, vaccinated, and dewormed by eight weeks of age. Your puppy will be microchipped and ready for you to register. Additionally, your dog will come with a health guarantee, but you must spay or neuter your puppy in order to maintain that agreement.
Sheepadoodle Breeder Information:
3. Sheepie Doodle Acres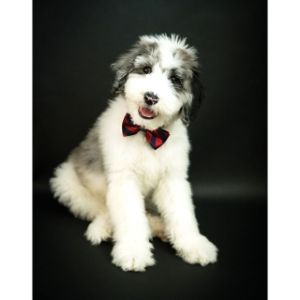 Sheepie Doodle Acres is run by a family of five on a five-acre farm in Minnesota. They breed Sheepadoodles, Goldendoodles, and Bernedoodles, and the family has been in the business of raising quality puppies for a number of years now. Your puppy will be in good hands in his or her earliest weeks, and will be socialized to be a friendly, playful pup. 
Your dog comes with a health guarantee and puppies from Sheepie Doodle Acres come with a microchip as well. Of course, all dogs are up to date on vaccinations and deworming treatments on their go-home day. Dogs are sold as companions only; you will not be given breeding rights for your dog.
The deposit to hold a dog from Sheepie Doodle Acres is $700, and the total cost to adopt a Sheepadoodle is $2,300 for a standard-size dog. Minis and micros will cost slightly more. You can view available and upcoming puppies on the Sheepie Doodle website; check back often as news is frequently updated. 
Sheepadoodle Breeder Information:
4. Bella's House of Doodles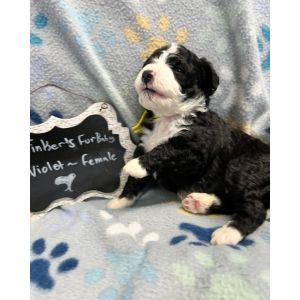 The next Sheepadoodle breeder on our list is Bella's House of Doodles in Eagle Lake, Minnesota. This kennel specializes in designer doodle breeds, and at any given time she may have Bernedoodles, Cavapoos, and, of course, Sheepadoodles available for sale!
Bella keeps her website updated with pictures and with information about upcoming litters, so be sure to check it out. You'll need to fill out an application for adoption of a doodle from Bella's, because the team wants to know if they're matching puppies with appropriate families.
Once you're approved, you can place a $500 deposit which will be applied toward the total cost of your dog. That total may vary but is generally around the $1,500 mark.
If you live nearby Bella's House of Doodles, you can take advantage of her grooming, daycare, and boarding services. The team on staff loves the long-term relationships they build with their puppy parents through these services. Your pup will be well cared for as a part of the family.
Sheepadoodle Breeder Information:
5. Stoneridge Doodles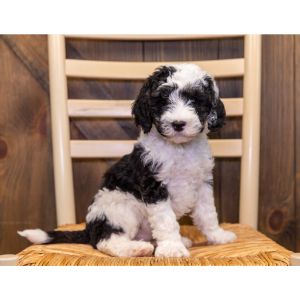 Stoneridge Doodles is next on the list of the top breeders in Minnesota. It's an Anoka County kennel that deals with designer doodles, including Goldendoodles, Sheepadoodles, Bernedoodles and Labradoodles.
Stoneridge is a family business run by a husband and wife team and their three children. Your Minnesota Sheepadoodle will have been handled by children often, so he or she will be likely to get along with your children, too. 
You'll most likely need to be put on a waiting list to adopt a Sheepadoodle dog, but Stoneridge does have available pups at times. In fact, they offer "already started puppies" that are a little bit older and may be easier to handle and train.
Once your name comes up on the waiting list, you'll be asked to place a $350 deposit. The price of your dog will be between $2,800 and $3,300 for a standard dog.
For those families with allergy sufferers, Stoneridge offers a convenient service. For $99, you can have the team expose one of your shirts to pet dander. This can help determine whether a Sheepadoodle will be a good option for your home. 
Sheepadoodle Breeder Information:
6. Crockett Doodles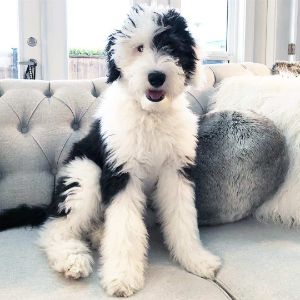 Crockett Doodles isn't in Minnesota at all but is instead in South Carolina. The kennel delivers and ships doodle puppies across the United States, so families in the North Star State are welcome to apply to adopt a puppy. Delivery of your dog is set at a flat rate, based upon where you are in the country.
Crockett Doodles only produces Doodle breeds, so they really know the ins and outs of producing healthy, quality puppies. All puppies come with a health guarantee, and your dog will be up to date with his or her vaccinations when it's time for you to bring them home.
Speak with the kennel directly about breeding rights; you may be required to spay or neuter your puppy.
Sheepadoodles may not be available all the time through Crockett Breeders, but they do post pictures of new pups on their website frequently. While you're on the site, be sure you check out the informational resources; you can learn more about the characteristics of each of the breeds they specialize in.
Sheepadoodle Breeder Information:
7. Happytail Puppies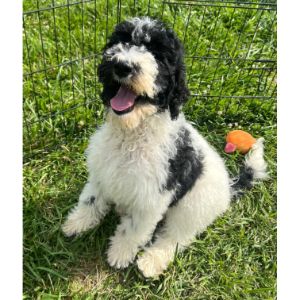 The last of the sSheepadoodle breeders on our list is Happytail Puppies. This is another breeder that delivers puppies nationwide; dogs travel with a USDA-certified pet nanny to the airport of your choice. Travel fees are available only by contacting the company for a quote. 
Sheepadoodles and other dog breeds are listed on the Happytail Puppies website. You can filter search results by breed, gender, color, and other attributes.
Once you've selected your desired filters, you will be presented with a list of available pups, and you'll be able to view pricing information on each dog's bio. Because breeders set their own prices, the cost to adopt a puppy may vary greatly.
All puppies come with a lifetime health guarantee against certain conditions, and all will be vaccinated and dewormed upon delivery. Happytail Puppies utilizes a guardian home program, so each dog is cared for and given plenty of one on one attention while they're young.
As with any puppy purchase, you'll want to be sure to interview the breeder before making your deposit. Most will offer in-home visits or FaceTime "meet and greets" to prospective adoptive dog owners.
Sheepadoodle Breeder Information:
Conclusion For Best Sheepadoodle Breeders In Minnesota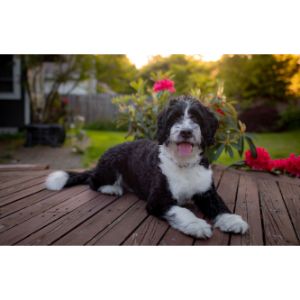 Sheepadoodles that are responsibly bred can be some of the most affectionate and loyal pups. Once you've made the decision to adopt one of these fluffy pups, it's important that you seek out a reputable kennel that will make sure your puppy is well cared for.
By selecting a quality breeder, you can ensure that your dog will be healthy and able to bring joy to your family for a lifetime.
You will also like: