Bernedoodles are one of the most stunning breeds on this planet. They are the hybrid dog breed that crosses a Bernese Mountain Dog with a Standard Poodle and, in the process, combines the very best traits from both.
This means that they are loyal, loving, calm, intelligent, easy to train, and non-shedding, which for many makes them the perfect dog. These dogs are becoming increasingly more popular as the years go by, which is both a good thing and a bad thing.
It's a good thing because it means that it's a lot easier to find a great Bernedoodle breeder in your state, but it's a bad thing because it means that with so many options you have to do a ton of research to ensure you only purchase a puppy from a good breeder.
Good breeders play an essential role in the healthy development of the dogs they breed. The stimulation and care they provide to the puppies from a young age helps them grow to be well-balanced, even-tempered, and healthy adult dogs in the coming years. This is why you need to pick a good breeder.
There are a lot of excellent Bernedoodle breeders in Tennessee, so if you're a Tennessee resident (or not!) and are looking to adopt a Bernedoodle puppy, this is the perfect article for you.
Other articles you would like: Goldendoodle Breeders in Tennessee and Labradoodle Breeders in Tennessee.
Bernedoodle Puppies In Tennessee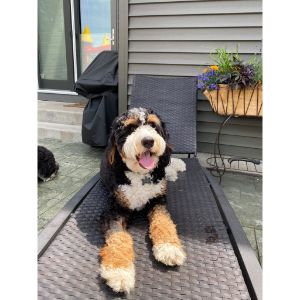 We conducted extensive research on all the best Bernedoodle breeders in Tennessee, and we included our very favorites on this list. We only included breeders with ethical breeding practices and a lot of experience who truly care for the dogs they raise. You can be confident that a dog adopted from one of these breeders will live a long, healthy, and happy life.
1. Tennessee Doodles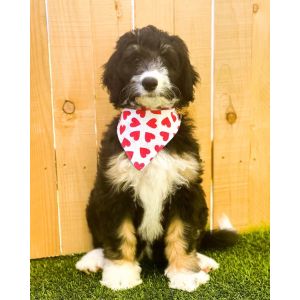 If you're looking for a great start to your journey for a Bernedoodle breeder in Tennessee, then Tennessee Doodles is your best bet! This reputable breeder offers F1, F1b, F2, and Miniature Bernedoodles. These Bernedoodles are hand-picked to form litters that are great in temperament, hypoallergenic, and intelligence. These variations makes it easier to look for a puppy because there are more than just a standard size to choose from.
These Bernedoodles from Tennessee Doodles benefit from years of breeding experience. These puppies are cared for and socialized immediately from birth forward. The owners of Tennessee Doodles sought to breed dogs that could help kids and adults with developmental disorders such as Autism. With this yearning for the perfectly behaved and socially accepted Doodle, their puppies can be trusted to be healthy and behaved.
Visitation is not allowed, however, the documentation of the parents' and puppies' trip through the first eight weeks of life is documented. There are videos and pictures available of the Bernedoodles through every stage, from birth to the week they are allowed to go home. Tennessee Doodles offers great communication for those who have questions or concerns during and after the adoption process.
Tennessee Doodles makes sure to genetically test all of their dogs before pairing them to make litters. This ensures that the litters are genetically sound and healthy upon birth and delivery. All of the litters will be genetically tested and are offered a two-year healthguarantee. These puppies will grow up to be stable dogs and great family companions.
Bernedoodle Breeder Information:
2. Cozy Cabin Cuddles
Cozy Cabin Cuddles is located in Woodbury, Tennessee. If you are looking for a reputable Bernedoodle breeder in Tennessee, this is a breeder to look into.
At Cozy Cabin Cuddles they breed F1 Miniature Bernedoodles as well as F1b Miniature Bernedoodles. There are photos of each parent dog as well as each puppy that is available for adoption. Cozy Cabin Cuddles also offers pictures of previous litters to be able to compare to litters available.
Although the puppies and dogs have no guarantees offered through Cozy Cabin Cuddles, the owner does explain that the Bernedoodles are exceptionally cared for. During the process the Bernedoodle puppies are exposed to humans for socialization and are often given Early Neural Stimulation (ENS) meant to help puppies develop quicker. Because of this, the Bernedoodles will adjust into healthy and well-behaved dogs and will be enjoyed by their families and other company.
Cozy Cabin Cuddles is a reputable and trusted breeder who offers services to the local areas in Tennessee. They offer a great variety of colors with hypoallergenic and shed-free coats. This is great for those who may have small children or people with allergies living with them.
A Bernedoodle breeder found in Tennessee, Cozy Cabin Cuddles will provide assistance and information throughout the adoption process, starting before the deposit is even placed for a pup. This breeder offers the facts about Bernedoodles before you make a large investment both of your time, and your money. This breeder has great reviews and is notorious for having wonderful litters of healthy, intelligent, and genetically sound Bernedoodles.
Bernedoodle Breeder Information:
3. Hurricane Creek Doodles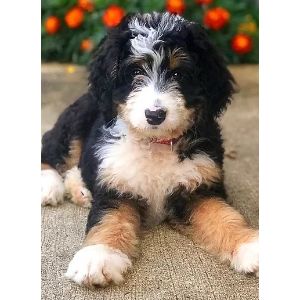 Hurricane Creek Doodles is one of our favorite breeders around. We love their passion for breeding and the love and care they show each and every dog— it really shows in the puppies they breed.
All of their breeding dogs are, according to their website, "spoiled rotten" from the minute they are bred until well after they give birth, with each of their whims catered to as needed. This means that picky eaters are given a delectable assortment of nutritious foods, including eggs, hamburgers, chicken, liver, goat's milk, and anything else they seem to prefer.
This is because the nutrition and health of the dogs are the top priority of this breeder, and they will never force a dog to eat something they don't like, and instead will do whatever it takes to keep mom and babies healthy.
The breeding moms receive exceptional health care and constant love and attention. She even sleeps in the breeder's bedroom to make sure everything is alright at all hours— talk about dedication.
Once the puppies are born, each one receives a thorough health exam and a clean bill of health from a celebrated vet in Tennessee who has a long-standing relationship with the breeder. The adult dogs and puppies old enough to eat solid food are fed a delicious blend of fresh protein and are also given a thorough vitamin regimen to ensure healthy development.
This breeder never feeds their puppies puppy formula because it is packed with sugar and additives that aren't healthy for anyone. Instead, if they need extra milk than what they get from mama they are given goat's milk, which is easy on their tummies.
All their Bernedoodles puppies in Tennessee also get plenty of bio-sensory training to help them adjust to all sorts of environmental and social stimuli from a young age. This makes their transition into your home easy and effortless and helps them grow to be well-adjusted adult dogs.
This breeder puts endless effort into researching and planning each litter to ensure that they select for the best qualities and the healthiest traits.
Their Bernese Mountain Dogs are imported from Hungary and Ukraine, as dogs in this region are known for their heavy heads and stockier builds. The superior genetics that the parent dogs have lead to truly perfect and gorgeous Bernedoodles.
Bernedoodle Breeder Information:
4. SoFun Dogs Doodles & Poodles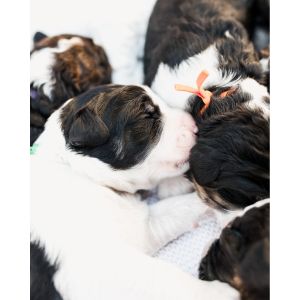 This breeder is a fantastic family-owned and operated breeder run by the Funston family, who are all passionate about dogs and all animals. The matriarch of the Funston family was born and raised among dogs and has been a dog lover since birth, making it only natural that she would become a breeder in adulthood.
She grew up in a house with a father and uncles who showed and bred American Kennel Club show dogs and, on the weekends, she explored the forest and mountains with her faithful dogs in tow.
This Bernedoodle breeder subscribes to the Badass Breeder Methodologies (BAB) that inform the way the care, curriculum, and puppy evaluations they provide to their dogs. These resources are crucial in helping the breeder find the best fit for adoptive families and puppies alike, and they have a perfect track record of absolutely thrilled customers.
They work hard to kick start a positive life for each of their puppies, and they achieve this through temperament and personality trait evaluation that allows their individuality to shine through from a young age. This helps the breeder know which dogs would be the right fit for which adoptive family.
Some of the promises that they uphold while breeding is to research and plan each litter to ensure they select the best possible traits. They also only breed healthy, temperament-tested adult dogs and never overbreed a dog.
They believe that healthy puppies start with healthy and loved parents, which is why they give their adult dogs endless love, attention, and nourishment to keep them and their pups healthy. Puppies are given professionally developed care and development curricula to help them stay neurologically engaged and stimulated, ensuring positive development from birth.
All their Bernedoodle puppies for sale in Tennessee come with a two-year health guarantee, a clean bill of health signed off on by a licensed vet, appropriate shots and deworming treatments
A blanket and toys with their mama's scent, a microchip, a small supply of puppy food, 1 month of pet insurance coverage, empowered breeder reports for your specific puppy, and a lifetime of support and community from the breeder.
Bernedoodle Breeder Information:
5. Clanton Ridge Doodles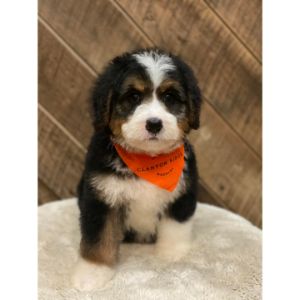 Last on the list of Bernedoodle breeders in Tennessee is Clanton Ridge Doodles. Clanton Ridge Doodles is a loving breeder that is owned and operated by a close-knit family in Tennessee. They have always had a deep love for dogs and were so excited to begin breeding Goldendoodles and Bernedoodles because these breeds in particular are known for being loving, loyal, and laid back— not to mention non-shedding.
They live on a stunning 84-acre farm in Southern Tennessee where the dogs and puppies get to run and play to their heart's content.
Every member of this family of five chips in with the dogs, but the vast majority of the care and supervision for the puppies is provided by the mom and dad. One of them is always with the puppies 24/7, and the puppies and adult dogs are never ever confined to a kennel.
Their lives are as comfortable and happy as can be thanks to the gracious amenities provided by the breeder— the dogs even get their very own television!
This Bernedoodle breeder in Tennessee is passionate about providing dogs of the highest quality to their adoptive families, and they conduct thorough genetic testing to ensure that the dogs are healthy and free of genetic mutations that could lead to health issues later in life.
They also provide the puppies with plenty of social and environmental stimulation to help them develop cognitively from a young age. This helps ease the transition into your home and ensures that they will be calm and even tempered in adulthood.
If you're interested in adopting a puppy from Clanton Ridge Doodles be sure to check out their website and join the waitlist today.
Bernedoodle Breeder Information:
Conclusion For Best Bernedoodle Breeders In Tennessee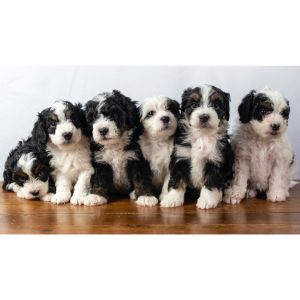 Finding the perfect dog breeder can be a tedious task, especially when you have a ton of options to sift through. We decided to make life easier for you and do the bulk of the breeder research for you.
We checked out all of the Bernedoodle breeders in Tennessee and put our favorites on this list for your convenience. You can be confident that the breeders included here are the best of the best and their puppies are of the highest quality.
You will also like: