Dogs are the best creatures on this planet (we're not biased at all, we swear!), and owning one is very exciting. Many people look forward to the day when they can bring home a Labradoodle puppy of their very own, but that experience is sometimes overshadowed by the stress of finding the right breeder.
With popular breeds like the Labradoodle, there are so many breeders in the country that the options are overwhelming. How can you tell the difference between a good breeder and one to avoid? How do you know which breeder is the right fit for you and your family? That's why we put together a list of the best Labradoodle breeders in Tennessee to help you.
As it turns out, the best way to determine the answers to questions like those is to do a lot of investigative research. You need to spend plenty of time comparing your options and reading customer reviews to land on the right breeder.
If there's one part of the process that you don't want to skip, it's this one! That's because a Labradoodle breeder has a massive influence over the outcome of the dogs they breed. The early enrichment, socialization, and nourishment that the puppies receive can set them up to succeed or fail later in life.
Choosing the right breeder with the right breeding practices is a great way to safeguard yourself against adopting an unhealthy or temperamentally difficult dog.
Tennessee and the surrounding states have some of the best Labradoodle breeders around, so if you live in Tennessee and are hoping to adopt a Labradoodle—you're in luck! Check out the rest of this article for more info on the best Labradoodle breeders in and around Tennessee.
Other articles you would like: Goldendoodle Breeders in Tennessee and Cockapoo Breeders in Tennessee.
Labradoodle Puppies  In Tennessee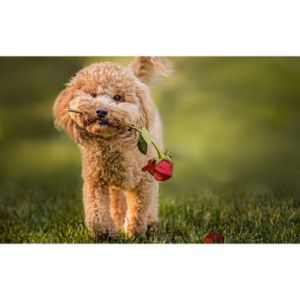 In this article, we provide you with a list of the very best Labradoodle breeders in Tennessee and the surrounding area. We know how arduous the process of finding the right breeder can be, so we decided to simplify it for you. In order to make this list, we conducted extensive research on all of the Labradoodle breeders in the country.
We took our very favorites from that research and included them in this list. We firmly believe that dog breeders need to be ethical, experienced, and caring in order to qualify as a top-tier breeders, and those are the criteria that we used to make this list.
You can feel confident that if you adopt a puppy from one of these breeders, your pup will be happy, healthy, and the perfect companion for years to come.
1. Cabin Hill Labradoodles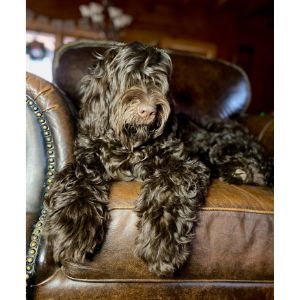 One of the best Labradoodle breeders in Tennesee is Cabin Hill Labradoodles. Cabin Hill Labradoodles is a great breeder who breeds beautiful and smart puppies. This breeder is located in middle Tennessee and their breeding grounds are at their large cabin.
This is a family-owned and operated business that socializes their Labradoodles with their children. Since this is a cabin and set next to a woodsy environment, the puppies will also be socialized to ignore squirrels and deer.
This breeder offers F1 and F1b generations of Labradoodle. Every dog comes with two-year health and genetic guarantee. Each puppy is temperament tested at seven weeks of age and is looked over by a veterinarian.
Every puppy gets their vaccines, de-wormed, and a microchip. A microchip registration package is sent home along with a schedule of feeding and training for the new puppy. This extra stuff is meant to help the adjustment phase of the Labradoodle to its new home.
There is an application process and puppies are hand-picked and matched to the needs of the family and the family's home. This is so every dog gets a good forever home and everything is found out ahead of time so a new owner can prepare. Cabin Hill Labradoodles is a breeder that will send you home with everything you need for your puppy and you to be successful.
This includes a litter-scented blanket, toys, a collar, some sample food, and more! They are great at communicating and will offer mentorship for new owners. There is also a guardianship program for those who live close by in Tennessee.
Labradoodle Breeder Information:
2. Australian Heritage Labradoodles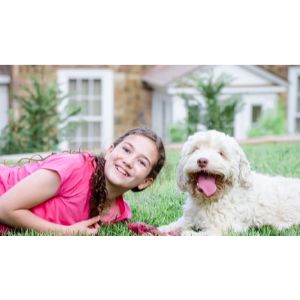 Australian Heritage Labradoodles is home to one of the best Labradoodle breeders in Tennessee. This breeder offers multi-generational Labradoodles. Australian Heritage Labradoodles breed miniature and medium-sized Labradoodles. They boast puppies that are allergen-free and practically non-shedding.
Each puppy goes under intense analysis during its first weeks to make sure that there are no genetic defaults. Australian Heritage Labradoodles tests their dogs for twenty different genetic conditions to make sure that every puppy goes to its new home healthy. There is two-year health and genetic guarantee through Australian Heritage Labradoodles.
There are multiple ways to contact Australian Heritage Labradoodles and they offer great communication. This is helpful before the application process in case you have any questions about what you're getting into.
Mentorship is included as well as information on how to get your new puppy a proper training schedule. Australian Heritage Labradoodles believes in training their puppies to have successful and well-adjusted dogs in the future.
All their Labradoodles puppies for sale in Tennessee are vaccinated and de-wormed and are provided with papers to register their microchips. Each dog is socialized and given neurological stimulation early to help provide the best foundation for the new Labradoodle. They include take-home packages with the new puppy including a collar and toys to help the new owner prepare.
Australian Heritage Labradoodles has captured the market with their Labradoodles because they have some of the best well-tempered and behaved dogs as parents. It is important to get to know your needs before choosing your puppy so you can get the best one from the litter that will adjust to your home!
Labradoodle Breeder Information:
3. Good Day Doodles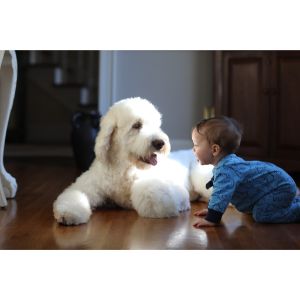 Good Day Doodles is one of the best dog breeders around. Their Labradoodles are of the highest pedigree and are sought after around the country!
They have a well-established and thoroughly researched breeding program that is designed to produce incredible dogs as well as provide adoptive families (and adoptive hopefuls) with great information and resources to become the best dog parents they can be.
This breeder loves each of their puppies like a child, and therefore believes in finding the perfect fit for them in an adoptive family. They thoroughly vet their prospective adopters to see if they can handle the responsibility of owning a dog, as well as if they have the right personality to be a loving and caring dog parent.
If you're interested in adopting from this breeder, be prepared to answer a lot of questions about yourself and engage in open and honest communication with the breeder.
This Labradoodle breeder has a large breeding program that consists of 31 breeding dogs — 21 dames and 10 sires. You can find a comprehensive list of stats, pictures, and more for each of their breeding parent dogs, including which litters are whose.
The breeder also posts a lot of adorable and funny updates on their website about each litter on a weekly basis, so be sure to check out their site today so you don't miss out!
From the minute each puppy is born they receive the perfect and appropriate care, nutrition, and social and environmental stimulation to ensure that they grow to be strong, healthy, and well-balanced dogs in adulthood. Each puppy comes with their appropriate shots, initial deworming treatments, and a clean bill of health at the time of adoption.
Labradoodle Breeder Information:
4. Southern Charm Labradoodles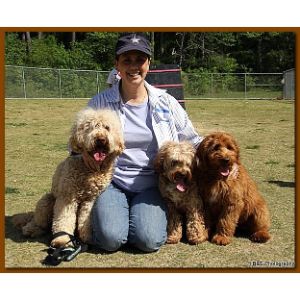 Southern Charm Labradoodles is a special breeder in scenic Loganville, Georgia that specializes in Labradoodles and other doodle mixes. They believe that each dog deserves plenty of love, care, and attention from the minute they are born, and this helps them raise some of the most stunning labradoodles you've ever seen.
Their breeding program features 30 parent dogs — 18 sires and 12 dames. All of these dogs are certified and registered through the ALAA, and their puppies are simply precious. The breeder is also passionate about providing plenty of educational resources for each adoptive family and other site visitors in order to help educate people on the best practices for being a pet parent.
On their website, you can also find a lot of precious pictures and updates about each dog and litter, and even some cute footage from the webcams that feature the litters. The dogs all get a lot of wonderful social and environmental stimulation to help prepare them for life in any sort of home after adoption.
These dogs grow to be well-adjusted and loving and are truly the perfect companions. Their dogs are thoroughly genetically health tested to ensure that they are free of genetic health abnormalities that may appear later in life.
Each dog adopted from this breeder will have its appropriate vaccines, initial deworming treatments, a certified clean bill of health, a microchip, and a small supply of puppy food for its first few days at home.
Labradoodle Breeder Information:
5. Tampa Bay Australian Labradoodles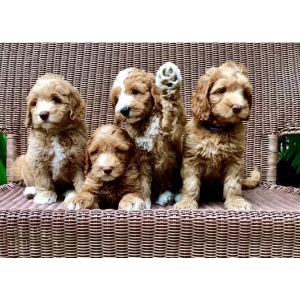 Last on the list of Labradoodle breeders in Tennessee is Tampa Bay Australian Labradoodles. Tampa Bay Australian Labradoodles is another one of our favorite Labradoodle breeders in the whole country! This breeder is owned and operated by a loving couple that is incredibly passionate about what they do.
Both members of this couple are sonographers, and they put their skills to good use by giving each expectant doggy mother ultrasounds to ensure that all puppies (and mama!) are as healthy as can be throughout the pregnancy.
Their scientific background means that they are very well informed on genetics and the art of selecting specific traits during breeding. Their dogs are of the finest quality and are known for conforming to every aspect of the breed standard from looks to personality to health.
Their website is full of adorable pictures of their dogs and puppies, and plenty of engaging updates about the progress the puppies are making before they go home to their new families. Since these dogs are so sought after, the waitlist for them is very long and every person who adopts from this breeder has waited at least a year for their puppy, if not longer.
If you're determined to adopt from this breeder, go ahead and join the waitlist now so you can get that ball rolling. Although it may feel frustrating to wait a long time for a puppy you want today, you won't be sorry you waited once you see the quality that these dogs have compared to other puppies from other breeders.
One of the other things that set these dogs apart from the rest is the way this breeder engages them with neurological stimuli from an early age. This helps them hone their reflexes and critical thinking abilities, and the results speak for themselves when you look at their adult dogs.
As the puppies grow, this breeder even potty and house trains them so they're good to go by the time you take them home.
Labradoodle Breeder Information:
Conclusion For Best Labradoodle Breeders In Tennessee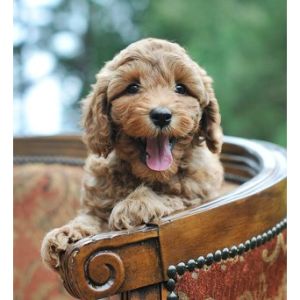 Dog adoption is exciting but stressful, and one of the biggest reasons for that stress is the process of choosing the right breeder. Labradoodles are amazing dogs and, as a result, are quite popular in the United States. Consequently, there are hundreds of breeders to choose from, and not all of them are good or trustworthy.
In order to help set you up for success on your adoption journey, we compiled this list of the best Labradoodle breeders in Tennessee. Our list was informed by meticulous research to confirm that each breeder listed here is ethical, caring, and experienced. You can be confident that if you adopt from one of these top breeders, your dog will be an amazing pal for the duration of its life.
You will also like: