Sheepadoodles, which are a designer cross breed between the purebred English Sheepdog and the Standard Poodle, are rising stars of the dog world. These puppies are the very best of their parent breeds and are known for their sweet demeanor, high intelligence, trainability, non-shedding coats, and many more idyllic features.
Sheepadoodles are the dream dog for many people in Tennessee, but unfortunately, the process of finding the perfect Sheepadoodle breeder isn't as straightforward as many wish.
When it comes to picking the right Sheepadoodle breeders in Tennessee, the key is to conduct thorough research so you can make an informed choice about which breeders are ethical and trustworthy and which should probably be avoided. Breeders play an essential role in the healthy development of the puppies they breed.
This is because they provide the early care that lays the foundation for who the puppies will grow to be in adulthood. The nourishment, social stimulation, and cognitive curriculum that the breeder exposes them to help set them up for success later in life. This is why you need to be sure you select the right breeder.
Other articles you would like: Labradoodle Breeders in Tennessee and Bernedoodle Breeders in Tennessee.
Sheepadoodle Puppies In Tennessee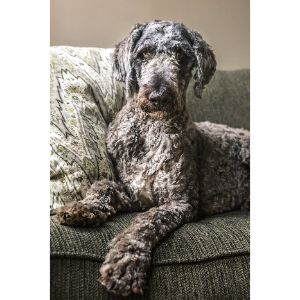 There are a lot of awesome Sheepadoodle breeders in Tennessee and the nearby states, so if you're looking to adopt a Sheepadoodle in Tennessee, this is the article for you.
For this article we researched all the best Sheepadoodle breeders in Tennessee and the surrounding states and compiled a list with our favorite breeders from our research. We believe that great breeders are ethical, caring, and experienced, and we used these criteria to inform who we considered for this list.
You can be confident that each breeder listed here is a stellar Sheepadoodle breeder and all puppies purchased from them will be of the highest quality.
1. My Fair Doodles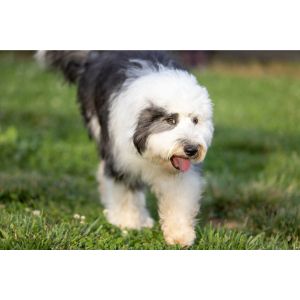 My Fair Doodles is a great place to start when looking for a reputable Sheepadoodle breeder in Tennessee. This breeder is a family-oriented small business that takes pride in each litter of puppies that they help into the world. They strive to provide their puppies with the best care and beginning to live so as to provide a new owner with an animal that will last 12+years in good health and temperament.
It is important to socialize puppies, Sheepadoodles included, and My Fair Doodles recognizes this requirement of a healthy, well-balanced, happy puppy. They initiate Early Neurological Stimulation (ENS) to puppies as young as three days old to enhance their intelligence and to provide a stable groundwork for being trainable later. The puppies are socialized and also are exposed to modern-day common stimulation like people, music, food, sounds, working equipment, and other animals.
A Sheepadoodle that is healthy and stable is what My Fair Doodles specializes in, as well as other types of Doodle. They offer F1 Sheepadoodles as well as other F1 Doodle types. The Sheepadoodles are genetically tested to make sure they are healthy before the litter arrives, and after the litter has been delivered. There is no visitation to the parents or puppies of Sheepadoodles bred at My Fair Doodles, but this is only to keep puppies safe from disease or harm.
Their Sheepadoodle puppies in Tennessee are also potty and crate trained as an added bonus. This foundation is great for new owners who are just now learning how to take care of their new Sheepadoodle. Crate and potty training is great for puppies who will blossom into obedient dogs who will stick to mother nature to relieve themselves and will return to their crate at the end of the day.
Sheepadoodle Breeder Information:
2. Pigs N Poodles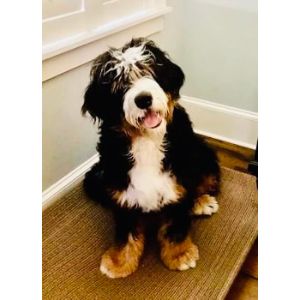 A great place to inquire about your next Sheepadoodle is at Pigs N Poodles, an established breeder. Pigs N Poodles breed reputable Sheepadoodles as well as other types of Doodles, several types of pigs, and of course Poodles. Although the Sheepadoodle is not the main attraction for this breed, they are a very intelligent, healthy, and stable breed. The Sheepadoodle is a loving and friendly dog that has an almost shed-free and hypoallergenic coat.
Pigs N Poodles is located on a farm in Middle Tennessee. All of its dogs are bred and raised on this farm surrounded by multiple types of farm animals. Sheepadoodles are socialized with these different kinds of animals and farm-life situations, making them a great breed to place on your farm. They are socialized with other dogs and children, making them great to be in your family if you do not own and run a farm. These puppies will also be started on training and Early Neurological Stimulation to provide them with the best foundation for their owners to start from.
This Sheepadoodle breeder in Tennessee offers a lot of information on their website about each breed and the requirements you must meet to be able to care for each breed. The Sheepadoodle is praised for being great in temperament naturally as well as being healthy and able to live longer than usual lives. Pigs N Poodles takes the care of their puppies and dogs very seriously and visitation is not allowed. The parents and puppies are documented by video and photographs and communication are key for deposits and puppy picking.
Sheepadoodle Breeder Information:
3. Grace Wood Farm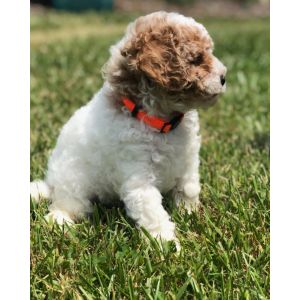 Grace Wood Farm is a fantastic, nationally recognized, and highly acclaimed Sheepadoodle breeder. They specialize in full-sized Sheepadoodles, Mini Sheepadoodles, Micro Sheepadoodles, Micro Bernadoodles, Mini Labradoodles, and Poochons.
One of the things that really sets this breeder apart is their vision of having each parent dog be a true member of the family. The parent dogs are spoiled rotten and given endless love and attention to make sure they are as happy as can be.
The breeder strives to foster the perfect environment for adults and puppies alike— and that means the mental environment as well as the physical. They give their dogs the very best, and it shows when you meet one of their puppies.
From birth, the puppies are given constant attention and socialization, and they even get playtime with human children every day. This helps get them used to being around plenty of people which makes the transition into your home much easier.
This breeder is owned by a loving couple and their six wonderful children, all of whom are true dog lovers. Family is always their top priority, and each of their dogs and puppies is a member of their family.
Another thing that we love about this breeder is the way they blend family love for their dogs with the professionalism required by a good breeder. They carefully research and plan for each litter to control for specific and desired traits in their puppies.
They conduct thorough genetic health tests to make sure the adult dogs and puppies alike are healthy and free from any genetic mutations or illnesses. On top of that, they conduct temperament tests to help their dogs become well adjusted in adulthood.
Each dog is fed the highest quality nutrition and gets plenty of supplements to make sure they are healthy and strong. They only breed dogs that have been rigorously vetted to ensure they are healthy and will make great parents for the puppies, and the dogs are never treated like breeding machines.
Each puppy adopted from this breeder comes with a one-year health guarantee, appropriate vaccinations, and deworming treatments, a clean bill of health signed off on by a certified vet,
Sheepadoodle Breeder Information:
4. Two Sisters Doodles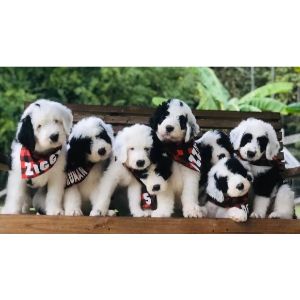 One of the telltale signs of a top-tier breeder is a long list of glowing reviews from happy customers, and Two Sisters Doodles has them in spades. This breeder is, as the name implies, run by two sisters who are passionate dog lovers. The sisters live a town or so apart and do everything together, and their cohesion is clear in the spectacular way they run their business.
Two Sisters Doodles specializes in Sheepadoodles and Goldendoodles, and they select for health and temperament when planning each breed. Every single dog they breed is raised in their home and celebrated like a beloved family member. They are never confined to a kennel and are always honored with the love and respect all living creatures deserve.
Although the puppies get time each day to explore and play outside, they are only ever raised inside in the home which helps keep them safe from predators, illnesses, and weather. They are always socialized from birth and are exposed to a variety of social and environmental stimuli that help them grow up to be well adjusted later in life and ease the transition into your home.
All puppies also get emotional resiliency exercises, leash walking exposure, recall, potty training, crate training, manding, anti-aggression protocols, and more. The puppies are the pride and joy of this breeder and they truly want the best for each of them.
For this reason, they are selective about who they allow purchasing a puppy and they like to communicate a lot with potential adopters to get a sense of who they are and their philosophies around raising puppies.
Sheepadoodle Breeder Information:
5. Best Doodle Puppy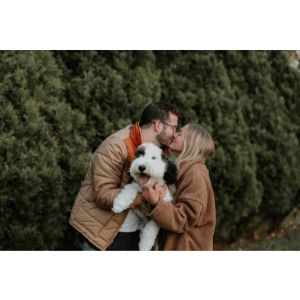 Best Doodle Puppy is a fabulous breeder that specializes in Sheepadoodles, Bernedoodles, and Goldendoodles. They are family owned and operated and are passionate about the work they do to produce some of the highest quality doodles around.
Their breeding began as a passion-driven hobby nearly 20 years ago, but they quickly discovered they were naturally talented and decided to pursue it professionally. Each of their litters is carefully planned so they can select the best qualities in any doodle breed.
They strive to achieve the very highest coat quality, disposition, temperament, and health of any breeder around, and they certainly hit the mark. Each of the 8 family members of this breeder loves to help out with the puppies and they all spend a lot of time outdoors with the puppies on their stunning 100-acre family farm.
In addition to breeding doodles, the family also raises grass-fed beef, miniature donkeys, and pasture-raised chickens, which means the puppies and dogs have plenty of farm friends to play with day in and day out.
This breeder makes sure to provide plenty of social and environmental stimuli exposure to each puppy so that they are not triggered by anything later in life and have very low rates of anxiety.
Their dogs are constantly loved and given a lot of attention so they are used to being around people from birth. The adult dogs are thoroughly genetically tested and are never bred unless the breeder is 100% confident that they are free of any and all genetic health abnormalities.
To learn more about this awesome family and their adorable dogs, head on over to their website to learn more about adoption today.
Sheepadoodle Breeder Information:
Conclusion For Best Sheepadoodle Breeders In Tennessee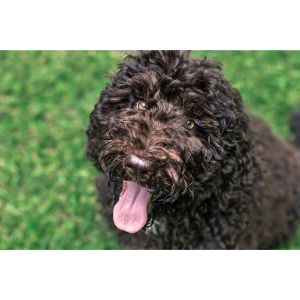 Sheepadoodles are gorgeous dogs that are perfect family pets for anyone. Their high intelligence, loving disposition, calm demeanor, eagerness to play, trainability, and non-shedding coat make them ideal companions for all dog lovers.
This breed is gaining popularity as the years go by, which means that there are more and more options for Sheepadoodle breeders that hopeful owners can buy from. Unfortunately, this also means that you now have to do more research to figure out which breeders are trustworthy and which should be avoided.
We decided to simplify the process for you by conducting extensive research of our own and creating this comprehensive list of the best Sheepadoodle breeders in Tennessee for your convenience. We looked at all of the Sheepadoodle breeders in Tennessee and the surrounding states to determine which breeders would make the cut.
We only considered ethical breeders with outstanding breeding practices when making this list, and you can be confident that any puppy adopted from one of these breeders will be of the highest quality.
You will also like: