If you have an interest in the Bernedoodle, we welcome you, and we've compiled a list of the top Bernedoodle breeders in Utah for your convenience. It is important to find reputable breeders to find your next addition to your family. In this article, you'll learn where to find seven of Utah's best Bernedoodle breeders.
Some articles you may like: 5 Best Aussiedoodle Breeders In Utah! and 5 Best Cavapoo Breeders In Utah!
Bernedoodle Puppies In Utah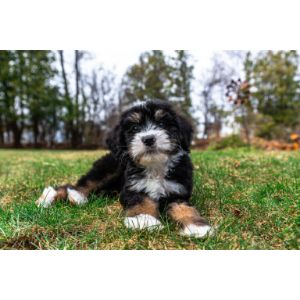 Bernedoodles are a notoriously fantastic breed, being a mix of the Bernese Mountain Dog and the Poodle. Poodles are intelligent and agile and live longer than average lifespans, while Bernese Mountain Dogs are sturdy and can handle all kinds of weather. The Bernedoodle is intelligent, loyal, active, and trainable.
1. Artisan Doodles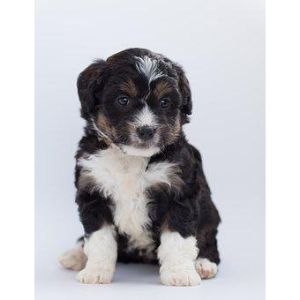 If you are looking for a smaller version of the Bernedoodle breed in Utah, Artisan Doodle offers miniature Bernedoodles!
Artisan Doodles prides itself on breeding amazing dogs with great health and superior intelligence. This breeder specializes in miniature Bernedoodles as well as a few other breeds of Doodle, or Poodle mixed with another breed.
The breeders at Artisan Doodles provide a lot of support for the parents, the puppies, and the future new owners of the pups. Miniature Bernedoodles are hand-selected, Bernese Mountain Dog, and Poodles.
Artisan Doodles offers puppies that are F1, F1b, and multi-generational. There are different coats that can be chosen from, such as fleece and wool.
Every puppy will have Early Neurological Stimulation (ENS) exercises. Puppies are started early for potty training and simple commands. They have a two-year genetic health guarantee and are de-wormed and vaccinated before being adopted out.
Bernedoodle Breeder Information:
2. Rosadoodle Puppies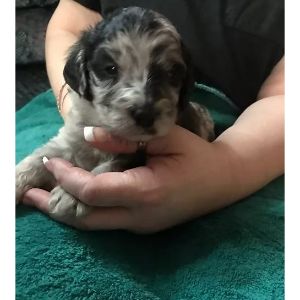 The Bernedoodles bred and raised by Rosadoodle Puppies may end your search for the perfect Bernedoodle breeder in Utah.
Breeders at Rosadoodle Puppies guarantee to hand-select their Bernedoodles based upon great dispositions, outstanding genetic health, coloration, and coat. The Bernedoodles at Rosadoodle Puppies are often F1b generations, but requests can be made as they know where to find other generational types in the area.
Because the breeders take such care to hand-pick the litter pairs and to keep regular documentation, you can find the perfect Bernedoodle to take home when it is ready! Their Bernedoodles are healthy, smart, and have great temperaments.
Bernedoodle Breeder Information:
3. Northridge Doodles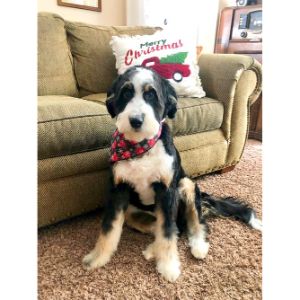 A family-owned and operated breeder, Northridge Doodles is home to Bernedoodles and other Doodles. They offer support through the labor and delivery of the puppies for the female parent dog.
The puppies are socialized from birth and are started on ENS as soon as three days after birth. ENS is great for stimulating the brains and helping create sociable, fun-loving, and outgoing animals that will please the entire family.
Northridge Doodles offers F1 and F1b puppies and has all the documentation to back up their breed. Puppies are kept together until they mature to the age of viable adoption. All the while, they are taught how to be friendly and obedient.
Certain tasks that Northridge Doodles likes to see started before an adoption is potty training. This begins three weeks in for the puppies and is often successful if continued at home.
Bernedoodle Breeder Information:
4. Utah Bernedoodles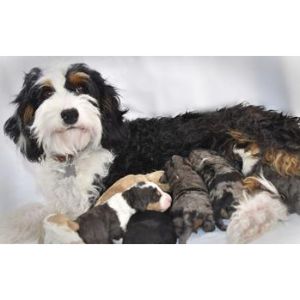 If you are looking for a reputable Bernedoodle breeder in Utah, then Utah Bernedoodles is the right place to visit. Utah Bernedoodles breeds tri-colored Bernedoodles, both regular and miniature sizes.
Utah Bernedoodles had their first successful breed of Bernedoodle in 2010 with a tri-colored coat that didn't shed and was hypoallergenic. These dogs were meant to live for 12 years plus and were obedient and loving.
Ethically bred healthy animals are the mainstay of Utah Bernedoodles. They are extremely organized and detailed in the information they collect, and in the system, they use to breed their dogs.
Utah Bernedoodles encourages families to continue the techniques that were instituted in the early stages of their new puppy's life. This will help for a smooth transition with minor behavioral adjustments to consider through stages of the dog's life span.
Bernedoodle Breeder Information:
5. The Doodle Tribe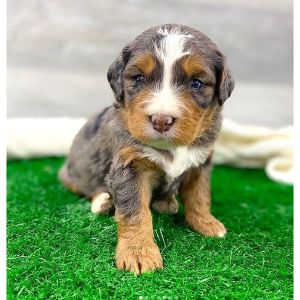 The Doodle Tribe is one of the best Bernedoodle dog breeders that serve Utah. Although they are based out of Gilbert, Arizona, they will serve Utah and the surrounding states.
At the Doodle Tribe, Bernedoodles are bred at F1 and F1b generation levels. These Bernedoodles can come in either miniature or standard sizes.
Because the Doodle Tribe holds very strict standards, these Bernedoodles are guaranteed to be healthy and sociable animals. This includes potty training, regular early training, and strict guidelines about puppy visitation before eight weeks.
The Doodle Tribe also will only adopt a Bernedoodle to those who will sign a spay/neuter form. This breeder is reputable and will care for puppies from start to finish when they are of age and ready to go to their new homes.
Bernedoodle Breeder Information:
6. My Doodle Crush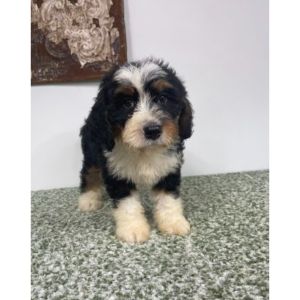 My Doodle Crush is a Bernedoodle breeder based out of Utah. They are family owned and operated and specialize in Bernedoodles.
This breeder starts with the parents and makes sure that the temperament and behavior is calm and collected before even breeding them. This ensures that the F1b generation will be sweet, content, and loving animals, also making it easier to train them and to rely on them as service animals if needed.
A two-year genetic health guarantee also seals the deal for happy buyers of loving Bernedoodles. Healthy and genetically sound, these dogs are guaranteed to be great house pets.
Bernedoodle Breeder Information:
7. Mount Sterling Doodles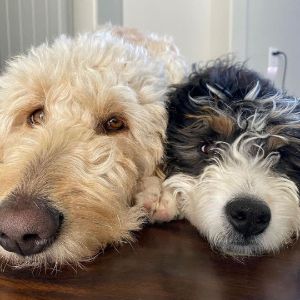 Due to their children's medical needs, these breeders have developed their own Bernedoodles. These Bernedoodle breeders are based out of Utah at the base of western Mount Sterling. They special in Bernedoodles and other types of Doodles. These Bernedoodles are offered in F1 and F1b generations, concluding our list of the best Bernedoodles in Utah.
Mount Sterling Doodles are last on this list of Bernedoodle breeders in Utah, but that does not mean that they lack efficiency. These breeders have pride in their family, and the family unit is responsible for caring for the dogs they breed. Their biggest goal is socialization to maximize the potential of a positive temperament for the future.
All puppies are cared for and given attention and stimulation to help their tiny brains grow and process to become healthy and normally behaved dogs. The stages of development are a big deal when it comes to Mount Sterling Doodles Bernedoodle breeder. They believe it is important to facilitate healthy learning at each step of development, starting with play.
Bernedoodle Breeder Information:
How To Choose a Bernedoodle Breeder In Utah?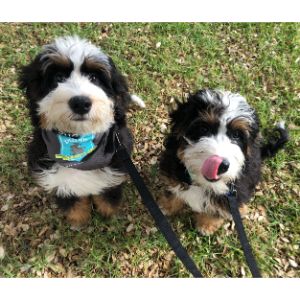 It is important to know which Bernedoodle breeder to go to within Utah. If you are in Utah or in the area and looking for a reputable Bernedoodle breeder, this list will show some of the top breeders around.
A breeder's reputation is based on how well their litters come out when they breed their dogs. They need to have regular health checks to ensure a healthy dog is being adopted. Health warranties are offered by a lot of the breeders in Utah.
DNA testing is usually done and offered through agencies that will register your mixed-breed Bernedoodle. Vaccinations should also be a bonus to look for in a reputable Bernedoodle breeder. De-worming is also an important process when it comes to puppies.
More Information About Bernedoodles In Utah
Getting a healthy puppy, to begin with, will ensure that you have a long-lasting best friend that comes home to your family. You must find a reputable breeder that cares for their animals and maintain organization during the entire process.
It is important for you to do the research on your local breeders and read into how they run their breeding business. You can find the right size, shape, color, temperament, and more just by reaching out and asking questions about the Bernedoodle to the local breeders in Utah. They will be happy to provide you with more information.
Shop around and find what price you can afford, versus what the individual breeder will provide for care for your new puppy when it is born. Some breeders will even provide lifetime support and will offer tips and help throughout the dog's life, some fifteen-plus years!
This extra support is a great added dimension and really reigns in why you should seek an actual Bernedoodle breeder.
Conclusion For Best Bernedoodle Breeders In Utah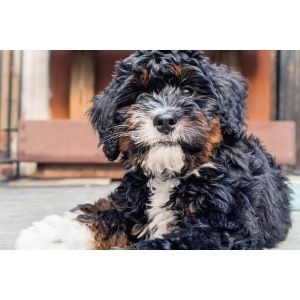 If you are looking for a Bernedoodle breeder in Utah, we have you covered! This is a comprehensive list of the top seven Bernedoodle breeders in Utah.
It should help you get started in your search to bring your new Bernedoodle companion home.
You will also like: