Labradoodles are some of the cutest puppies around. These dogs are a designer hybrid mix between the Labrador retriever and the standard poodle. Throughout the years, these dogs have become increasingly popular. This is because they possess many of the most desirable traits for dog owners, which is why we've got a list of the best Labradoodle breeders in Utah for you!
These traits include high intelligence, a lovable nature, high trainability, loyalty, no shedding, and robust health. The reason that these dogs have so many wonderful traits is that they possess the very best traits of both parent breeds, and very few of the negative traits possessed by either.
As is the case for many popular breeds, there are a lot of breeder options to choose from. This can be both a blessing and a curse because while it is great to have choices, it also means that you have to do some extra work to sift through the negative choices.
Some articles you may also like: 5 Best Maltipoo Breeders In Utah! and 5 Best Cavapoo Breeders In Utah!
Labradoodle Puppies In Utah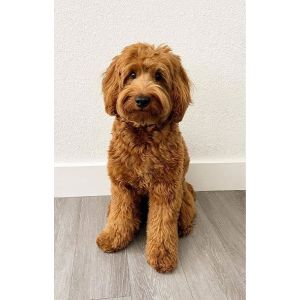 Utah has a lot of wonderful dog breeders in and around its borders. If you live in Utah and are interested in adopting a Labradoodle puppy of your very own, then this is the perfect article to help you during that journey.
For this article, we conducted extensive research covering all of the Labradoodle breeders in the country. Given the process of finding a great dog breeder can be a little bit overwhelming, we figured that if we helped out by conducting a lot of the research ourselves, it might make your search a bit easier.
During this process, we utilized a course set of extremely rigorous standards to compare each breeder we researched. We only considered breeders that met these criteria, and in the end, we included all of our favorite breeders on this list.
In order to make the cut, the breeders we researched had to be ethical, experienced, caring, and extremely trustworthy. All breeders included here are exceptional examples of Labradoodle breeders, and any puppy purchased from them is sure to be a perfect fit for your family.
Check out for more: Best Labradoodle Breeders In Michigan and Best Labrador Breeders In Ontario
1. Ellsworth Labradoodles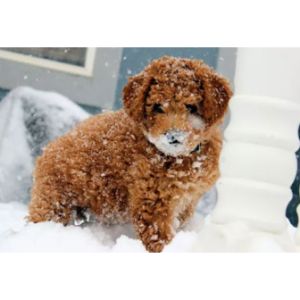 If you are looking for a reputable and trustworthy Labradoodle breeder in Utah then Ellsworth Labradoodles holds the answers to the questions you may have. This breeder offers an educational and informative website. This is alongside an extensive specialty of breeding glorious and healthy Labradoodles.
Ellsworth Labradoodles is really particular about its application process, and there are musts that both the breeder and the buyer have to consider. Such things as delivering a healthy puppy to the new owner are the breeder's responsibility, but the owner must make sure to get their puppy vaccinated and checked out further by a veterinarian.
There are very strict rules regarding their spay/neuter clause, and they will not release a puppy to a new owner unless this is signed. This is to prevent future abuse or issues with the breed if the dog is unknowingly bred elsewhere. It is a complicated process to get the right breeding with the F1 and F1b generations they offer at Ellsworth Labradoodles.
They believe in using Early Neurological Stimulation (ENS), so the puppies will have a great basis for socialization and exposure to daily life. This will ensure you come away with the best Labradoodle you can find in Utah.
There are guarantees on temperament and behavior due to this. However, the genetics of coat textures and colors aren't perfected at Ellsworth Labradoodles. They are not guaranteed to be the same every time. This is not usually a big deal to most buyers of Labradoodles, however, so Ellsworth Labradoodles makes a great breeder in the Utah area.
Labradoodle Breeder Information:
2. Artisan Doodles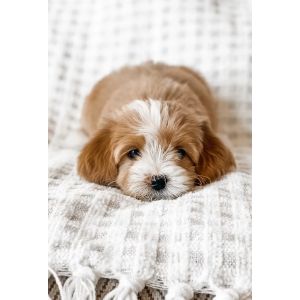 The dogs bred by Artisan Doodles are known for excellent health and superior intelligence. The breeder specializes in Labradoodles as well as some other types of Poodles mixed with other breeds. Labradoodles are eager and happy dogs and deserve a good foundation to become successful as adult dogs.
At Artisan Doodles, both the parents and the puppies, as well as potential new owners, receive excellent support. Hand-selected Labrador Retrievers and Poodles make up the breed.
Utah Labradoodle breeders may be hard to find, but Artisan Doodles provides puppies and dogs to the surrounding areas. Artisan Doodles is very responsive and offers many ways to communicate with them.
At Artisan Doodles, they sell F1, F1b, and multi-generational puppies. Both fleece and wool coats are available. All procedures are documented for each parent dog, as well as documentation for each puppy.
Each puppy is checked over and genetically tested before being adopted. These puppies are guaranteed to be healthy and to live long, happy lives from the get-go. Artisan Doodles takes time with each puppy in each litter to ensure great and long-lasting outcomes.
Each puppy will receive early neurological stimulation (ENS) exercises. They will be taught basic commands and potty training early on. Before the puppies are introduced to new owners, they are handled and socialized well.
They are de-wormed and vaccinated before adoption, and a two-year genetic health guarantee is provided. In order to provide appropriate adjustment measures for the Labradoodle puppy and the new owner, owners are provided support after the purchase and adoption process is complete.
Labradoodle Breeder Information:
3. Red Desert Doodles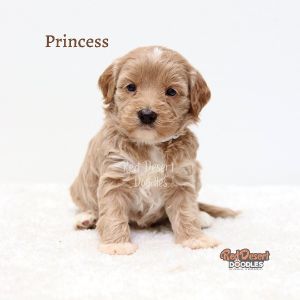 Red Desert Doodles is a charming breeder located in southwestern Utah, in, as the name suggests, the Red Desert Region. Owned and operated by a loving couple, this breeder gets a lot of help from their seven sons, six daughters-in-law, and 10 grandchildren, all of whom simply adore being able to help out with the raising of such precious puppies.
The family loves to go on lots of adventures together (often with dogs in tow), including hiking, camping, barbecuing, hanging out by the pool, and many other awesome outdoor activities. This couple has a lot of experience raising and breeding dogs. They raised, bred, and trained German Shorthaired Pointers for over 25 years.
While the couple deeply enjoyed that experience, they stay on their website that pointers tend to be incredibly high-energy dogs that can be difficult to train, and after many years of working with them, this breeder decided to switch to the more mellow and very lovable Labradoodle.
This breeder specializes in Australian Labradoodles, which are Labradoodles that also incorporate Australian Shepherds. This breed is incredibly special and a little bit rarer than the traditional Labradoodles, but they possess all of the same fantastic traits, with the addition of some special ones of their own.
The puppies bred by this breeder are exceptional examples of the breed standard, and they produce some of the highest-quality dogs around. In order to ensure that all of the breeding dogs are free of genetic health abnormalities, this breeder conducts genetic health tests on each breeding dog. T
his precaution enables them to reduce the incidence of inherited diseases in their litters. In addition to these genetic tests, the breeder has all of their breeding dogs receive hip and elbow screenings from the Orthopedic Foundation for Animals.
On top of those tests, this breeder also has registered ophthalmologists who perform OFA certification exams that help them screen each dog for eye diseases that can be inherited. If you are interested, you can see all of the health testing results for their breeding dogs on request.
Labradoodle Breeder Information:
4. Badger Mountain Labradoodles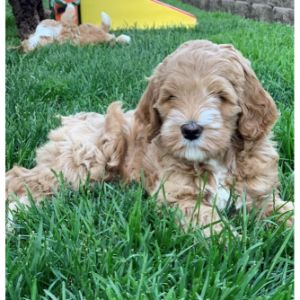 Badger Mountain Labradoodles is a wonderful family-owned and operated breeder located in Washington state. This breeder is close to Utah, and it is a short trip away for any person interested in adopting one of their precious puppies.
With the help of their four children and 10 grandchildren, this breeder loves being able to breed and raise such special dogs that grow to be perfect companions for many families. Each puppy is loved and raised by hand from the minute they are born.
This breeder makes a promise that each puppy is treated as if they were the breeder's very own dogs, and they ensure all adoptive parents that their dogs have been raised with the utmost love until they are ready to go home.
This breeder's love for dogs was inspired when they were charged to care for their son's puppy while he went to work. Although that dog was a Jack Russell Terrier, the one-on-one time spent together allowed the breeder to realize that what they were truly missing in their life was puppies.
Soon after that, the breeder recalls seeing a picture of the most adorable puppies in the world: Labradoodles. They knew at that moment that their lives would change forever and that they were meant to work with these wonderful dogs.
This breeder specializes in breeding Australian Labradoodles of two different sizes, mini and medium. This means that they are bred with smaller poodles, which allows them to achieve a cute and smaller size. Each puppy adopted from this breeder costs $3500, in addition to a nonrefundable $500 deposit which holds your spot on the waiting list.
Once your reserved puppy reaches four weeks of age, the payment is required in full. They currently have several absolutely adorable puppies expected in upcoming litters for this summer, so be sure to head over to their website to learn more today.
Labradoodle Breeder Information:
5. Mule Mountain Doodles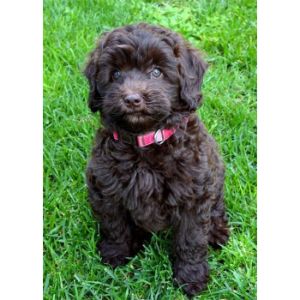 This breeder is another family and breeder that specializes in Doodles of different varieties. They are located in Phoenix Arizona, and they offer Labradoodles, Double Doodles (also known as bearded retrievers), and Sheepadoodles, concluding our list of the best Labradoodles in Utah.
They strive to only produce the healthiest and most attractive pups around. Their one goal for each letter is to raise puppies that are healthy, confident, and secure. Each one of their dogs is raised inside their family home as their pet and given constant love and attention.
This socialization from a young age allows the dogs to grow into confident dogs that are even-tempered and comfortable in many social situations. One of the core philosophies that drives this theater is open and honest communication. They encourage any interested or curious party to contact them by phone, email, or FaceTime at any time.
One of the reasons that they are so committed to having such open communication, is that they are aware that the process of finding a breeder can be overwhelming and that there are a lot of people out there who may try to take advantage of people looking to purchase a puppy.
This breeder carefully plans each litter, and they offer some of the best care for those crucial first eight weeks of the puppy's life. They are so passionate about what they do, and it is very clear to see that they are incredibly accomplished breeders.
Labradoodle Breeder Information:
Conclusion For Best Labradoodle Breeders In Utah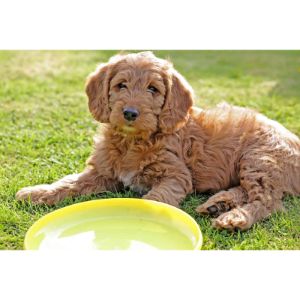 Adopting a dog is a very exciting time, and many people look forward to it for their entire lives. Unfortunately, the process can get complicated and become confusing or even frustrating, especially if there are a lot of breeders to choose from in your area.
With so many Labradoodle breeders out there, naturally, there are a lot of unsavory prospects that are best avoided. The flip side of that is that there are plenty of fantastic breeders as well. In order to make your adoption process as easy as possible, we took the time to conduct thorough research on all of the best Labradoodles breeders in Utah and the surrounding states.
When conducting research like this, we use the highest standards to inform our choices, and you can rest assured that all of the breeders included on this list meet and exceed those standards. Any puppy adopted from one of these breeders would make a great companion who is short to be happy and healthy for many years to come.
You will also like: