Today we are going to talk about the best German Shepherd breeders in Texas. German Shepherds make excellent pets because of their wonderful traits. Loyal, lovable, intelligent, and strong, these dogs have been a part of many families for several years.
These dogs will steal your heart and protect it at the same time. If you want to add one of these amazing creatures to your family, then it is essential to find the perfect breeder. Not all breeders are the same, and it's important to find one that cares about the healthy of their German Shepherd puppies.
Other articles you would like: Doberman Breeders in Texas and Golden Retriever Breeders in Texas
German Shepherd Puppies In Texas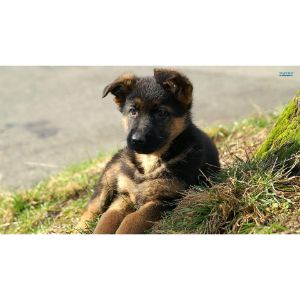 These large dogs are prone to some joint and hip issues. However, experienced breeders can avoid these issues by conducting thorough health tests before breeding. These health tests are not cheap, as they are conducted by highly reputable pet health organizations, such as Embark, PawPrint Genetics, etc.
Unreliable breeders do not conduct these vital tests before breeding because of the expenses, so they risk producing puppies with health issues. You might not notice these health issues at their infant stage until they start developing.
Hence, you must do everything possible to find the perfect German Shepherd breeders in Texas to buy this breed. In addition to producing quality and perfectly healthy puppies, these reliable breeders will teach you all you need to know about your new furkid.
We have compiled a list of breeders you can trust based on Google reviews, clients' reviews, and our independent criteria for choosing reliable breeders. Read to get more info about these breeders and their contact details.
1. Kaiser German Shepherds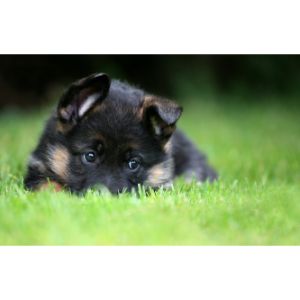 Kaiser German Shepherds is a reliable breeder with a lot of love and passion for this breed. They are dedicated to producing the best quality German Shepherds in the United States. The breeding facility is located in Paradise, Texas – a rural part of Wise County, Texas.
They have one of the best breeding facilities in the state, with state-of-the-art equipment and setup. All their dogs and puppies are a special part of their family, enjoying premium care, love, and attention. One thing that makes this breeder unique is its strict selection process. They use the best and healthiest sires and dams for the breeding program.
Their stud dogs are some of the best in the state, and they went the extra mile to provide you with the best German Shepherd puppies possible. Their sires have reliable and prestigious pedigrees backing up their lineage.
They have dedicated pages for each of their stud dogs with information about their health and pedigrees. In addition, the sires have some of the most desirable characteristics found in this breed. They focus on breeding dogs for trainability, structure, coloring, hips, elbows, and coat.
All their puppies are socialized with humans and other dogs. Before breeding, a professional dog trainer assesses the temperaments of the dogs to ensure they are well-tempered and suitable for family pets and companions.
Kaiser has a selective and strict process when choosing its sires and dams. In addition to assessing temperament and health, the breeder also considers beauty. Their goal is to produce all-rounded puppies – healthy, beautiful, well-socialized, and good-tempered.
To crown it all, all their puppies come with a written guarantee to make you feel secure and safe about your investment. It takes a great deal of knowledge, education, and experience to successfully produce such healthy and happy puppies.
One thing we love about this family is their consistency. The constant results show how much experience and knowledge they have in this field.
They work together to meet the highest breed standards. In addition to meeting those standards, they aim to improve this breed. Buying a puppy from this breeder is a great investment because your pup will not only be healthy but also well-trained and socialized.
German Shepherd Breeder Information:
2. Heritage Hills German Shepherds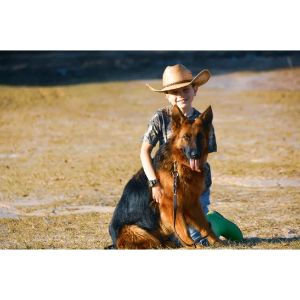 Heritage Hills German Shepherd (HHGS) is one of the few GSD breeders in Texas you can trust. Bryan and Leah are the owners of this breeding program, and they breed, raise, and train the puppies together.
The couple specializes in producing intelligent, quality puppies with proven superior genetics. If you are looking for a loyal, gentle companion that is also a fierce protector, search no more, as that is what this breeder offers. Whether you want a family or professional dog, you can count on Heritage Hills German Shepherds.
Bryan and Leah focus on producing and raising a protective, stable line of puppies that you can trust with your kids. They have many sires and dams from champion bloodlines. With the number of dogs in the program, they produce many litters yearly, so you do not have to wait a long time to get a puppy from them.
Bryan and Leah are careful when adding breeding dogs to the program. In addition to having dogs with incredible pedigrees, the family chooses only the best genetics to continually enhance the German Shepherd bloodline.
While they are based in Texas, they have puppies in almost every state in the US. They can arrange for your new furkid to be shipped to any state within the United States. Another thing this breeder loves doing is talking to potential customers and telling them all about this breed.
They take pride in showing their dogs and making you fall in love with them. You can contact them for consultancy purposes and to get the info you need to make your final buy decision.
German Shepherd Breeder Information:
3. Nevada Haus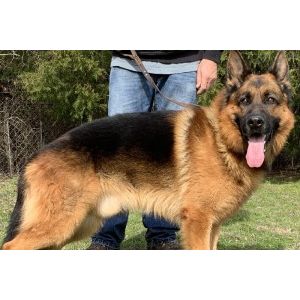 Nevada Haus is a dedicated German Shepherd breed with a single focus – loyalty. This premier breeder has a lot of experience breeding and raising GSDs. They are located in Nevada, Texas, less than an hour outside of Dallas.
They are focused on raising 100 percent loyal puppies, and they tend to achieve that by breeding the best adult dogs and engaging the puppies in thorough obedience training.
They have created a breeding program that produces puppies with fantastic conformation, temperament, and health, which are their top priorities. Nevada Haus follows the German SV Standard in the breeding program to produce perfectly healthy and well-tempered puppies.
Nevada Haus is also a member of the American Kennel Club, and they adhere to the organization's breeding standards. Whenever they produce a new litter, they provide each of the puppies with positive human contact, which helps ensure outstanding socialization skills are developed at the right time.
They allow all the puppies to remain with their mother and littermates until eight weeks of age to enable them to develop their social behavior properly. All their breeding dogs are regularly health-checked by a licensed vet, and they go home with a two-year genetic health guarantee.
Clients' review is one of our criteria for listing breeders, and this breeder nailed it in that section. In addition to having many good Google reviews, we were impressed by the reviews on their testimonial page.
Customers are happy with the quality of puppies the breeder sells, and we did not see any health-related complaints. Socialization is another crucial part of their breeding program. They have over 10 acres, providing the dogs with a large playground for playing, running around, and socializing.
German Shepherd Breeder Information:
4. Vom Nobleheim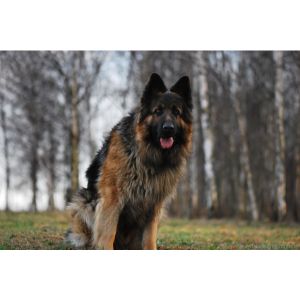 Vom Nobleheim is a dedicated German Shepherd breeder and a proud member of the German Shepherd Dog Club of America. Only a few breeders in Texas tend to adhere to strict breeding processes, and Vom Nobleheim is one of them.
They do not spare any expense or cut corners in the breeding program. Their goal is to provide perfectly healthy, friendly, loyal, and good-tempered dogs for families. Vom Nobleheim is located 65 miles north of Dallas/Fort Worth, Texas.
Their dogs have proven loyal to countless families and individuals. In addition to being loyal to their owners, they provide protection as well. All their puppies are AKC registered and are bred according to the AKC standards. They also come from a superior lineage with excellent conformation and temperament.
All adult dogs go through rigorous health tests to qualify for breeding. The dogs are tested for various genetic defects and health issues, ensuring they are 100 percent free before breeding. In addition to conducting thorough health tests, this breeder only chooses sires with at least a VA or V rating.
They also assure puppy buyers by providing a two-year written guarantee to protect against congenital health issues. The breeding facility is inspected randomly yearly by AKC, so they ensure the place is always clean and healthy. Vom Nobleheim also welcomes visits, so you can visit to see your new furkid, its parents, and the breeding environment.
German Shepherd Breeder Information:
Conclusion For Best German Shepherd Breeders In Texas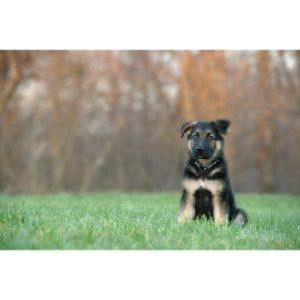 There you go! Those are the best German Shepherd breeders in Texas. We carefully selected these breeders based on their reputation, experience, and the way they raise their puppies. They know the importance of a good temperament for this breed, so they consider it when choosing the breeding dogs.
They also conduct thorough health tests to ensure the dogs are free of the common health issues associated with this breed, such as joint and hip problems. These breeders also provide loyalty and behavioral training for their puppies, preparing them to be a great addition to their new families.
You will also like:
For more information about the German Shepherd, check out the video below: