Goldendoodles are one of the favourite dog breeds of many dog lovers globally. People love these dogs for their outstanding traits, colours, friendliness, and trainability which is why we have a list of the best Goldendoodle breeders in North Carolina for you.
If you are in North Carolina and have set your heart on this lovely dog breed, you need to find the best breeders in NC. Fortunately, you do not have to spend hours researching or lose sleep finding the right breeder, as we have done all the hard work for you.
We have lined up the best Goldendoodle breeders in North Carolina in this article for you. Our list comprises the most reputable and highest-rated breeders in this state. In addition to thoroughly reviewing these breeders, we will provide you with their contact details to make it easy for you to reach them. Without further ado, let's dig in!
Other articles you will like: 5 Best Aussiedoodle Breeders In North Carolina! and 4 Best Bernedoodle Breeders In North Carolina!
1. Triangle Goldendoodles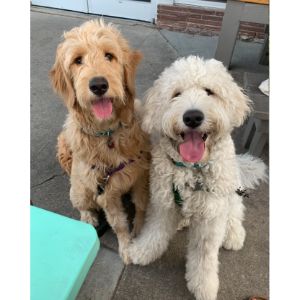 You can find a Goldendoodle breeder in NC without stress, as dozens of them are in the state. However, what is more challenging is finding the best and most reliable breeders.
After long hours of research and consultation, we found Triangle Goldendoodles to be one of the best breeders in the state. This breeder is 100 percent dedicated to this dog breed, ensuring all their customers get the healthiest and happiest puppies possible.
Triangle Goldendoodles is located out of Efland, NC, but they welcome visitors from all over the state and beyond. This breeding program is owned and managed by Eli and Michelle. They both grew up with dogs and loved them in all sizes and shapes.
If you are looking for well-rounded and well-structured puppies, we recommend you patronize this breeder. They breed the highest quality Golden Retrievers and Poodles with proven champion histories to produce top-notch family, service, and therapy dogs.
The goal of this breeder is to produce smart, beautiful, loving, sweet, and loyal family pets. In addition to choosing the best quality Golden Retrievers and Poodles for their breeding program, this breeder focuses on health.
The dogs undergo a series of health tests, including elbow and hip. The thorough health examinations ensure the dogs are free of congenital health issues. This breeder strives to produce perfectly healthy puppies, so they screen the parents thoroughly to ensure they are 100 percent healthy.
The puppies undergo a complete vet check before being released to their new families. The breeder makes the health report of all the puppies accessible to their buyers. In addition, this breeder sends its puppies home with a one-year health guarantee to protect against genetic defects.
Goldendoodle Breeder Information:
2. Knight Goldendoodles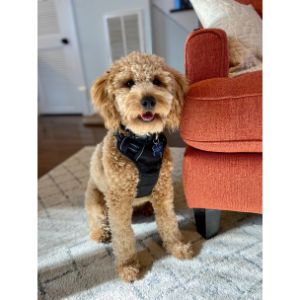 Knight Goldendoodles focuses on three major things in its breeding program – health, temperament, and appearance. The breeder is dedicated to producing perfectly healthy and beautiful Goldendoodle puppies with exceptional temperaments.
Knight Goldendoodles breeds various sizes and colors of puppies, including Miniatures, imperial reds, caramel creams, and English creams.
Knight Goldendoodles is an in-home family breeder that breeds and raises its puppies indoors. Their puppies are always around them from when they are born until they move to their forever homes. The closeness help socialize the pups and make them comfortable around humans. They play and interact with the puppies daily, so rest assured you will not buy a timid pup.
The puppies from this breeder are F1b, meaning they are 25 percent Golden Retriever and 75 percent Poodle. The pups have the sweet, incredible disposition of Golden Retrievers and the non-shedding coat of Poodles.
F1b Goldendoodles are the most allergy-friendly and non-shedding of all doodles, making them the perfect option for people with allergies. Furthermore, this breeder ensures the dams and sires are uncompromised with any health condition that could be passed to the babies.
The breeder conducted thorough research before adding each first-generation Goldendoodle and registered Poodle to its breeding program. They thoroughly tested all the dogs in their breeding program to ensure they were free of genetic health issues.
In addition to being healthy, Knight Doodles' puppies are beautiful and gentle. You will love them for their wonderful temperaments and almost perfect nature.
Goldendoodle Breeder Information:
3. Doodles of NC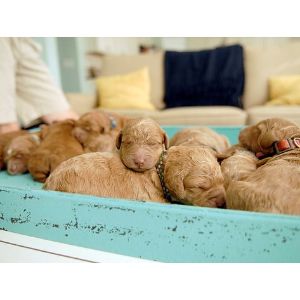 Doodles of NC is one of the top Goldendoodle breeders in North Carolina. This breeder is located in Burlington, NC, close to Raleigh, Chapel Hill, and Greensboro. Doodles of NC exclusively offers this dog breed.
They do not produce other dog breeds, channelling all their attention, love, and focus to Goldendoodles. This breeder loves and cherishes this breed for its trainability and intelligence.
The pups from this breeder have lovable personalities, like their Golden Retriever parents. These dogs have affectionate and non-aggressive temperaments, making them excellent family pets, especially for families with kids.
Doodles of NC raises the dogs in its personal home. They are dedicated to producing F1b Goldendoodles that are friendly to kids, adults, and other pets. Furthermore, you can rely on this breeder for both Mini F1b (15 to 25 pounds) and Medium F1b (25 to 45 pounds) Goldendoodles.
They strive to produce healthy, outstanding puppies that will be a blessing to their new families for years to come. One unique thing about this breeder is that it hand-selects the perfect puppies for the right buyers. Buyers are required to fill out an online questionnaire, which helps them determine their preferences and match them with the perfect puppy.
After filling out the form, you need to make a non-refundable deposit of $400 to secure a spot on the waiting list. You can make the payment via PayPal or check. Their puppies cost $3,000, which you are expected to pay at pick up.
Goldendoodle Breeder Information:
4. Humhill Goldendoodles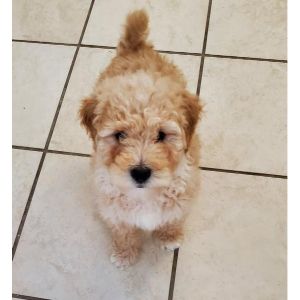 Humhill Goldendoodles is the home of many beautiful and well-mannered Goldendoodles, Miniatures Poodles, and Standards Poodles. This breeder takes pride in producing the healthiest and happiest doodle puppies possible.
They selected their breeding dogs based on conformation, personalities, health, and temperament. This breeder knows the importance of healthy puppies, so they do everything possible to ensure every little one turns out excellently.
They pay close attention to their breeding dogs, ensuring they do not have any genetic health conditions that could be passed to the babies. The dogs are tested for various congenital health conditions and temperaments.
They adopt a stringent testing process to produce the best puppies for their customers. Hence, rest assured you will buy a healthy puppy with an extraordinary temperament.
Furthermore, you have to prepare yourself, as the puppies from this breeder come thoroughly pre-spoiled. They have spoiled the puppies with so much love, care, and attention. All the breeding dogs and their babies are special members of their families, enjoying the love and attention they deserve.
Humhill Goldendoodles operate under the regulations of Guilford Country, NC. They are also inspected and regulated by Guilford County Animal Control. They have an elegant, healthy, and safe breeding environment to ensure the puppies do not suffer any risk of infection while growing up.
This breeder also loves giving back to their community. They have donated puppies worth more than $70,000 to local charities over the past few years.
Goldendoodle Breeder Information:
5. Euro Goldendoodles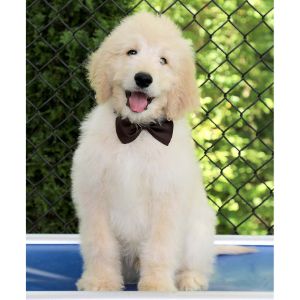 The last entrant on our list of the best Goldendoodle breeders in North Carolina is Euro Goldendoodles. This breeder is located in Mt. Holly, North Carolina. It is known across the state and beyond for producing some of the best English Goldendoodles.
The breeder aims to be the highest quality, most professional English "Teddy-bear" Goldendoodle breeder globally. They are passionate about this dog breed and strive to produce the best puppies for doodle-loving families.
This breeder has a simple and intuitive website to make the puppy buying process easier for you. English Goldendoodles are a cross between a Standard Poodle and English Cream Golden Retriever.
Euro Doodles specializes in breeding F1 and F1B puppies, which are ideal for family companions and service dogs. These are also ideal for owners with allergies, as they are low to non-shedding.
This breeder separates itself from other breeders out there, thanks to its world-class pedigrees and pups. Their breeding program is also designed to improve and preserve this breed while making your purchase experience rewarding and comfortable. All their puppies come with a three-year health guarantee, an assurance puppy buyers need.
Goldendoodle Breeder Information:
Conclusion For Best Goldendoodle Breeders In North Carolina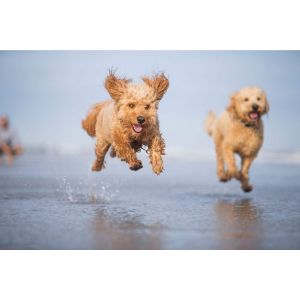 When looking for the best Goldendoodle breeders in North Carolina, you have to look out for three vital things – integrity, testing, and the dogs' wellbeing. The best breeders will be transparent when you ask questions about their puppies and breeding program.
Reputable breeders always health test their breeding dogs and puppies (making the results available to buyers). Lastly, how a breeder treats its sires and dams is highly essential. Do not patronize breeders that only use their adult dogs for breeding without caring for them properly.
You will also like: