A Labradoodle is one of the most popular dog breeds in North Carolina. These dogs are friendly and easy to care for, which is why they are common among many dog lovers in the state. The number of Labradoodle breeders in North Carolina has surged significantly recently. Because of their popularity, almost every breeder wants to produce and raise Labs. 
The vast options of breeders out there leave many puppy buyers overwhelmed. Knowing how to navigate the market is essential if you want to end up with a healthy and happy puppy. There are many Lab breeders in the state, but not all know how to breed and care for these dogs properly. But fear not, as we are here to ensure you settle for the best.
We have conducted thorough research and separated the wheat from the chaff. In this article are the best and most respected Lab breeders in North Carolina. We also listed their contact details, so you can reach out to the breeder closest to you.
Other articles you will also like: 5 Best Aussiedoodle Breeders In North Carolina! and 5 Best Goldendoodle Breeders In North Carolina!
1. Carolina Labradoodles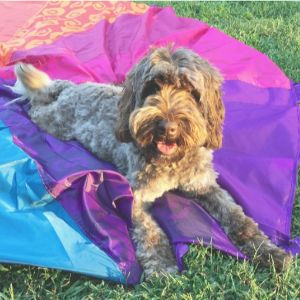 Carolina Labradoodles has proven to be one of the most reputable and trusted breeders in this state. If you are looking for love, well-trained, and healthy Lab puppies, you should patronize this breeder. Carolina Labradoodles is a family-owned, small breeder located in Monroe, North Carolina.
They breed and raise exceptional multi-generational Australian Labradoodles for families in and around the state. This breeder raises their puppies to be the best pets possible, making them a great addition to any home.
This breeder produces Lab puppies with beautiful teddy-bear looks and non-shedding coats. The puppies are highly trainable, thanks to the solid foundation laid by the breeder. They ensure the pups undergo several training routines before joining their new families.
Your new fur baby will come home with basic potty and crate skills. The breeder also works on the behavioural and social skills of the dogs, preparing them for the transition ahead.
Their puppies are not shy; they will come home very confident and friendly. Furthermore, this breeder is a member of the Australian Labradoodle Association of America (ALAA). They adhere to the association's breeding standards and do not fault any state regulations. These pups are hand-raised, and the breeder prioritizes the social and physical needs of the puppies and dogs.
They ensure the dogs and pups are physically and emotionally sound. The puppies from this breeder cost $2,800, excluding the initial deposit of $400. You have to call or email them for info about available puppies and upcoming litters.
Labradoodle Breeder Information:
2. Prestige Australian Labradoodles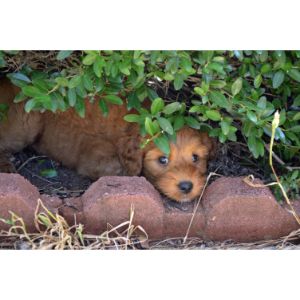 Australian Labs make great family companions when raised properly. Fortunately, Prestige Australian Labradoodles is a premium breeder in Southern Wake County, North Carolina. This breeder knows how to breed and raise Labs, making them friendly family companions. They breed sweet, beautiful Lab puppies with exceptional temperaments.
Prestige is very selective when adding dogs to its breeding program. They only add dogs with excellent health, temperaments, and conformation. The breeder also takes appearance into consideration when choosing its breeding dogs.
They take pride in their bloodlines for producing excellent dispositions with traces back to the original Lab lines. All their breeding dogs are OFA certified against genetic health issues. They conduct several health tests to ensure the dogs are free of congenital diseases.
In addition to producing companion dogs, this breeder raises some of its pups to serve in the therapy-type roles. However, you have to contact them if you want a therapy dog so that they can conduct temperament testing. Furthermore, this breeder delivers puppies to families out of driving range using Puppy Nannies. However, the delivery attracts additional fees.
All their pups come with a two-year health guarantee against debilitating genetic defects. This breeder adopts the Puppy Culture protocol and ENS when raising their puppies. These approaches stimulate early neurological systems in a controlled way.
They also support healthy development and growth. Puppy Culture introduces puppies to new sounds and sights, making them quick learners when introduced to new skills and tricks. This breeder raised all its puppies in its home. They also socialize the pups with other animals and people of all ages and backgrounds.
Labradoodle Breeder Information:
3. Ausm Labradoodles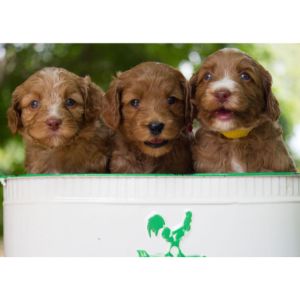 Ausm Labradoodle is a breeder of multi-generational Labs. This breeder produces and raises Labs for pets, service, and therapy. The breeder is located in the Piedmont area of North Carolina.
They breed only authentic and super-healthy Labs with exceptional temperaments. Ausm adds only dogs with allergy-friendly, low-shedding, and excellent dispositions to their breeding program.
Ausm is passionate about this breed, and they strive to produce the healthiest and allergy-friendly puppies possible. This breeder takes pride in continuing the legacy of breeding and raising these smart dogs. Ausm has pups available all through the year at specific times. Their pups are personality tested and come with an impressive two-year health guarantee.
Furthermore, this breeder incorporated training into its breeding program. They offer training, from basic obedience to full-service training for puppies before or after joining their new families.
They work with some expert trainers with several years of experience to provide your puppy with the fundamental training it needs. This breeder performs temperament testing, socialization, and early neurological stimulation on all the puppies to ensure that the right puppies go to the right homes.
Ausm is a registered member of the Worldwide Australian Labradoodle Association (WALA), and they conduct thorough health testing for all their breeding dogs.
The rigorous health testing ensures you receive the most genetically sound and healthiest puppy possible. Their screening protocol includes tests for elbow and hip dysplasia, retinal atrophy, and other genetic issues.
Labradoodle Breeder Information:
4. Mandevilla Labradoodles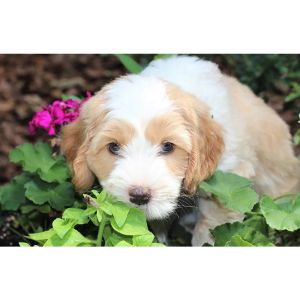 Mandevilla Labradoodles is a small breeder located outside of Raleigh, North Carolina. This breeder focuses on making its customers happy by providing them with happy and healthy puppies. They breed only authentic multi-generational Labs with excellent health and outstanding temperaments.
Mandevilla strives to produce puppies with intuitive, intelligent, and affectionate temperaments. Furthermore, the puppies from this breeder have a non-shedding allergy- and asthma-friendly coats. They live with their breeding dogs as family pets, giving them all the love, care, and support they deserve.
Mandevilla adheres to the most stringent health testing set in the Golden Paw program. They conduct all the health tests recommended by the Australian Labradoodle Association of America (ALAA).
This breeder has an active website. They update the website regularly to keep their customers and potential customers informed about their available pups and upcoming litters.
They operate a master reservation list for puppy buyers. The breeder will add your name to the list after submitting the application form and the $500 non-refundable deposit. The total cost of acquiring a puppy from this breeder is $3,500; their puppies are worth it.
They list the upcoming litters and expected dates on their website. The puppies come with a complete health report and a two-year health guarantee against congenital defects.
Labradoodle Breeder Information:
5. Springdale Labradoodles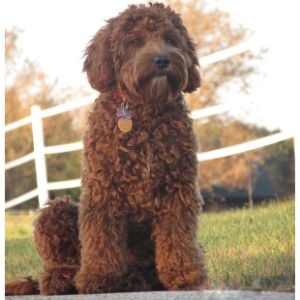 Springdale Labradoodles is undoubtedly one of the best labradoodle breeders in North Carolina. Located in Greensboro, NC, this breeder has made many dog lovers happy with their happy and well-socialized puppies.
This breeder is always available and ready to provide quality puppies at any time of the year. They always have puppies available, thanks to this extensive breeding program.
Springdale offers fully trained Lab puppies. They do not spare any expense in breeding, raising, and training these pups. The breeder believes well-trained puppies make excellent family companions, therapy, and service dogs.
Springdale breeds and raises Multi-generational medium and miniature Australian Labs. All their dogs are registered with the Australian Labradoodle Association of America and the Worldwide Australian Labradoodle Association.
They raise their puppies until eight weeks old before releasing them. All puppies within that age range cost $3,500, with a non-refundable reservation fee of $500. They also sell fully-trained, 18-week-old puppies at $10,000 with a non-refundable deposit of $1,000.
Springdale Labradoodles is a responsible in-house breeder. They breed and raise all their puppies in their home. Their sires and dams also live indoors as their family pets.
Labradoodle Breeder Information:
Conclusion For Best Labradoodle Breeders In North Carolina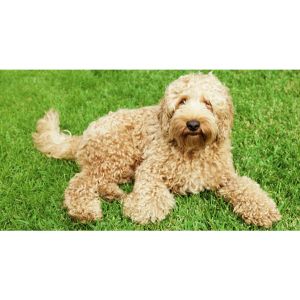 One of the best ways to navigate the dog breeding market is to be informed. You need to get your facts right before bringing home a Lab puppy.
Before you set out to find the best Labradoodle breeders in North Carolina, ensure you conduct extensive research about the common health conditions associated with this breed and how best to care for them. After getting your facts straight and making up your mind, you can contact any of the reliable breeders listed in this guide closest to you.
You will also like: