North Carolina is one of the most beautiful states in the United States. The state is quite populated, and most residents are dog lovers. There are many dog lovers in the state, and there is hardly any dog breed you will not find there. There are also many breeders in North Carolina, including puppy mills, backyard breeders, and of course, reputable breeders which is why we have a list of the best Aussiedoodle breeders in North Carolina for you right here.
Aussiedoodles are one of the most loved dogs in this beautiful state. You can find this dog breed in many families because of their intelligence, friendliness, and trainability. If you are looking to buy the best Aussiedoodle puppies in North Carolina, you should avoid puppy mills and backyard breeders.
Only the best breeders know how to breed and nurture the natural traits of these dogs. To help point you in the right direction, here is a list of the most trusted and reliable Aussiedoodle breeders in North Carolina.
Other articles you will also like: 4 Best Bernedoodle Breeders In North Carolina! and 5 Best Sheepadoodle Breeders In North Carolina!
1. Barefoot Acres
Barefoot Acres is one of the most experienced Aussiedoodle breeders in this state. They have been recognized as a top reputable breeder since 2015. This breeder strives to produce the best and healthiest puppies the market has to offer.
They use only the healthiest and happiest dogs for their breeding program. They health test their sires and dams, running them through various testing to ensure they are free of congenital issues.
We highly recommend this breeder if you are looking for super healthy and happy puppies. One thing we love about this breeder is that they will be there with you all through the process. From the day you take your puppy home, they will provide you with all the support you need. You can call them anytime for guidance or answers regarding your canine baby.
The puppies come with a rock-solid one-year health guarantee. Hence, you will purchase their puppy knowing that the breeder will cover your first vet visit if anything happens. You are not only buying a puppy from them but also a lifelong trust and commitment.
This breeder also keeps puppy buyers updated about the growth and development of their new friends. They offer bi-weekly video chats and weekly photo/video updates. Furthermore, Barefoot Acres conducts obedience and potty training for the puppies. They help prepare the pups emotionally and physically to join their new families.
They have a team of professionals who help with the growth and development of the puppies. The breeder has three sons who help boost the socialization skills of the puppies. This breeder welcomes family visits and pickups in their home. However, if you are too busy to pick up your puppy, they can deliver it to you wherever you are.
Aussiedoodle Breeder Information:
2. Spirit of the Dog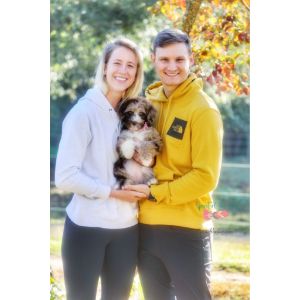 Spirit of the Dog is a holistic Aussiedoodle breeder in NC. In addition to breeding holistically, they are rated one of the best Aussiedoodle breeders in the entire United States.
This breeder has been in the industry for more than 12 years, raising healthy and happy puppies for several families in the US, Italy, and Austria. Spirit of the Dog breeds to show temperament, and all its puppies have stunning looks.
This breeder is located in Rutherfordton and is committed to providing families with intelligent, healthy, and trainable puppies. Their mission is to provide lifelong companions, therapy, and service dogs.
They raise all their puppies and dogs in their home, taking them as part of the family. The pups are socialized with kids, older dogs, and cats. Spirit of the Dog ensures all its pups are friendly and ready to transition to their new homes before eight weeks.
This breeder fosters lifelong connections with its customers and stands behind its canines 100 per cent. You can always rely on them for guidance and support, regardless of how old your dog is. The breeder raises the pups on a family-owned farm with enough space for the dogs and puppies to play and run around. 
Furthermore, this breeder does not use chemicals for its breeding dogs. They do not cut corners in their breeding program, as they adhere to industry standards. Spirit of the Dog also educates people on how best to care for pups and meet their nutritional needs.
Aussiedoodle Breeder Information:
3. Double Doodle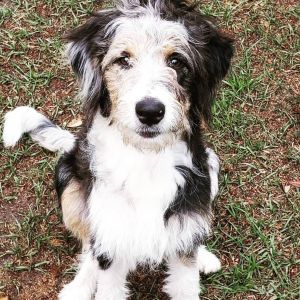 Double Doodle is a premier hybrid breeder located in Ocean Crest Fishing Pier, North Carolina. This breeder carefully chooses F1 and F1B Aussie Doodles to produce the most amazing family companions you can ever adopt.
They carefully chose their foundation sires and dams to ensure their breeding program yielded the best results. All the dogs in their household receive premium quality vet care.
Double Doodle cares as much for its sires and dams as it cares for its puppies. They provide the dogs with the best nutrition possible, ensuring they are always healthy and happy. They genetically test the dogs via Canine Health Check to ensure they are disease-free. The criteria for choosing their dogs are temperament, physical characteristics, and health.
Furthermore, the puppies undergo thorough vet checks. They are up-to-date on vaccines and other preventative care medications. The pups from this breeder are perfectly healthy, and they come with a complete health report to show their current health state.
Double Doodle is a member of the Good Dog Breeding Organization, so they adhere to the breeding standards and regulations of the organization.
This breeder focuses on four major points when raising puppies: approachability, adaptability, congeniality, and trainability. They produce smart puppies that are eager to please and learn quickly. They also prepare the pups for the transition to ensure they settle into their new homes seamlessly.
Double Doodle has two adoption methods – ground delivery and in-person pickup. You can come to the breeder's home to pick up your puppy or have it delivered to you wherever you are in North Carolina.
The puppies go home with pet insurance information, a copy of the sales contract, first right-of-return, AKC Canine Partners Enrollment information, ACHC registration, health certificate, and a comfort basket.
Aussiedoodle Breeder Information:
4. Darlin' Doggies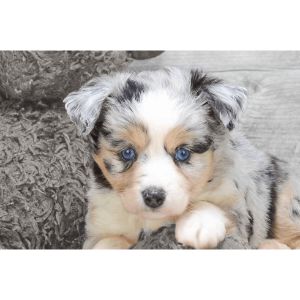 Darlin Doggies is one of the few breeders that produce various sizes of Aussiedoodles. Whether you are looking for Standard or Mini Aussiedoodles, you can rely on this breeder.
Darlin Doggies also produce other doodles, including Standard & Mini Goldendoodles, Standard Poodles, Bernedoodles, Mini Australian Mountain Doodle, and Mini Cockapoos. Hence, you can rely on them for quality and well-bred purebred and designer dogs. 
This breeder manages the farm with her kids in Concord, North Carolina. They breed cute and highly trainable Poodles and Doodles. Darlin Doggies also work with amazing staff to help with the breeding program. This breeder does not keep its dogs and puppies in a kennel. They have 2.5 acres where the pups and dogs play and run freely.
This breeder has a farmhouse doggy nursery worth $60,000 in its backyard. Darlin Doggies does not believe in kenneling their dogs, so they provide the best living environment for them. Some of their adult dogs live in guardian homes, where they receive the best care, love, and attention possible.
All their breeding dogs are genetically health tested and free of genetic diseases. The puppies also receive quality vet care, including up-to-date vaccinations. They get dewormed at two, four, and six weeks old. Furthermore, the puppies go home with a three-year health guarantee and lifetime support.
Aussiedoodle Breeder Information:
5. Awesome Aussiedoodles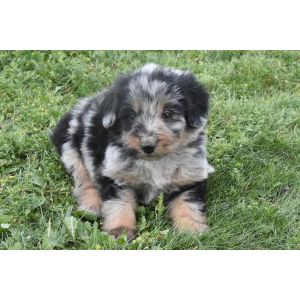 Concluding our list of the best Aussiedoodle breeders in North Carolina, Awesome Aussiedoodles is a top-notch and well-respected breeder in NC. This breeder is well-invested in its breeding program. They do not only dedicate their time to the breeding program but also plenty of resources. They put in a lot of effort to ensure every litter turns out perfectly. Awesome Aussiedoodles has several years of experience in this field. 
They breed first-generation Miniature Aussiedoodles with exceptional health and temperaments. This breeder conducts several health and temperament tests for its sires and dams to ensure their puppies are good-tempered and healthy. They do not add adult dogs to the program until they are cleared of hereditary genetic diseases.
They only breed when the dogs are at their peak health. Your puppy will come with a complete health report to prove its health state. You can take the report to a licensed vet for confirmation.
Aussiedoodle Breeder Information:
Conclusion For Best Aussiedoodle Breeders In North Carolina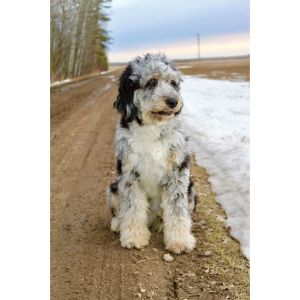 Finding a reputable breeder is somewhat challenging, as there are a vast number of them out there. However, with the reviews above, finding the best Aussiedoodle breeders in North Carolina should no longer be daunting.
Contact any breeder closer to you and ask to inspect the breeding site. Prepare a pile of questions to ask them about their puppies and the breeding process. The best breeders are always transparent and willing to answer your questions.
You will also like: