If you are looking for Labradoodle breeders in New Jersey to adopt a Labradoodle puppy, remember that whenever getting a new dog, it's good practice to choose a dog breed based on your living environment and routine. Each dog breed has its own personality and temperament, which makes it suitable for some living conditions more than others.
For example, doodle breeds like the Labradoodle are excellent for people residing in enclosed living spaces, while Pointers and German Shepherds are suitable for those dwelling in homes with yards. Similarly, your lifestyle and the level of care you can offer a dog also matter; if you're someone who enjoys an active lifestyle, you should get a dog that's sporty too.
Moreover, if you cannot take your dog to the groomer every week or cannot afford hefty medical bills, then you should opt for a dog breed that doesn't need a lot of grooming and is considered a generally healthy breed. Additionally, it is vital to choose the right dog breeder to make sure you're getting a healthy pup.
Dog breeds that are considered healthy can be susceptible to various diseases if they haven't been bred by an ethical breeder that abides by the established breeding standards. Therefore, vet your dog breeder and verify that it is a registered and reputable breeder before purchasing your pup!
If you are looking for healthy Labradoodle puppies in New Jersey, you may find a few on our list of dog breeders. We assure you that these Labradoodle breeders in New Jersey are accredited by the Worldwide Australian Labradoodle Association (WALA), the Australian Labradoodle Club of America (ALCA), and the Australian Labradoodle Association of America (ALAA).
Other articles you may like: 6 Best Aussiedoodle Breeders In New Jersey! and 4 Best Bernedoodle Breeders in New Jersey!
1. Cream Puff Labradoodles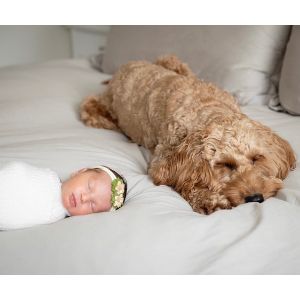 Don Robinson- CPA and actor, founded Cream Puff Labradoodles in New Jersey in 2010. Due to a few unfortunate health reasons, he couldn't continue running the day-to-day operations but continues to work actively on genetics while the company is currently being run by Megan McLoughlin, a close friend and fellow pet enthusiast.
Cream Puff Labradoodles focus on breeding the right mix of American and Australian Lines of Labradoodle. Their aim is to provide dogs with a soft fleece coat, and they specialize in breeding medium Australian Labradoodles.
Cream Puff is situated in north Princeton, in Hillsborough, New Jersey. To purchase a dog, you must fill out a puppy application form. Afterward, you can opt for 2 ways to adopt a puppy of your choice.
Firstly, you can choose the 'Puppy Allocation Process' conducted before Labradoodle puppies turn 6 weeks old. In this process, the families can actively participate and choose their desired puppy. The second way involves choosing from the breeder's website and placing a deposit after the puppy has turned 6-week-old.
The price for Cream Puff Labradoodle puppies is $3000, with a $500 discount for the vet cost in the New York City Metropolitan area. They also provide a 2-year warranty on each puppy, given that an initial deposit of $300 is paid with a complete application and the remaining amount 2 weeks before puppy pick-up.
The owner can take dogs home when they are 8-9 weeks old; shipping service is not available.
Labradoodle Breeder Information:
2. English Manor Labradoodles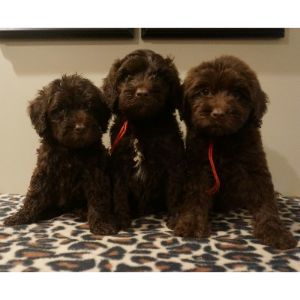 This breeder is located in West Milford, New Jersey. It specializes in licensed pet adoption services for authentic high-breed Australian Labradoodles.
All the dogs undergo a series of blood tests and health checks to be selected for their breeding program to ensure quality and value. They must pass OFA, HD, prcd-PRA, CERF, and ED. Moreover, the Labradoodle puppies are all raised at home with TLC to ensure each dog gets a safe and healthy living space.
To reserve a puppy at English Manor Labradoodles, you are required to fill out an application form. A non-refundable initial deposit worth $500 is mandatory for inclusion on the waiting list.
It is important that authentic information about the customer is provided because this data is forwarded to microchip companies after pup adoption. The purchasing price includes the vaccinations of the puppy, along with a 1-year health guarantee.
If, for some reason, the owner cannot continue to care for the dog, the company will be willing to take it back as they do not want the pup to be placed in shelters. The purchased dogs must be neutered within 6 months after the acquisition, and a spay certificate must be deposited to the company.
Labradoodle Breeder Information:
3. Hidden Springs Labradoodles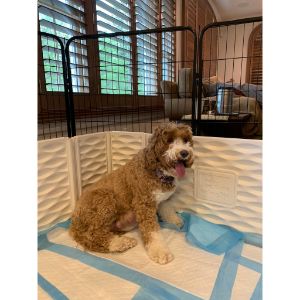 There is nothing hidden about Hidden Springs Labradoodles. They are a registered breeder that is partners with Baxter and Bella, the Good Dog, and awarded ALAA Golden Paw Breeder. The dogs are bred responsibly after having the pet parents' DNA tested and certified for being healthy.
Each dog is taken care of with full commitment and love, making sure that they exercise and socialize in a safe environment. The Labradoodle puppies are trained and taught to follow commands from an early age, so when a puppy reaches you, it already knows the basic stuff.
Health care is of the utmost importance at Hidden Springs Labradoodles; all the puppies are vaccinated, microchipped, dewormed, and groomed. Moreover, spaying and neutering services are also available upon request.
You can purchase a Labradoodle from Hidden Springs for $3000 after the preliminary steps for the application have been conducted. The puppies can be taken home 8-weeks after birth because they need to nurse and grow with their mothers until then.
A puppy is generally ready to be taken home when they are 2 months old. If you cannot come to pick up your puppy in person, your Labradoodle can be sent to you via air cargo or ground transportation.
The Hidden Springs Labradoodles takes great pride in taking utmost care of their puppies. They offer a 2-year health guarantee with a promise to look after their dog with any health-related condition in that period; elbow problems, congenital defects, hip dysplasia, or eye-related issues.
Each Labradoodle is dewormed at 2-, 4- and 6-weeks of age. They are microchipped and receive their first DA2PP and Bordetella vaccine. The company also provides a small food supply or a toy once the puppy is handed over to you.
Labradoodle Breeder Information:
4. All About Love Australian Labradoodles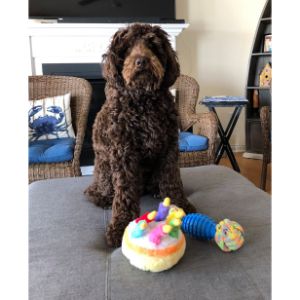 All About Love Australian Labradoodles is the last breeder on our list of Labradoodle breeders in New Jersey. Situated in Mullica Hill, New Jersey, the breeder specializes in 4 inches of non-shedding single fleece coat multigenerational Australian Labradoodles. They allow inter-size breeding.
In addition, they are proud members of the Australian Labradoodle Association of America (ALAA) and have been awarded Golden Paw for the last 2 years. The company provides a 2-year health guarantee with lifetime customer guidance and support. The company also provides vet checkups and timely vaccinations.
You can either submit an application for puppy adoption or apply for guardianship. Their Australian Labradoodles come in 3 different sizes, standard, miniature, and medium.
Puppy accessories can also be bought from the breeder's website. This includes pup crates, mats, food and water bowls, grooming brushes, collars, dog food, and chew toys.
Once you purchase a puppy, the customer is given a 5lbs Natural Balance Whole Body Puppy Formula food bag. The puppy is neutered before being handed to the customer.
Labradoodle Breeder Information:
How To Choose Labradoodle Breeders In New Jersey?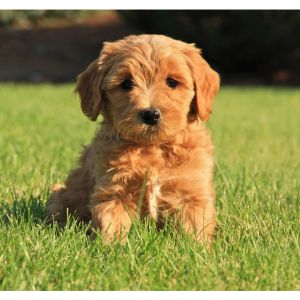 Whenever you research dog breeders, be mindful of the following key points:
Are the breeders licensed from ALAA, ALCA, or WALA? Ask for proof of registration for practice in the state/country.
Do they have health certificates for Labradoodle puppies?
Do they raise the puppies in the home or in kennels? Home-raised puppies are well-adjusted and much preferable. If they raise puppies in kennels, what are the kennel conditions?
Is the temperament of the dogs suit your requirements?
Perform training checks like command following, potty trained, etc.
Verify the provenance of guidance and medical checkups
Must check their online standing by checking customer reviews. These are available on breeders' websites and social media pages.
Always ask the breeder for certificates. They can prove their claims for any genetic testing conducted on puppies, along with other medical reports.
Medical tests to be conducted before taking the dog home to avoid inconvenience:

Hip Dysplasia
Elbow Dysplasia
Eye Certification (CAER)
Cardiac Evaluation
Patellar Luxation
PawPrint Genetic Panel
DNA profiling and Agouti Test
Conclusion For Best Labradoodle Breeders In New Jersey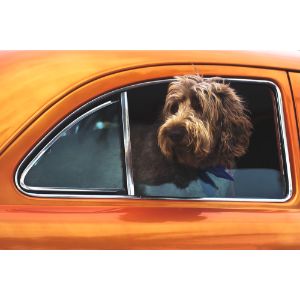 Bringing a new pet into your life is a happy moment for everyone, but it comes with great responsibility. From food, medical attention, and grooming needs to exercise and socialization, a puppy, is a full-time responsibility.
Therefore, do your homework before adopting one. Try to visit as many renowned breeders selling Labradoodle puppies for sale in New Jersey as possible and choose the one that checks all the boxes listed above.
We have listed 4 of the best breeders in New Jersey that are breeding the best Labradoodles. Although we have verified them, we encourage you to visit the breeders and conduct your own research before making a decision.
You will also like: