Are you searching for Russian Blue Cat breeders in the United States? Well – here's what you need to know. With their beautiful grey coats and sweet temperament, Russian Blue cats are an excellent choice for any cat-loving family.
Before scrolling down this list of Russian Blue Cat breeders in the United States, you can check out these other breeder recommendations from our team at Breeder Best: Best Bordoodle Breeders in the United States and Best Bernedoodle Breeders in the United States.
Russian Blue Kittens For Sale in the United States
In your search for your new family member, you'll want to find the best Russian Blue cat breeder. An ethical breeder will be near you, no matter your state. There's no need to search "Russian Blue breeder near me" because we have you covered.
1. LA Bluez Cattery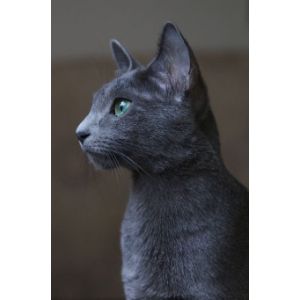 You can find LA Bluez Cattery in Los Angeles, California. A cattery run by a family of six that first fell in love with the breed ten years ago. The cattery is a The International Cat Association (TICA) registered business, and their cats come from American and European lines. Their sire is Cherski Kiksant, born in September 2020. He has European features, with a broad face and dark coat.
Cherski has beautiful gem-like green eyes and a loving personality. As for the dams, there are three: Lenka Kiksant, Nova Azul De Amur, and Mila Azul De Amur. Lenka has American features and a light-colored coat. Nova is from a breeder in Spain and joined their cattery in April 2022. Nova has green eyes and American elements.
Mila is from the same breeder as Nova and joined the family simultaneously. She is petite and has aquamarine-colored eyes. Their waitlist is contingent on the size of each litter, so you will want to contact them in advance to be waitlisted. You can reach LA Bluez Cattery by phone, email, or the contact form on their website for more information on how to bring home one of their kittens.
LA Bluez Cattery Details
2. Grisaille Cattery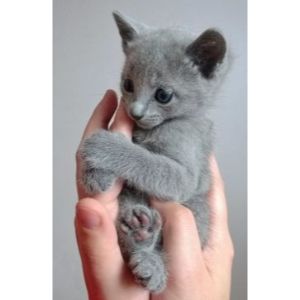 Grisaille Cattery recently moved from its previous location to Fernandina Beach, Florida. They are registered with The Cat Fanciers' Association (CFA) and only produce a few litters yearly. Grisaille only breeds kittens that meet CFA standards.
Because they follow the guidelines set by the CFA, their cats are typically considered show cats. They receive much attention and care as kittens, and any home interested in adopting them must commit to that same level of love. Contact Grisaille Cattery via email if you're interested in bringing home one for their Russian Blues.
Grisaille Cattery Details
3. Blue Rose Cattery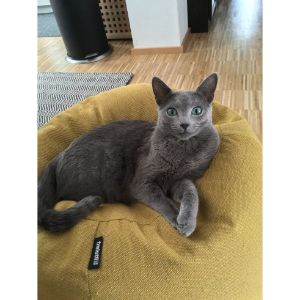 Blue Rose Cattery, located in the small town of Garnett, Kansas, is a TICA registered breeder. Their cats come from European champion bloodlines. Their cattery is closed to the public, and they do not allow casual visits for choosing kittens.
However, anyone that has adopted a Russian Blue from them is welcome to do their pick-up in person. Blue Rose keeps an updated list of its kittens on their website. However, if you're interested in more information or to learn about upcoming litters, you are encouraged to contact them directly.
Blue Rose Cattery Details
4. MAUDDIB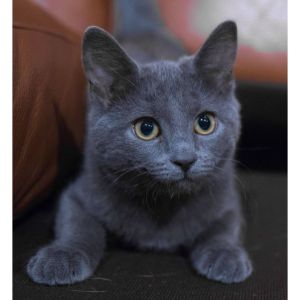 MAUDDIB Cattery operates in Canada (Alberta, British Columbia, Manitoba, and Ontario), Michigan, and New York, United States. The cattery is a registered member of TICA, so you can rest assured that they are an ethical breeder that takes pride in their kitten litters. Contact Shelley Fisher-MacLellan at the email and phone number below for more information.
MAUDDIB Details
5. Majestic Blues Cattery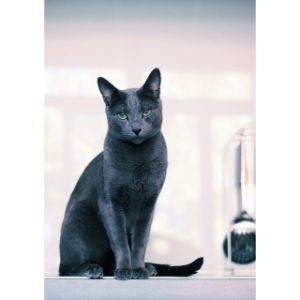 Majestic Blues Cattery offers pedigreed Russian Blue kittens. Owned by Steve Fischer, the TICA-registered cattery and its kittens are of European descent. Their Russian Blue cats have healthy silver-blue coats and deep emerald eyes. Majestic Blues selectively breeds each liter for peak health and appearance. Due to their popularity, their waiting list is frequently closed.
However, they request that anyone interested in bringing home one of their adorable kittens contact them via email. When their waitlist opens up, they will inform everyone by email. Majestic Blues Cattery ships their kittens across the United States. However, due to the limited choices in airlines, you'll have to contact them directly for more information.
Majestic Blues Cattery Details
6. Russian Blue Pomskies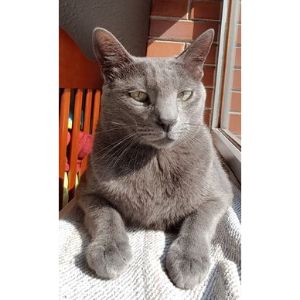 As their name implies, Russian Blue Pomskies sell gorgeous Russian Blue kittens in addition to cute Pomsky pups. The business owner loves dogs and cats and found a way to make their love of both works. All of their Russian Blues are tested for any inherited diseases.
The adult cats are tested for Feline Leukemia Virus (FeLV) and Feline Immunodeficiency Virus (FIV). You can rest assured that your future kitten is healthy and well cared for. They allow you to choose a kitten from 6 weeks old through FaceTime or pictures and videos.
Your new Russian Blue kitten will come with all proof of their vaccinations, rabies shots, and their TICA slip. The cattery also provides their nursery blanket, so they acclimate to your home faster. To bring home their kittens, you can inquire through their contact form, their recommended communication form. Alternatively, you can contact them at the phone or email address listed below.
Russian Blue Pomskies Details
7. Gem Emerald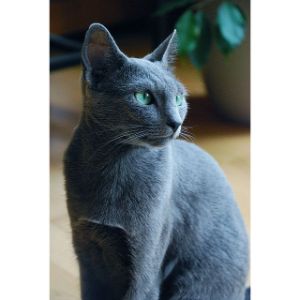 Gem Emerald offers perfect Russian Blue kitties to New Jersey and Pennsylvania. They are a family-style cattery that produces only one or two litters a year. Gem Emerald keeps their kittens at home until they reach four months. At that time, you will be able to take your new fur friend home.
Because this cattery holds onto their kittens until their old enough to be adopted, they are vaccinated, spayed or neutered, and microchipped. Each kitten has a health guarantee that they are healthy at the time of adoption. Their kittens get tested for 40 genetic diseases and over 25 traits.
Your contract with Gem Emerald outlines all the examination and health guarantee details. They encourage you to inquire via email if you're interested in bringing home a Gem Emerald kitten. Gem Emerald does not maintain a waiting list because there are no guarantees on their litter size. You can expect to wait up to 15 months before getting contacted. However, the wait is worth it!
Gem Emerald Details
8. Russian Blue'zz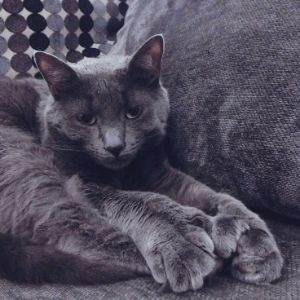 Based out of Staten Island, New York, Russian Bluezz cattery almost always has kittens on hand. They are TICA registered, and their kittens are healthy, have silky fur, and have dynamic personalities. Although they typically have kittens on hand, they take the time to ensure that each cat gets treated with love and care.
Kittens can only leave the cattery after they turn 12 weeks old. Before you take your new Russian Blue home, this cattery will teach them to socially adapt, as well as potty and scratcher train them. To inquire about bringing home a Russian Blue kitten, they ask that you contact them through the form on their "Kittens for You" page. You may also connect with them through email.
Russian Blue'zz Details
9. Exclusive Blues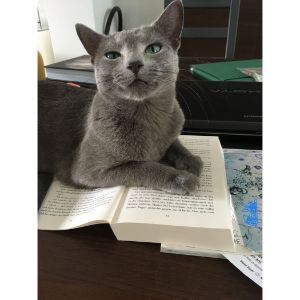 Exclusive Blues breeds Russian Blue kitties out of Horsehead, New York. They are a TICA-registered cattery that places health and temperament as their highest priorities. Exclusive Blues is also careful about following breed standards. Because they are small cattery, you're encouraged to contact them as soon as you're confident the Russian Blue is the cat for you.
You will need to be placed on a waiting list and pay a deposit. All their kittens are permanent, indoor-only pets and won't be allowed to go home with you until they are 13 weeks old. Your new kitty will come with age-appropriate vaccinations, deworming, spay or neuter, TICA registration, and pedigree. It will also be microchipped and come with a health warranty. To get on the Exclusive Blues waiting list, contact them via email.
Exclusive Blues Details
10. Royal Blues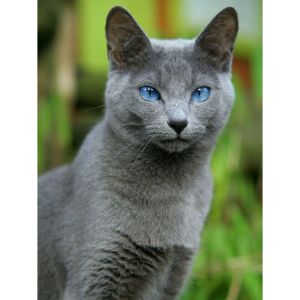 Royal Blues Cattery, a small, home-based nursery, is the only Russian Blue cat breeder in Ohio. Located outside Dayton, they have beautiful, socialized Russian Blue kittens from champion European bloodlines. Their cats are born and bred on a 13-acre mini-farm. Each kitten is allowed to wean from their mother nature and is socialized and spoiled until they're ready to go home.
The kittens are litter and scratching post-trained. Royal Blues provides a nursery blanket, carrier, and TICA registration papers. Your new kitten will be up-to-date on vaccinations, spayed or neutered, and microchipped before going home with you. Royal Blues provides several methods of delivery if you live outside of Ohio.
At this time, they are only shipping within the United States. Their premium option is white glove delivery, where they accompany the cat to meet you. They will meet you at your local airport, either curbside or baggage claim. If you prefer a flight nanny service, they can arrange this too. However, if you live close enough, they can deliver your cat via ground transport. Royal Blues will provide your kitten to you by car or meet halfway at a pre-arranged point.
Their waitlist fills up fast, so if you want to bring home a Royal Blues kitty, you can reserve one through their website. You'll need to pay a $200 deposit upfront. After paying your deposit, they request that you contact them by email with some information about yourself. If you've brought home a Royal Blues kitten in the past, they offer a 10% discount for repeat customers.
Royal Blues Details
Conclusion For The "Best Russian Blue Cat Breeders in the United States"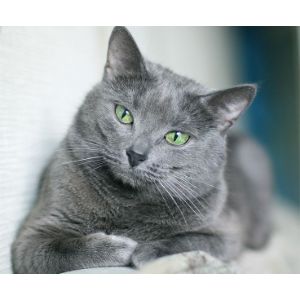 Some catteries offer European or American-looking Russian Blue cats. Some of them come from champion bloodlines or are TICA registered. You can find a fantastic, ethical Russian Blue cat breeder no matter where you're from in the United States.
Even if there are no breeders in your state, some catteries will arrange for delivery to you. Alternatively, you can arrange to pick your cat up in person when they are old enough to go home with you. Regardless of which Russian Blue cat breeder you choose, you're in for a lifetime of love with your new kitty pal.
For more guides similar to this list of Russian Blue Cat breeders in the United States, you can check out:
Before bringing home a Russian Blue Cat companion from a cat breeder in The US, you can learn more about this cat breed by watching "Is The RUSSIAN BLUE Cat The RIGHT Breed For You" down below: