Finding Sheepadoodle breeders in Illinois can seem daunting, so this guide will give you a head start on finding the perfect one. A Sheepadoodle is a mix between a Poodle and an Old English Sheepdog. They are big dogs weighing on average between 60 to 90 pounds and have a height of 16 to 22 inches.
The Mini and Micro size will be smaller in weight and height. Without a doubt, no matter what their size, they are extremely friendly dogs that love children and being around people. They shed very little, so they are particularly good if you are looking for a low-shedding dog. Because of all these great traits, this much sought-after dog can be hard to find.
Before scrolling down this list of Sheepadoodle breeders in Illinois with puppies for sale, you can check out these other breeder recommendations from our team at Breeder Best: Best Golden Retriever Breeders in Illinois and Best Sheltie Breeders In Illinois.
Sheepadoodle Puppies in Illinois For Sale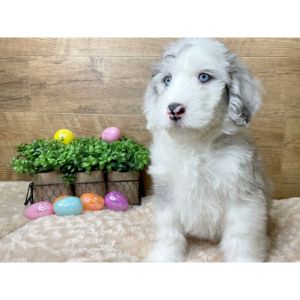 Our team at Breeder Best has created a great list of breeders you can find in the Illinois area. Let us look at some of the best Bernedoodle breeders that can provide puppies in Illinois:
More Sheepadoodle Breeders: Best Sheepadoodle Breeders in Virginia and Best Sheepadoodle Breeders in Florida.
1. Homegrown Doodles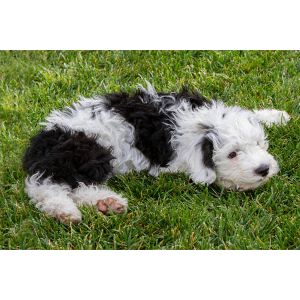 If you are interested in buying from Homegrown Doodles, then you should know the following:
They use Embark DNA testing to test all the parent dogs.
If you cannot keep the puppy, you can always give it back to Homegrown Doodles, who will happily take it back.
Two vet visits will happen before the puppy goes home to ensure they are healthy.
All puppies will be immunized twice with required immunizations before they go home.
 All puppies are microchipped, and the breeder will be included on the microchip to ensure the puppy is not sold to a puppy mill, etc.
All puppies are dewormed before they go home.
They are also treated for fleas and ticks.
When you take the puppy home, you will receive a birth certificate, a snuggle blanket, and bed, and a daily schedule.
Homegrown Doodles Details
2. Double R Doodles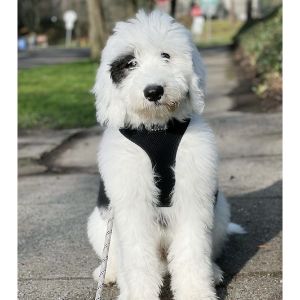 Double R Doodles breeds Sheepadoodle puppies for sale in Illinois. They were previously known as Double R Tigger. They breed Aussiedoodles in addition to Sheepadoodles and a hybrid German Shepherd doodle. They have been in business for over 25 years and breeding dogs for more than 50 years.
They are in Southern Illinois and have been state-licensed and inspected. The owner's granddaughter has now taken over the business, and she will be the person you will contact if you are interested in buying puppies from Double R Doodles.
If you are interested in purchasing puppies from Double R Doodles, then you should know the following:
They have pictures of their whelping room on their website. It is temperature-controlled and has a doggy door.
The main adult kennel is currently under renovations.
No initial deposit is required until Double R Doodles assigns a puppy to you. The deposit is $206.
All deposits are non-refundable. You will lose your deposit if you change your mind about the puppy.
They do not encourage visitors to touch other puppies when they visit the kennel. A separate room has been dedicated to puppy transfer.
No visitors are allowed unless they are there to pick up a puppy. They have had this policy in place well before COVID-19 and do not encourage people to expose the puppy to germs until they receive their fourth vaccination.
The price for having your puppy shipped via an airline will start at $550.
Double R Doodles Details
3. Erica's Doodles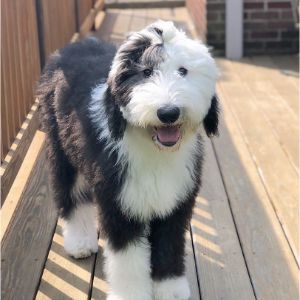 If you are looking for Sheepadoodle puppies in Illinois, then Erica's Doodles has been professionally breeding doodles for the past 20 years and is an excellent choice. They breed not only Sheepadoodles but also Bernedoodles, Australian Labradoodles, and Goldendoodles. All the parent dogs have been health tested and have come from Champion Pedigree bloodlines.
If you are looking for a responsible and reliable breeder, then here is why you should choose Erica's Doodles:
All parents have been tested for Orthopedic issues, which include hips, patella, and knees. They have also been cardiac tested.
The puppies are brought up in the presence of children and are very well socialized.
Three immunizations are given before the puppy goes home.
Each puppy comes with one month of free pet insurance.
All puppies go home with five days of Life Abundance dog food.
The crating process of training has started before the puppy goes home.
All puppies are on a daily multivitamin before they go home.
Three-year health guarantee if you are feeding the puppy Life Abundance food. A two-year health guarantee if you are feeding the puppy any other brand of dog food.
Erica's Doodles Details
4. Feather & Fleece Farm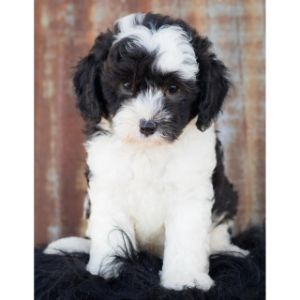 If you are interested in purchasing puppies from Sheepadoodle breeders in Illinois, then Feather & Fleece Farm is a great option. Feather & Fleece Farm breeds Mini Whoodles, Mini Sheepadoodles, and Mini Schnoodles.
They are a well-known breeder in the area and have been breeding since 1993. Their puppies are known to be confident and well socialized. They breed the Sheepadoodle in three sizes, Standard, Mini, and Micro.
If you are interested in a Sheepadoodle, then you should know the following:
The approximate cost of the Sheepadoodle is $2400.
There is a non-refundable deposit of $200.
The puppies are hypoallergenic and good for families who may have members who have allergies.
The micro breed is under 35 pounds, the mini is under 55 pounds, and the standard size is over 56 pounds.
They have an onsite veterinarian and a training school for the dogs.
They have a non-refundable pick of the litter option.
They will ship your puppy by air if you opt for that; the cost depends on the destination.
If you would like your puppy to attend one week of training before taking them home, you can pay an extra $100.
Feather & Fleece Farm Details
5. ValleyView Sheepadoodles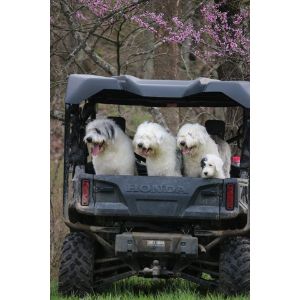 Closing our list of Sheepadoodle breeders in Illinois is a breeder from Missouri. ValleyView Sheepadoodles is a great choice for first-time pet owners as their puppies are healthy, and their adoption process is straightforward. They are one of the more well-known breeders in Missouri. If you do not have any luck in Illinois, Missouri is an option as it is only a four-hour drive from Illinois.
If you are interested in a Sheepadoodle, then you should know the following:
A deposit will secure the puppy. The deposit amount is $400, which will go towards the puppy's price.
The deposit is only refundable if the health check done by the vet does not clear the puppy of any health issues.
The price of the puppy depends on several factors. Some prices are listed on the website, but it would be a good idea to call the breeder to get more information.
The breeding facility is located on a 200-acre farm where only standard and mini Sheepadoodles are bred.
ValleyView Sheepadoodles Details
Choosing a Sheepadoodle Breeder in Illinois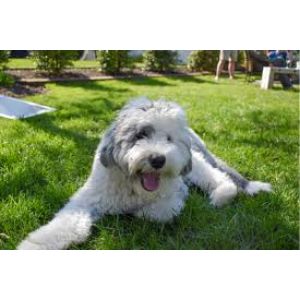 Sheepadoodles are large dogs. If you are looking for a smaller version of the same breed, then the Micro or Mini Sheepadoodle would be an excellent choice. Sheepadoodles are great for owners with family members and kids so the dog will have people around. This dog loves interacting with humans and does not like being left alone for extended periods.
You must avoid backyard breeders and check to ensure your breeder is legitimate. There are many puppy mills where dogs are not treated very well. An effective way to ensure your breeder is treating their animals properly is to visit the breeder's facility and ask them questions over the phone before you visit.
Conclusion For The "Best Sheepadoodle Breeders in Illinois"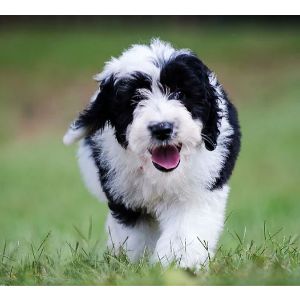 With this impressive list of places where you can buy a Sheepadoodle puppy in Illinois, your search will be off to the right start. As always, it is important to remember that getting a new point can be very daunting and stressful. It is important to ensure everyone knows the responsibilities that need to be fulfilled to make the transition easy for you and your new pet. Here is hoping you can find your new Sheepadoodle puppy soon!
For more guides similar to this list of Sheepadoodle breeders in Illinois, you can check out:
Before you bring home a Sheepadoodle companion from a breeder in Illinois, you can learn more about this dog breed by watching the "Sheepadoodle Dog Breed Guide" down below: