An Aussiedoodle is a cross between an Australian Shepherd and, usually, a standard Poodle. The breed is known for its playful nature and curiosity. In fact, they require a bit of stimulation so they don't get into mischief! If you are interested, we have a list of the best Aussiedoodle breeders in Minnesota for you here.
If a smart, loyal companion sounds like a good option for your family, check out this list of reputable and responsible breeders to begin your search. Aussiedoodles are a designer breed, and they're growing in popularity in the United States.
Unfortunately, puppy mills are banking on that popularity, so it's important to seek out a breeder that will care for your puppy's health and well-being.
Other articles you may like: 7 Best Sheepadoodle Breeders In Minnesota! and 7 Best Bernedoodle Breeders In Minnesota!
1. Finney Ranch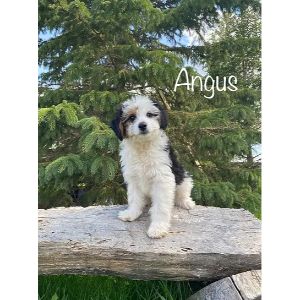 Finney Ranch is a licensed commercial breeder in the state of Minnesota, and they breed both Aussiedoodles and AKC-registered poodles. They are a bit more prolific than some of the other breeders on this list, but they utilize a guardian home system. That means that each dam and sire is well cared for, as are puppies – and raised in family environments.
Aussiedoodle pups typically cost around $2,500 to adopt, and you'll be required to fill out an application. Once you're approved, a $300 deposit is required to hold your place on the waiting list. This is deducted from the total price of the pup once it's time to pick him or her up.
Parent dogs are health- and genetically tested, and your puppy will be vaccinated and dewormed at pickup time. Your dog will also be microchipped, but it's up to you to register the chip. You can receive more information about how to do this on your puppy's "Gotcha Day."
Aussiedoodle Breeder Information:
2. Archer Hill Farm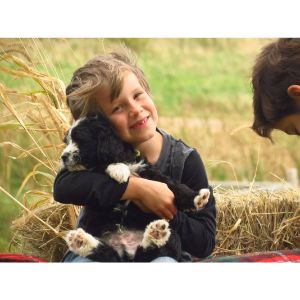 Archer Hill Farm is next on our list of the best Aussiedoodle breeders in Minnesota. They produce Aussiedoodles, Bernedoodles, Australian Mountain Doodles, and mini Goldendoodles on their family farm. In fact, it's likely that your puppy will have been socialized with dairy cows, chickens, and cats!
You will need to apply to be an adoptive puppy parent and will be required to provide information about your household, employment, and experience with dogs and your family.
Once you're approved, you'll be asked to place a deposit on a dog to hold your spot on the reservation list. The total price for your Aussiedoodle will range from $3,000 to $4,500, depending upon color and markings.
Once you've placed a deposit on your dog, you may make arrangements to visit the Archer Hill Farm kennel to meet your pup in person. The kennel doesn't allow visitors unless you're financially committed to adoption for health reasons.
Aussiedoodle Breeder Information:
3. Hidden Valley Doodles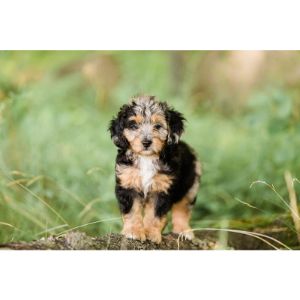 Hidden Valley Doodles specializes in a number of doodle breeds, including their beloved Aussiedoodles. They utilize a network of guardian homes to ensure that each dam, sire, and pup is treated with the utmost care and that his or her health is well looked after.
Hidden Valley Doodles is currently accepting applications from families who wish to be considered for the guardian program. Guardians receive a free puppy but of course, must adhere to certain contractual obligations.
Your little boy or girl will be a mom or dad when appropriate and, upon retirement, will belong to your forever home. Contact the kennel if you're interested in applying.
Should you choose to purchase a puppy outright, you can expect to pay around $2,300 for your dog. That may vary based on color and other characteristics. Pups will be fully vaccinated as is appropriate to their age and will have begun deworming treatments. In addition, your puppy will have been exposed to stimuli like thunderstorms, stairs, and even fireworks.
Aussiedoodle Breeder Information:
4. PuppySpot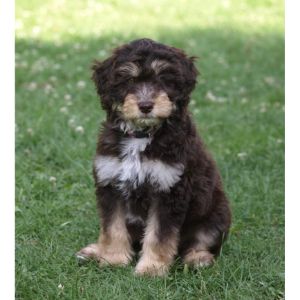 PuppySpot isn't an Aussiedoodle breeder but is instead a network of breeders that matches adoptive families with their forever friends.
They work with kennels across the United States, and each facility is USDA licensed and guaranteed to have a no-puppy mill policy. Your dog, while he or she may come from anywhere in the United States, will be born and raised in a safe home.
You can search the PuppySpot website by breed, then select the picture of the puppy you love. You'll then have access to the puppy's details, including price, location, personality traits, and even more videos. Delivery of puppies is offered via PuppySpot's own transportation, and there are several options available.
Your puppy will be vaccinated and dewormed when it's time to pick him or her up, and all dogs will have had a comprehensive health exam before they go home with you. Different sellers may offer breeding rights; if this is something you're interested in, check with the kennel before paying for your pup.
Aussiedoodle Breeder Information:
5. Crystal Ridge Doodles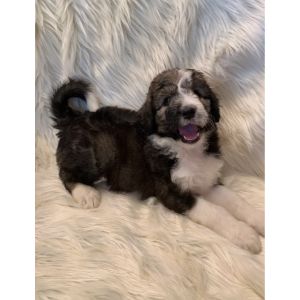 Crystal Ridge Doodles is not located in Minnesota, but instead is a Wisconsin-based kennel. While it may be a bit of a drive for some, we're convinced that eastern Minnesota residents will find that it's well worth it! The Crystal Ridge team consists of a family of four who raises Aussiedoodles in their home.
As is true for most breeders, Crystal Ridge requires that you fill out an application to adopt a puppy from them. Once you're approved to place a deposit, you can pay the $500 via PayPal, Venmo, or various other methods. The total cost to adopt a puppy is between $2,500 and $3,500, depending on the color of the dog.
Your new puppy will have all age-appropriate vaccinations and will have been given a start on potty training. In addition, you'll receive a month of TruPanion pet insurance as well as lifetime support from the breeder. Your pup will have a health guarantee covering known genetic conditions.
Aussiedoodle Breeder Information:
6. North Ridge Doodles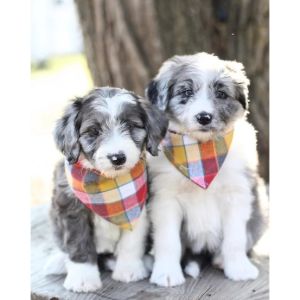 North Ridge Doodles is a small-scale breeder in northern Minnesota that specializes only in Aussiedoodles. They only produce a couple of litters each year, so be sure to express interest and apply for adoption as early as possible. This will increase your chance of being placed on the waitlist for a dog.
You can view available and upcoming litters on the North Ridge Doodles website; the puppies are updated frequently, so be sure to check back often. To begin the process, first, fill out the application on the website.
Then, when you're approved, you'll place a $200 deposit to be placed on the reserve list. Puppies cost $2,000 and are delivered to Minneapolis once they're eight weeks old.
Your puppy will have begun kennel and crate training by the time he or she is ready for pickup. Dogs are thoroughly vet-checked and will be up to date with vaccines and deworming treatments. Speak to your kennel team about health guarantees and breeding rights for your puppy.
Aussiedoodle Breeder Information:
7. Wilson Cattle Co.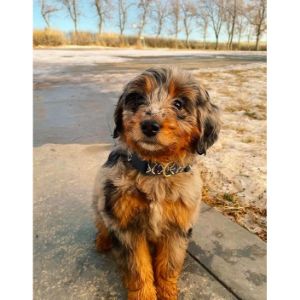 The last Minnesota Aussiedoodle breeder on our list is Wilson Cattle Co. This kennel breeds standard and mini Aussiedoodles and, as you may have guessed, about 250 head of cattle! Your Aussiedoodle from Wilson Cattle Co. will be very well-socialized with animals of all sizes, including cows, chickens, horses, and cats.
The reserve list for mini and standard Aussiedoodles fills up very quickly, so it's important you begin the application process as soon as possible. All dogs begin at $2,500, though that price is subject to change depending upon color and breeding rights.
A $200 deposit is required to reserve your dog, and the remainder will be due upon pickup or delivery. The kennel is very flexible, with delivery options for those who are not immediately local.
Pups will be cared for by a veterinarian and will have dew claws removed before adoption day. Puppies will be microchipped, but you must register them. Your dog will come with a one-year health guarantee upon signing of the Wilson Cattle Co. contract.
Aussiedoodle Breeder Information:
Conclusion For Best Aussiedoodle Breeders In Minnesota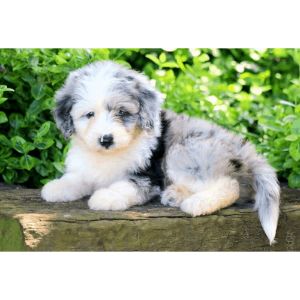 Your Aussiedoodle pup will be a curious, friendly, and energetic addition to your family. However, it's important that you adopt your forever friend from a breeder that is responsible for his or her well-being, even from a very early age.
The reputable Minnesota Aussiedoodle breeders on this list are known for doing just that. In addition to providing a loving, caring home in your puppy's earliest weeks, many will also offer lifetime support to adoptive families. Avoid puppy mills by choosing one of the kennels on this list, and welcome a happy and healthy dog into your family.
You will also like: