Are you looking for the best place to buy a Maltipoo puppy in Maryland? Well, it is your lucky day, as we have found and compiled a list of the best Maltipoo breeders in Maryland. The search for Maltipoos can be challenging, especially due to the high demand for this breed. Maltipoos are perfect companions, which is why they are sought after by many families.
Other articles you may like: 4 Best Goldendoodle Breeders In Maryland! and 4 Best Cavapoo Breeders In Maryland!
Maltipoo Puppies In Maryland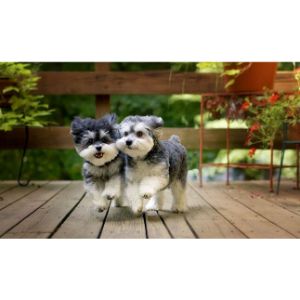 However, the scarcity of this breed should not make you settle for less. The last thing you want is to buy a puppy from an inexperienced or backyard breeder, as they do not conduct proper genetic health tests before breeding. You might end up visiting a vet every week if you buy a puppy from an unreliable breeder.
Finding a professional that focuses on breeding and raising healthy puppies is a daunting task. We have decided to take that burden away by doing the research for you. We have listed and reviewed the most experienced Maltipoo breeders in and around Maryland. Here are our top picks:
1. Olie Field Farm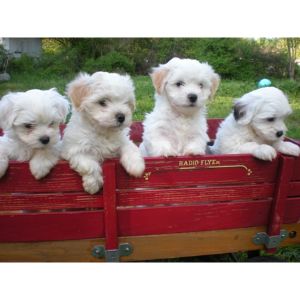 Experience plays a key role in every breeding program. It is one thing that separates the good breeders from the bad ones. The more experienced breeders know the best breeding practices and apply them in their breeding programs.
They have also amassed a lot of knowledge and discovered many things by themselves, which is why they can consistently produce the same result. During our research, we found Olie Field Farm to be one of the most experienced breeders in Maryland.
Olie Field Farm is a renowned breeding program owned and managed by Joyce Fleming and her family. Joyce has been caring for and raising puppies since the days of her youth.
She has a lot of experience in this field and has raised, and placed hundreds of puppies in several homes nationwide. The puppies from Olie Field Farm have blessed the homes of many walks of life, including a past President, a Governor, professional hockey, baseball, and football players.
Another key factor for knowing a good breeder is their transparency and how they respond to questions. Joyce is always open to questions. She is always available to answer questions from potential and existing customers.
Her transparency is another thing that has gotten her this far. Joyce is transparent about her breeding process; she believes pet parents should know how their furkids were bred and raised. You can ask her anything about the breeding process, including the health details of the sires and dams of your puppy.
When it comes to health, Joyce is also at the top of the game. She knows the vital attributes that make a great puppy; healthy parents are one of them. To produce perfectly healthy puppies, she tests the adult dogs for the common health issues and genetic defects associated with this breed. She only breeds 100 percent healthy and genetically sound dogs.
The puppies also undergo complete health examinations before being released to the buyers. They come with a health certificate showing their current health and a list of vaccines taken. She ensures they are up-to-date on vaccines and wormings before leaving her care.
Joyce runs the breeding program with her family. They breed and care for Maltipoos, Cavapoos, Cockapoos, and other purebreds, Poodle mixes, and designer breeds. Her adoption process is simple, as she does not function with waiting lists. The website is updated regularly, so you can check their available puppies and initiate the adoption process.
Maltipoo Breeder Information:
2. Windy Way Pups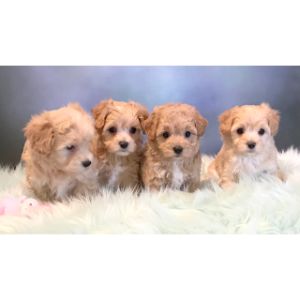 Windy Way Pups is a highly respected Maltipoo breeder in the US. They are located in Virginia but extend their services to Maryland and other neighboring states. If there is just one thing this breeder is good at, then it is raising puppies to be excellent family companions.
The masterminds behind this breeding program are Rick and Cindy Barrett. These hobby breeders are passionate about raising puppies and placing them in the right homes. They were drawn to this breed because of its affectionate and gentle nature.
With a few decades of experience, this couple has learned how to nurture and groom the natural traits of Maltipoos. Windy Ways Pups raises and prepares their puppies for all spheres of life. In addition to raising them to be great companions and family pets, the couple trains them to be great therapy dogs too.
However, you have to contact them especially if you want a therapy dog. They have spacious and beautiful grasslands for the puppies and dogs to play and roam freely. The puppies are also engaged in various exercises and training to ensure they are physically and mentally fit to transition to their new homes.
From their independent reviews, customers testified to how happy and healthy the pups were. They said the puppies were full of life and ready for their new families. Rick and Cindy take pride in how they care for their puppies and adult dogs.
In addition to ensuring they are vet-checked, the couple feeds them with premium-quality dog food. The dogs get the healthiest treats possible, ensuring they have all the nutrition they need to thrive. All the puppies are vet checked and up-to-date on proper vaccines before joining their new families.
The puppies receive a New Par vaccine at seven weeks and a DAPPv puppy vaccine at eight weeks. They also receive dewormings on a recommended schedule. Their medical report will contain all the vaccines and medications they have taken so you will know where to continue. A puppy reservation costs $500 and the breeder will update frequently with photos and videos of your new baby.
Maltipoo Breeder Information:
3. Puppy Stars
If you are looking for a highly adaptable and well-socialized puppy, you should consider Puppy Stars. Puppy Stars is a dedicated breeding program owned and operated by Jamie and her husband Bruce. Jamie and Bruce Tracy have been raising mixed breeds and purebreds for more than 23 years. They have over two decades of experience and have garnered a lot of knowledge along the way.
The Tracy family does not raise their puppies in a kennel or cage; all the puppies live in their home. Thanks to their excellent breeding standards, you can find their puppies in several homes in the United States and Canada.
Bruce and Jamie only produce a few litters yearly because they do not want to have more puppies than they can care for. They pay special attention to their puppies, so they decided to keep the production low.
The couple lives on a 55-acre farm with their puppies and dogs in South Central Iowa. All the pups and dogs are raised in a healthy and clean environment. The dogs also have a special facility with air conditioning, a heating system, and a stereo to keep them happy and in perfect physical and mental health. Puppy Stars is state-licensed and inspected. They are also approved and inspected by AKC.
By running a small breeding program, Bruce and Jamie are able to create time to play with and socialize the puppies. All the puppies undergo behavioral, crate, and potty training before joining their new families. In addition, all puppies come with a health guarantee to protect against congenital health problems.
Maltipoo Breeder Information:
4. Koedam Kennels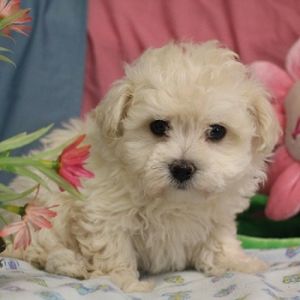 Concluding our list of Best Maltipoo breeders in Maryland is Koedam Kennels, an Iowa-based breeder dedicated to raising healthy, happy puppies and finding loving homes for them across the United States. Allen and Wanda Koedam are the owners of this program. They have been running this breeding operation for over 35 years, providing families with genetically sound and happy puppies with excellent temperaments.
Koedam Kennels produces a few litters of designer breeds, including Maltipoos, Mashis, Shih Poos, Poochon, Teddy Bears, Cockapoo, Yorkie Poo, and Shorkie. Allen and Wanda love welcoming potential buyers to their homes so they can see their puppies and where they are raised. However, they can ship your puppy to wherever you are in Maryland.
Allen and Wanda guarantee their puppies to be in perfect health at the time of sale. Their puppies will also be free of congenital defects and other health conditions at the time of pick up and delivery.
To crown it all, all puppies come with a two-health guarantee. Koedam Kennels expects all buyers to have their puppies examined by a licensed vet immediately after delivery or pick up to confirm their current health status.
Maltipoo Breeder Information:
Conclusion For Best Maltipoo Breeders In Maryland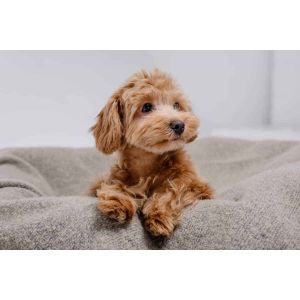 Producing cross breeds can be challenging, and not every breeder knows how to do it. You need to scrutinize any breeder you come across to avoid buying an unhealthy puppy. The best Maltipoo breeders in Maryland are known for producing the healthiest and happiest puppies.
We carefully selected these breeders for you because they are well-experienced and know how best to produce healthy cross breeds.
You will also like: