Labradoodles are adorable, fluffy, and fun-loving family companions. They got most of their awesome traits from their parents – the purebred Poodle and Labrador Retriever. These teddy-bear-like dogs come in various sizes – Standard, Medium, and Miniature which is why we have a list of the best Labradoodle breeders in Maryland for you to go through.
Other articles you may like: 4 Best Maltipoo Breeders In Maryland! (2023) and 4 Best Cavapoo Breeders In Maryland! (2023)
Labradoodle Puppies In Maryland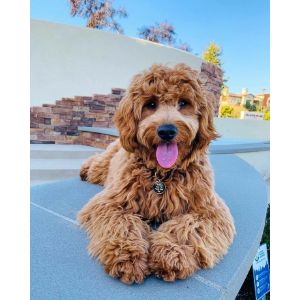 In addition to being super cute, these dogs are obedient, intelligent, and highly trainable, making them one of the most sought-after dog breeds in Maryland.
Pet owners need to be careful when looking for Labradoodle breeders online, as the high demand for this breed has led to the emergence of many unreputable dog breeders. There are many scammers online that will use your love for puppies and make you regret wanting to own one.
Searching for the right breeder is a daunting task that usually overwhelms many potential puppy owners. However, we are here to reduce the hassle of digging the web and not knowing what to look for before choosing a breeder.
After extensive and careful consideration, we have compiled a list of Labradoodle breeders in Maryland you can trust. Read on for more information on these breeders and their contact details.
1. Wild Daisy Labradoodles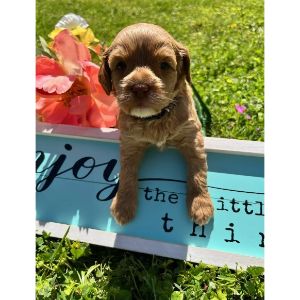 Wild Daisy Labradoodles is an in-home breeder of Lab puppies, owned and operated by a family. The family is actively involved in their community, and they are known across the state for being one of the most reputable Lab breeders.
There are many Lab breeders in Maryland, but WDL stood out because of its research-driven, high-standard breeding program. The major players in this breeding program are the mom and her two wonderful daughters. She is highly educated and has many breeding tricks up her sleeve.
The family resides in Mount Airy, Maryland, and all their puppies and dog live indoors with them. They own a sizeable farm (which is a dream come through for the family), where they raise other animals, including barn cats, birds, goats, and chickens. Her husband, Jeff, is the technical support and muscle of the farm.
He helps with the breeding process and works with the kids on handling and training techniques. This couple's love and passion for dogs are rooted in their respective childhoods. They both come from dog-loving families who raised puppies in their home. In their adult lives, they have decided to make their passion a profession.
Her dad, who is retired, also helps her with socializing the puppies, vet appointments, etc. He is well experienced with dogs, so the program benefits from his years of experience. Wild Daisy updates its website in real-time.
They always list their available puppies online or leave a short notice of upcoming litter. One unique thing about this breeder is that they do not do placements until the puppies are six to seven weeks.
Before placements, they ask for the buyer's (family) bio and combine their knowledge of each puppy's temperament with the dynamics of each individual's needs or family's lifestyle. All puppies from this breeder come with the following:
A two-year health guarantee
Dewormed
Microchipped
Crate trained
Potty trained
Collar and leash
Scented blanket
In addition, the puppies are well-socialized with kids, adults, cats, and other dogs. Other than this, all puppies from Wild Daisy come with a spay/neuter contract, strictly enforced by six months of age. They also register all their litters with the Australian Labradoodle Association of America (ALAA).
Labradoodle Breeder Information:
2. Cornerstone Australian Labradoodles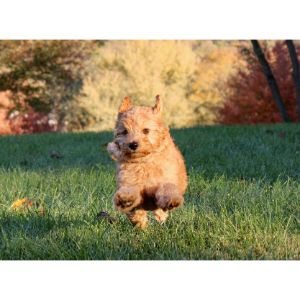 Cornerstone Australian Labradoodles is an accredited breeding program owned and managed by Sonali, her husband, and her kids. The ultimate mission of this family is to share this extraordinary breed with you via their selective accredited breeding program.
She only breeds multi-generational Australian Labs with teddy-bear personality, therapy dog temperament, and hypoallergenic coats. The Lab generation from this breeder is asthma and allergy-friendly, making them a great option for families or individuals with allergy issues.
CAL knows and adheres to the strict breeding guidelines and extensive health testing from the ALAA. They have also received a Gold Paw award because of their due diligence and hard work in breeding and raising adorable puppies. All their breeding dogs are tested to a minimum of the Gold Paw level set by the ALAA. They are health-tested for OFA:
Elbows
Hips
Heart
CERF
vWD
IC
PRA
EIC
DM
With the stringent testing process the dogs undergo, rest assured your puppy will be free from the common congenital health issues associated with this breed. Every health concern you should have about your puppy has been verified by the ALAA.
Cornerstone Australian Labradoodles is also a member of the WALA. Being ALAA and WALA registered means the breeder is responsible and accountable to the organizations. They produce a limited number of litters yearly to avoid having more than they can handle. Another core reason to choose this breeder is that their puppies undergo crate and potty training.
The family helps build the socialization skills of the puppies. They socialize with children and other pets. The puppies are also exposed to various stimuli to help them adjust emotionally. All puppies are:
Vet-checked
Vaccinated
Dewormed
Microchipped
The family lives with all their puppies and dogs in their homes. Some of the retired dogs live with trusted guardian families, receiving the love and care they deserve.
Labradoodle Breeder Information:
3. Welcome Acres Labradoodles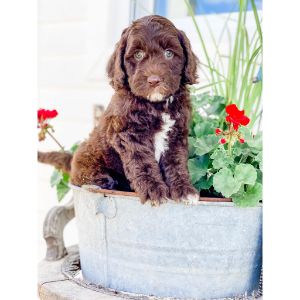 Located in La Plata, Maryland, Welcome Acres Labradoodles is one of the most respected breeders in the United States. They are 25 miles south of Washington DC, but their services extend to every part of the US.
WAL is a well-established family business renowned for producing healthy and beautiful Lab puppies. The family also owns and operates the famous "Bark of the Town Pet Spa," a luxurious pet salon for distinguished dogs. Dogs have been a treasured part of this family for many generations.
They are dedicated to breeding and raising genetically sound Australian Labs with suited for therapy work and companionship. Welcome Acres operates by the strict guidelines and code of conduct issued by the WALA, ALAA, and ALCA.
They conduct extensive genetic and health testing to ensure the breeding dogs are in perfect health condition. In their history of raising puppies, never has their puppy been in the kennel. All the puppies and dogs are members of the family, and they are treated as such.
The family specializes in breeding miniature and medium-sized multi-generational Australian Labradoodles. Other than the health tests they conduct, the breeder also assesses the sires and dams for temperament.
Their puppies have exceptional health and temperament and a luxurious allergy/asthma-friendly coat. They pay close attention to each puppy daily, studying and helping to build their socialization skills. You can rely on the breeder's website for updated information about current and upcoming litter.
Lastly, provides its customers with valuable resources to help overcome the challenges of raising a new puppy. You will learn how to feed your puppy, teach them to use the crate and potty, and run them through obedience training.
Labradoodle Breeder Information:
4. Mayberry Labradoodles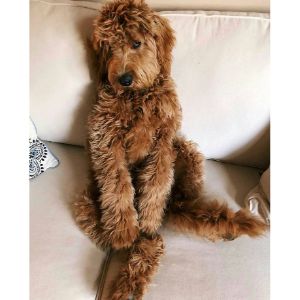 Mayberry Labradoodles is a small Labradoodle breeder in Westminster, MD and is on our list of the best Labradoodle breeders in Maryland. The breeding program is owned and managed by a couple with years of breeding experience. The couple went right into breeding horses after getting married 30 years ago.
They later added dogs to the mix after purchasing a 15-acre farm in Westminster. They have two great kids who also play key roles in the breeding program.
The couple has bred and raised a variety of different dog breeds over the years. They have amassed a lot of experience raising purebreds and mixed breeds. However, they later settled for Labradoodles because of their wonderful personality and trainability. All their puppies are delivered by an experienced vet and examined right after the delivery.
The puppies and dogs enjoy quality vet care because the breeder's husband (George) is an experienced veterinarian. He makes the entire family take and complete various courses to further improve the breeding program. The family constantly improves their knowledge with current articles and videos to ensure they raise their puppies with the best practices.
Mayberry Labradoodles have earned the Golden Paw Breeder badge because they adhere to the health testing protocols and breeding standards of the Australian Labradoodle Association of America (ALAA). Hence, rest assured you are buying your puppy from a reliable and responsible breeder. All puppies from this breeder are:
Microchipped
Vetted with all age-appropriate vaccines
Dewormed
crate/potty-trained
Socialized with children and other dogs
Labradoodle Breeder Information:
Conclusion For Best Labradoodle Breeders In Maryland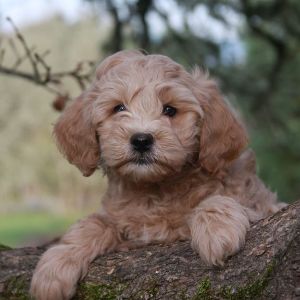 As a new pet owner, it is essential that you deal with only responsible breeders. Responsible breeders do not cut corners or adopt dubious means in their breeding program. They adhere to state and organizational guidelines to ensure all their pets are well-adjusted and healthy. They also work to produce genetically sound puppies by using only the best dogs for breeding purposes.
You will also like: