Looking for the best Goldendoodle breeders in Maryland? If so, check out our list from which you can buy lovable, perfectly healthy, and genetically-sound puppies.
Goldendoodles inherited many wonderful features from their parents (Poodle and Golden Retriever), such as hypoallergenic coats, cuteness, loyalty, and playfulness.
These dogs are full of energy and can be active all day. Nevertheless, most of these traits need proper nurturing to bloom fully. Without adequate care, training, and love, even the gentlest dogs can grow to have bad temperaments. The best and most well-experienced breeders know how to nurture these traits and raise the puppies to become loving, adorable, and well-tempered family companions.
Other articles you would like: Best Aussiedoodle Breeders In Maryland and 4 Best Cavapoo Breeders In Maryland!
Goldendoodle Puppies In Maryland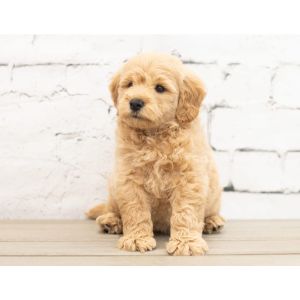 Hence, it is essential to always look for responsible, reputable, and experienced breeders whenever you want to buy a puppy. We created this article to save you the stress and hassle of interviewing too many breeders and probably falling into the wrong hands.
The breeders in this article were carefully chosen for you based on their experience, reputation, breeding standards, and licenses. Without further ado, here are the best places to buy Goldendoodle puppies in Maryland.
Check out for more: Best Goldendoodle Breeders In Virginia and Best Goldendoodle Breeders In Florida
1. Albark Kennels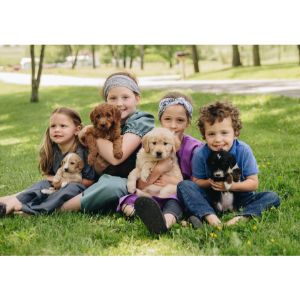 If you reside in or around the rolling hills of beautiful Western Maryland, then Albark Kennels is one of the best places to buy your Goldendoodle puppy. Albark Kennels is owned and operated by the Kauffman family, and the family started raising puppies in 2004.
With almost two decades of experience, this family has mastered the tricks and secrets of breeding the finest and healthiest Goldendoodle puppies. Albark Kennels is a premier breeder with a lot of experience in raising mixed breeds. In addition to raising Goldendoodles, this family also has Golden Retrievers and Bernedoodles under their care.
The family has a large farm in Western Maryland, where they raise all their puppies and dogs. They live with the dogs and puppies, taking them as part of the family. They also have kids who help with feeding and socializing the pups from the day they are born.
Your new furkid will be used to being around children before coming home. They also introduce the puppies to adults and other dogs, preparing them for large families with kids and pets.
In addition to being kid-friendly, the puppies from this breeder are crate and potty-trained. Obedience training is also part of their program, helping to lay a solid foundation for you to continue your pup's training.
This family produces two generations of Goldendoodles – F1 and F1b. F1 (first generation) Goldendoodles are 50 percent Golden Retriever and 50 percent Poodle. F1b Goldendoodles are 25 percent Golden Retriever and 75 percent Poodle because they are the backcross of a purebred Poodle and F1 Goldendoodle.
The Kauffman family is dedicated to the cause of responsible pet care. They have committed to reduce the number of stolen, lost, and unwanted dogs in community shelters, so all their pets are protected with the Petkey Family of Services. These services provide a lifetime of behavior & training education, lost pet protection, and free consultation.
Goldendoodle Breeder Information:
2. Curly Doodles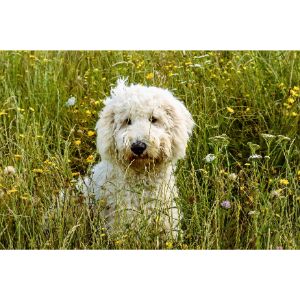 If you are looking for Mini Goldendoodles, Curly Doodles is one of the best breeders to consider. Curly Doodles is a family-owned breeding program that focuses on only Mini Goldendoodles. They are located in Taneytown, MD, but have puppies all over the United States.
This family takes great pride in the puppies they produce. It is because of their excellent reputation and breeding standards that their puppies are all over the US. They also provide a stress-free puppy-buying experience by offering nationwide delivery services. Your puppy can be delivered to you wherever you are in the US for just a little fee.
All their puppies cost $3,000 regardless of color or gender. The family works with a waitlist, and on a first-come, first-serve basis. A non-refundable deposit of $500 is required to join the waiting list. However, they occasionally have available puppies, which they announce on their website or Facebook page. Curly Doodles also sells a go-home puppy pack for $225, which includes:
Small crate
Seatbelt
Harness
Treats
Toys
Food
Pee pads
Snuggle puppy
All their puppies are registered with GANA, and you will receive your pup's pedigree. Curly Doodles has many sires and dams, so they produce many litters yearly. However, despite the many litters produced yearly, they often have a long waiting list, as there is high demand for their puppies.
The puppies from this breeder are playful, intelligent, and friendly. They are bred from health-tested parents with no genetic defects. The parents are also OFA tested for elbows, hips, eyes, and other common health conditions. They also have the badge of a "Responsible Breeding Program" from Good Dog – a badge earned by only the most reputable, responsible, and ethical breeders.
Goldendoodle Breeder Information:
3. Maryland Doodles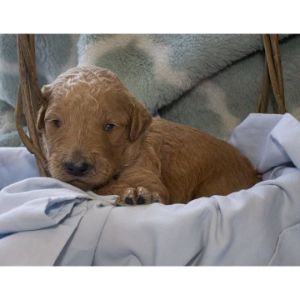 Maryland Doodles produces full and standard-sized Goldendoodle puppies in Western Maryland. This breeding program is owned and managed by a family with love and passion for Goldendoodles. They are located in Hagerstown but extend their services to Eastern WV and Southern PA areas.
Manyland Doodles has become famous in recent years because of the special care and attention they give to their dogs and puppies. They love and care for their puppies and dogs as if they are members of their families
The family whelps and raises the puppies in their home until they are physically and emotionally ready to join their new families. They also pay close attention to the temperament of their puppies by training, playing, and spending quality time with them daily.
Puppies develop temperament based on how they are raised, cared for, and loved, and this breeder understands that. In addition, they ensure the puppies are well-socialized before joining their new families. They introduce them to kids, adults, and other pets. The family also takes the puppies out for walks in the park, car rides, etc., to ensure they are well-exposed.
Friends of the breeder also come around for puppy time and play with the pups, making them well-socialized, happy family dogs. Maryland Doodles breed their puppies from papered AKC and CKC dogs; you will receive a papered and registered pup upon purchase.
The family has several years of experience in breeding and raising puppies. They know the secrets of selecting the best parents and the tricks to raising family-friendly puppies. All their puppies are comfortable with the hustle and bustle of family life.
Goldendoodle Breeder Information:
4. Gleneden Goldendoodles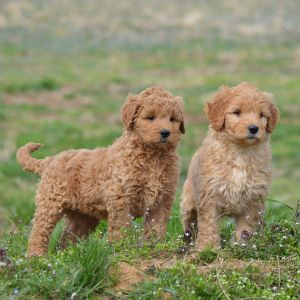 Concluding our list of the best Goldendoodle breeders in Maryland is the Goldendoodle breeding program at Gleneden started back in the 90s. It is one of the first and most dedicated Goldendoodle breeders in the US. Bill and Becky Hahn are the owners and caretakers of the Gleneden Goldendoodles.
They register all their breeding dogs with the American Kennel Club, with several Champions in their pedigree. Gleneden breeds for temperament, health, and conformation. Other vital factors they consider in their breeding program are attractiveness and body structure.
Out-crossing is this breeder's key to producing healthy puppies. They cross breed only unrelated dogs – both F1b backcrosses and multi-generation Goldendoodles. They care so much for the health of their puppies that they go the extra mile to find the best sires and dams for the breeding program.
All the breeding dogs are tested for over 150 health conditions associated with Poodles and Golden Retrievers. They also adhere to a vigorous state-of-the-art deworming and vaccination program to ensure the puppies are perfectly healthy. All puppies undergo thorough health examinations and come with a health certificate with details about the health exam and vaccines taken.
Becky and Bill Hahn are devoted to raising healthy, affectionate, and beautiful puppies, making them available only for responsible dog lovers. Gleneden is careful about who goes home with their puppies.
They only release their puppies to individuals or families that they deem fit and capable of caring for them. You can rely on this breeder for the various Goldendoodle sizes – mini, medium, and standard.
They also have various colors, including black, red, apricot, cream, and shades of blonde. This breeder offers different pickup options; you can pick up your pup at The Berkshire by appointment or have it delivered to you.
Goldendoodle Breeder Information:
Conclusion For Best Goldendoodle Breeders In Maryland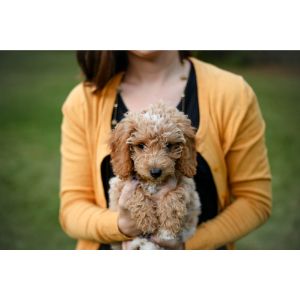 The four best Goldendoodle breeders in Maryland reviewed here are well-experienced and take the utmost care of their puppies. These breeders adopt the best breeding practices, adhere to state & federal regulations, and provide their puppies with the love, care, and attention they deserve.
Another thing that makes them unique is that they help socialize and train the puppies. Their puppies are raised to be family-friendly, as they expose them to kids, other pets, different environments, etc.
You will also like: