Sheepadoodles are gentle and even-tempered with children. This breed is happy-go-lucky with other dogs and animals. Sheepadoodles bring a wide range of desirable characteristics that every family dreams of. These obedient, loyal, devoted, and easy-going family pets can adapt to almost any lifestyle which is why we have a list of the best Sheepadoodle breeders in Wisconsin for you.
Their non-shedding fur and lovable personalities make them one of the most sought-after mixed breeds. However, one of the most challenging parts is finding the right breeder for these furry babies. Finding the right breeder is essential, as making the wrong choice might endanger the life of your future puppy.
Other articles you may like: 5 Best Aussiedoodle Breeders In Wisconsin! and 4 Best Maltipoo Breeders In Wisconsin!
Sheepadoodle Puppies In Wisconsin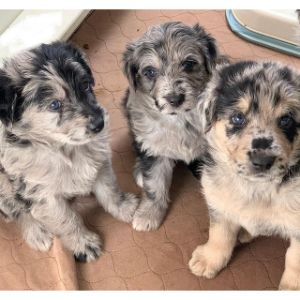 Finding the best Sheepadoodle breeder is the key to having a healthy, and happy pup with exceptional temperament. Nevertheless, the numerous options online make it difficult for many pet parents to make the right choice.
We understand the difficulty of finding the right breeder, which is why we are here to help you make the right decision. After thorough research and consultation, we have curated a list of the best and most reliable Sheepadoodle breeders in Wisconsin. Read on to see our expert recommendations.
1. Oshkosh Doodles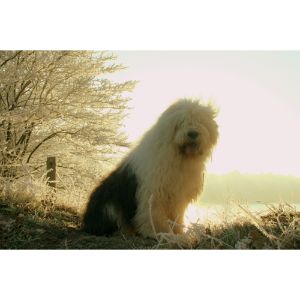 Wisconsin is the home of many experienced and reputable breeders, and Oshkosh Doodles is one of them. In 2010, the breeder welcomed a Goldendoodle into her home, which was how the breeding program started. She lives with her husband on a 12-acre land outside Oshkosh city.
They breed, raise, and live with the dogs in the same house, providing them with the best family experience possible. Oshkosh Doodle started as a hobby, but it has become their true passion today. They have become ethical, caring, and educated dog breeders, connecting their puppies with the best dog-loving families and individuals in and around the state.
Oshkosh Doodles is a highly knowledgeable breeder not just by experience but also by research and education. She does a lot of research to improve this breed and provide her customers with the healthiest and happiest puppies possible. She constantly educates herself on the best breeding practices.
She believes the best way to raise Sheepadoodles is through training, socialization, and healthy food. Oshkosh Doodles deeply care about the placement of their puppies. They conduct a background check to ensure their puppies are paired with the right families and individuals.
Multi-generational Australian Labradoodles and Goldendoodles were recently added to the breeding program. You can rely on this breeder for various colors and sizes of Sheepadoodles, Labradoodles, and Goldendoodles.
Having multiple breeds in a house is one of the best ways to socialize puppies; this breeder understands that. In addition to spending quality time with the pups, they allow them to interact with each other. The puppies are well-socialized and ready to join their new families when they turn eight weeks old.
All it takes to be a potential buyer is filling out the puppy application form and making the deposit. Oshkosh is active on Facebook, where they post videos and photos of their puppies.
They also publish articles regularly, providing their puppy buyers with valuable information for raising their puppies. Also, the breeder provides lifetime support to ensure its customers are not alone on the journey of raising their new canine friends.
The cost of a puppy from Oshkosh Doodles is $2,200. This price includes:
The First set of Shots
Several rounds of deworming
Two-year health Guarantee
Several puppy toys
A Collar
A Bandana
A blanket with the puppy's mother and litter's scent
All of this helps smoothen the transition to their new home to ensure the puppy is happy and healthy.
Sheepadoodle Breeder Information:
2. Mueller's Woodville Kennels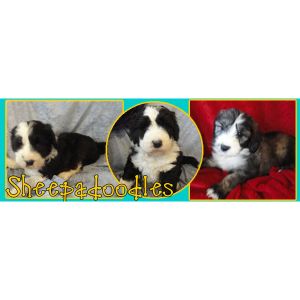 Next up, we have one of the oldest breeders in the United States, Mueller's Woodville Kennels, a family-owned business. With more than 35 years of experience producing and raising dogs, they have the process of nurturing puppy litter down to a science.
A fun fact about this breeder is that they have bred enough litter that there is now a puppy they raised in almost every state. MWK knows the importance of treating its dogs better. They believe the better they treat the pups, the more outgoing and loving family additions they will be.
The Facebook page of this breeder is filled with many happy customers. The customer feedback is impressive, and most of its sales are from word of mouth from people. Most of their customers also return a few years later to acquire another puppy.
This breeder is open to visits, allowing potential customers to visit their farm after the puppies are vaccinated. MWK is not a backyard or hobby breeder that raises one or two litters yearly. They are dedicated to raising the best quality doodles for families in Wisconsin and other states of the country.
They always have available puppies, thanks to the number of sires and dams on the farm. The breeder has many health-tested and good-tempered breeding dogs. However, they allow them to rest for some months after giving birth before putting them through the process again.
In addition, this breeder spares no expense when keeping up with deworming, vaccinations, health checks, etc. The dogs are vet-checked twice a year to ensure they are in perfect health conditions, while the puppies undergo a complete vet check before being released.
MWK conducted thorough research before starting this breeding business. They limited themselves to the best dog breeds suitable for a family setting, including Sheepadoodles, Poodles, Havaton, Goldendoodles, Cockapoos, and Welsh Terriers. Lastly, this breeder offers a comprehensive guide to caring for Doodles (an eBook).
Sheepadoodle Breeder Information:
3. Our Doodle Acres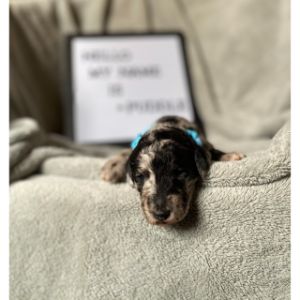 Our Doodle Acres is a family breeder who earned a spot on our list because of its quality puppies and breeding standards. The family breeds and raises family-loved and highly adaptable Sheepadoodle puppies.
Socialization and transition training starts a few days after birth to ensure the pups are prepared to join their new families in two months. ODA does not separate the pups from their moms immediately after birth; they allow them to learn and spend quality time with them.
Your new canine friend will not come home with any health condition or suffer any genetic health issues in the near future. To avoid such, ODA health tested the parent dogs before adding them to the breeding program.
The dogs are tested for Hip, Elbow, and Eye by OFA. They are also DNA tested via Embark to ensure they are completely free of congenital health problems. Other than this, the breeder evaluates their dogs' temperaments before breeding.
At eight weeks, the pups from this breeder are physically and emotionally ready to join their new families, thanks to the breeder's exceptional training process. They instill the foundation for a lifetime of emotional stability in their pups.
ODA adopts various training protocols, including Puppy Culture, Early Neurological Stimulation, and socialization. The breeder uses the most optimal methods to maximize the potential of their puppies.
Many people also love this breeder for its exceptional customer service. In addition to having a simple website, the breeder is always available to walk its customers through the adoption process.
You can also contact them to ask questions before completing the online application. Our Doodle Acres carefully reviews applications, so you have to wait for their approval before proceeding to make the $200 puppy-reservation deposit.
Sheepadoodle Breeder Information:
4. Kel's Doodles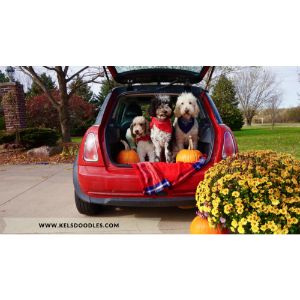 Our final selection for this list of the Best Sheepadoodle breeders in Wisconsin is Kel's Doodles. Kel's Doodles is located in Central Wisconsin, but they can deliver your pup to you wherever you are in the state. You can rely on this breeder for various sizes and colors of Sheepadoodles.
The puppies from this breeder are family/home-raised and loved with outstanding temperaments. Their breeding dogs are DNA-tested by Embark and hip/elbow-cleared by OFA. Kels ensures the puppies are up-to-date on all vaccines and annually vet-checked.
Goldendoodles are their primary breeds, but they recently added Sheepadoodles to the mix. They raise the puppies to love human interaction. There is no dull moment around these pups, as they are always active and ready to play.
These cuties also love to be cuddled, making them an excellent option for those looking for companion dogs. In addition, the puppies are obedient and love learning new tricks. They are friendly with kids, adults, and other pets. Kel's Doodles is a genuinely loving, caring, and knowledgeable breeder, and you will enjoy its puppies as well as the life support it offers.
Sheepadoodle Breeder Information:
Conclusion For Best Sheepadoodle Breeders In Wisconsin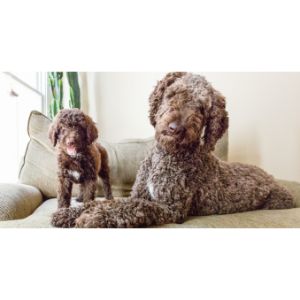 Sheepadoodles are excellent companions because of their even temperaments and easy-to-train quality. They can be hyperactive but do not show signs of aggression if trained properly. However, all those traits need to be nurtured from their birth.
Despite being bred from parents with good temperaments, a Sheepadoodle can become aggressive if they are not raised in a good environment. Hence, you must ensure to buy your puppy from a responsible Sheepadoodle breeder in Wisconsin who carries the best practices.
You will also like: