An ultra-fluffy, cuddly, and goofy Sheepadoodle is the only stressbuster you need in today's busy lifestyle. Recent years have seen a surge in popularity due to their super-friendly personalities, low-shedding coats, and teddy bear-like appearance which is why we have a list of the best Sheepadoodle breeders in New Hampshire for you.
However, pet parents must research extensively when looking for the best places to buy a puppy. Sheepadoodle buyers in NH should know that there are several breeders in the state, but choosing the right one is crucial.
Some other articles you may like: 4 Best Aussiedoodle Breeders In New Hampshire! and 4 Best Aussiedoodle Breeders In New Hampshire!
Sheepadoodle Puppies In New Hampshire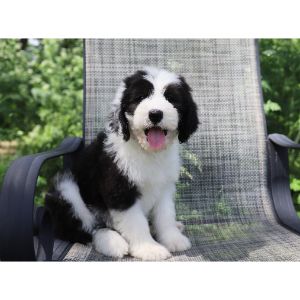 Many breeders don't conduct the genetic health tests that are required for breeding dogs. It is risky to buy any pup from such breeders as you might go home with an unhealthy life and face several consequences in the future.
On the other hand, the best breeders always conduct thorough genetic health tests to ensure their breeding dogs are free of any disorders. They do not hesitate to provide you with the required health certificates and also brief you about your medical history.
We created this article to ensure you do not make the mistake of trusting the wrong breeder. After hours of research and consultation, we have curated a list of the most trusted and reliable Sheepadoodle breeders in New Hampshire. Read on to find out more about the best places to buy your favorite dog breed in NH.
Check out for more: Best Mini Sheepadoodle Breeders in the United States and Best Sheepadoodle Breeders in Texas
1. Northeast Poodle and Doodle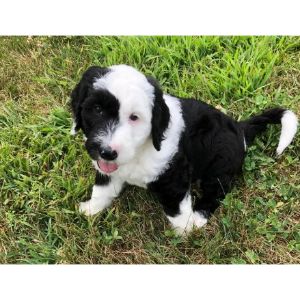 Right at the top of our list, we have one of the most respected Sheepadoodle breeders in NH – Northeast Poodle and Doodle. The reputation of this breeder precedes it, as people travel from other states to buy pups from them.
Specialized in breeding Sheepadoodle, Goldendoodle, and Bernedoodle, Northeast Poodle and Doodle is a premium quality breeder. If you are looking for super healthy puppies that will not make you spend heavily on health bills, we highly recommend this breeder's puppies.
This breeder is located in Moultonborough, NH. This breeder's puppies are always in high demand due to the quality of puppies they produce. Their doodles sell out quickly, so you have to reach out to them as soon as possible to reserve a puppy.
NPD is also always available and ready to answer your questions. If you are interested in learning more about Sheepadoodle, you can call them. If you still doubt whether or not to settle for this breed, NPD will provide you with facts and information to help you make a final verdict.
In addition to having a top-notch breeding standard, this breeder has one of the best breeding facilities in the state. They live on a 30-acre farm with a lot of space for the puppies and dogs to roam, play, and run freely. They have an extensive fenced area dedicated to puppies and dogs.
NPD is one of the few breeders who understand the importance of home-raised pets. Raising a puppy in a cage or kennel affects its temperament, especially when the breeder does not give them attention and love. All the puppies and dogs live indoors with the breeder.
Well-adjusted and socialized pups are essential to this breeder, so it runs them through various socialization and training programs. They have two kids who play with the pups and build their socialization skills. NPD has been in the pet industry for more than 30 years.
They are well-experienced in producing, nursing, and raising Poodles and Doodles. In addition to focusing on health, this breeder pays close attention to appearance. They breed only the healthiest, good-tempered, and most beautiful moms and dads.
Your puppy will be ready to go home at eight weeks old, but you can visit them on the farm before then. However, NPD only welcomes visitors after the puppies have received their first shots of the vaccine. By eight weeks, the puppies would have received four rounds of worming.
Sheepadoodle Breeder Information:
2. River Valley Doodles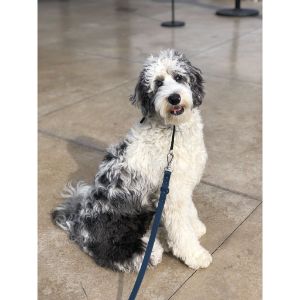 River Valley Doodle is located in NY, but their puppies are all over the US. RVD is well-known for breeding premium quality Sheepadoodle and Goldendoodle puppies. If you are looking for a breeder you can trust to provide you with a healthy puppy in this region, you should consider River Valley Doodles.
They proudly offer exceptional and rare Sheepadoodle puppies for families in and around the state. One amazing thing about this breeder is that you do not have to leave your home to acquire your favorite dog breed; they will bring the pup to you.
River Valley Doodles has remained ahead of its rivals because of its breeding standards and the variety of puppy sizes it raises. You can buy all three Sheepadoodle sizes from this breed – mini, medium, and standard. Lifetime support is one of the vital things new pet owners should consider when choosing a breeder.
Raising a puppy is challenging, especially when it is your first time. There are many things you need to learn about the breed, including their nutritional and health needs. Hence, you need a breeder that will support you all through.
Fortunately, River Valley Doodle offers lifelong support for all its customers. The breeder creates and sustains lifelong relationships with its customers to provide them with the support and guidance they need while raising their puppies. You can email them with your questions or concerns about the puppies.
River Valley also proves to be different from other breeders out there by providing excellent customer support. They respond to emails as quickly as possible. You can also contact them to get info on how to prepare for this breed without getting a puppy from them.
As we researched this breeder, we were blown away by the customer feedback it has received. Previous customers are impressed with their services, especially the quality of puppies they produce. River Valley gets most of its customers from referrals. People will not refer them to their family and friends if they are not doing something right.
Sheepadoodle Breeder Information:
3. Old MacDonald Doodle Farm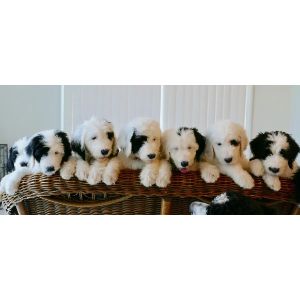 Old MacDonald Doodle Farm is a highly experienced Sheepadoodle breeder in New England. The entire New England state, including New Hampshire, benefit from this breeder's services, but they are located in Tiverton, Rhode Island.
They have successfully climbed up the ladder of the most trusted breeders in New England because of their excellence in breeding puppies and reliable customer service. This family breeder is swift at solving queries and helping potential customers make informed decisions.
Health is the number property of this family. Their puppies' health comes before their looks and temperament. To ensure every litter yields the healthiest puppies possible, this breeder conducts thorough health tests and vet checks for its breeding dogs. Any sire or dam with the slightest health issue will be bred until they are perfectly sound and healthy.
However, that does not mean the breeder ignores the temperament and looks of the puppies. After ensuring the dogs are in perfect health, the next thing the breeder assesses is the temperament of the dogs.
In addition to evaluating the temperament of the sires and dams, it provides the best socialization and behavioral training for the puppies to help improve their temperament.
The mission of this breeder is aided by some of the most reputable dog experts and vets in New England. All their dams are AKC black and white standard poodles, while the sires are AKC Old English Sheepdog from champion lines.
Also, the puppies will be dewormed at two, four, six, and eight weeks old. They are also up to date on vaccines and other preventatives. Your new canine friend will come home well-socialized and adjusted, thanks to the breeder's intense training and socialization program.
Sheepadoodle Breeder Information:
4. Doodles of Vermont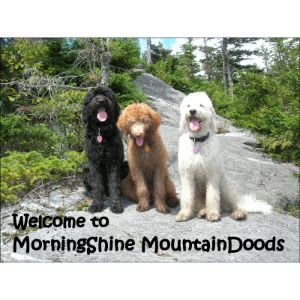 Our final addition to our list of the best Sheepadoodle breeders in New Hampshire is Doodles of Vermont. Doodles of Vermont pays a lot of attention to its breeding program, ensuring every litter produces the best puppies possible.
Health and quality traits are the key areas of this breeding program. Previous customers testified of not experiencing any significant health challenges with their puppies.
Doodles of Vermont produces various sizes of Sheepadoodles – mini, standard, and medium. Their puppies are also available in multiple coat colors, giving you the option to choose a color of your choice.
Customers undergo a little scrutiny while buying this breeder's puppies, as they want to ensure they go to the best families possible. Doodles of Vermont has been in this breeding industry for over 20 years, and they know the nitty-gritty of raising, training, and socializing doodles.
Sheepadoodle Breeder Information:
Conclusion For Best Sheepadoodle Breeders In New Hampshire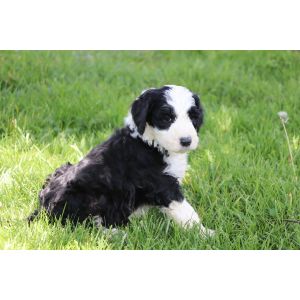 There is no doubt that Seepadoodles are hard to resist. Their fluffy ears and wagging tails might capture your heart at first glance. This good-natured, shaggy breed can be your dream dog but only when you buy it from the right breeder.
You must look beyond the puppy's appearance and get it from the best breeders in the state. Ask questions to find out the breeding process of the dogs, health reports, etc. You can rely on the breeders listed here for the best quality puppies in New Hampshire.
You will also like: