Looking for the best Labradoodle breeders in Mississippi? Well, you'll be me with a playful and protective new member of your pack. A Labradoodle might be a good option for you! Labradoodles are the result of crossing a Labrador retriever with a poodle. They're wonderful family dogs that are known to be low-shed animals, making them great for families with allergies.
Other articles you would like: Cockapoo Breeders in Mississippi and Best Goldendoodle Breeders In Mississippi
Labradoodle Puppies In Mississippi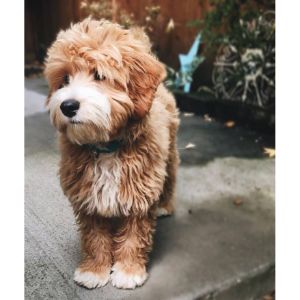 If you're in Mississippi and are considering a labradoodle, you'll need to ensure you're adopting a puppy from a responsible breeder. Puppy mills should be avoided at all costs, because of their reputation for the poor care they provide to dogs.
We've put together a list of the best labradoodle breeders in Mississippi. These breeders are dedicated to providing the best care possible so that your puppy has the best chance at living a happy, healthy life.
1. Barksdale Labradoodles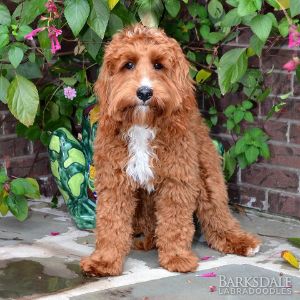 Barksdale Labradoodles is a family-run business that specializes in the Australian labradoodle breed. Husband and wife team Al and Jaqueline Gordy have been raising Labradoodles for many years, and they've been successful in raising both companion and service dogs.
If you're interested in adopting an Australian labradoodle from Barksdale, you'll first need to apply. The application fee is $500, and you'll need to place $250 down to be placed on the waitlist for a dog. The total price for your dog depends upon the pup's characteristics but is typically between $2,650 and $2,850.
Your puppy is sold as a companion or service dog only; you'll need to sign a spay or neuter agreement as a part of your adoption contract. If you're in search of a therapy dog or a service dog, be sure to communicate this with the breeder ahead of time, as only around 10 percent of dogs have the temperament for this type of training.
Labradoodle Breeder Information:
2. Dawson Creek Australian Labradoodles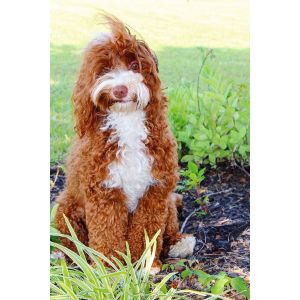 Dawson Creek is another kennel specializing in Australian Labradoodles. They're another small family-run business, but this kennel utilizes a guardian program. That means that dams are housed with families around the local area, are bred once or twice in their lifetime, and then are retired to become family pets.
The kennel frequently seeks guardian families – if you're interested in the opportunity, the application is available on the kennel's website. Should you decide to take the "traditional" route to adopt your dog, you'll first need to fill out an application. Once you're approved, Dawson Creek will ask you to place a $500 deposit to reserve your dog. The full price for a dog is $2,950.
Your puppy will be vet-checked, vaccinated, dewormed, and microchipped when it's time to go home with you. He or she will also come with ALAA (Australian Labradoodle Association of America) registration and a two-year health guarantee.
Puppies are sold as companions only. Unless you're accepted into the guardian program, you'll need to spay or neuter your dog if other arrangements have not been made with Dawson Creek.
Labradoodle Breeder Information:
3. Ruby's Doodles of Mississippi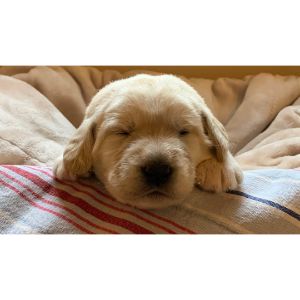 Ruby's Doodles of Mississippi is the next labradoodle breeder on our list. This kennel is located on the Gulf Coast, and they specialize in producing quality, healthy labradoodle puppies. Puppies are bred from AKC-registered dams and sires that have been genetically tested for health and temperament.
Because Ruby's Doodles is a small-scale breeder, you'll need to check the website frequently for upcoming and available puppies. It's a good idea to put your name on the waiting list as early as possible to avoid a long wait for your dog.
Pricing of deposits and puppy prices may vary based on the litter, the dog's characteristics, and other factors, so contact the kennel directly when you're ready to adopt.
Pups born at Ruby's Doodles will have been checked out by a veterinarian and will have been vaccinated and dewormed as is age-appropriate. Speak with the team at Ruby's about your responsibility to spay or neuter your dog. Most dogs are sold as companions only.
Labradoodle Breeder Information:
4. Stony Brook Australian Labradoodles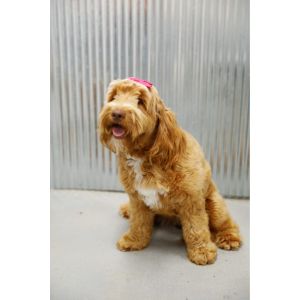 Stony Brook Australian Labradoodles is situated on 12 acres of land in northern Mississippi and is named for the brook that runs through the property.
Your puppy will have ample opportunity to explore the brook, chase squirrels, and explore the great outdoors before coming home with you! Puppies will also socialize with the kennel team's eight grandchildren, making them family-friendly furry friends.
Stony Brook operates off a waiting list, so if you think you're interested in a labradoodle from this kennel, contact them as soon as possible. There are only one or two litters produced each year, and adoption is offered on a first-come, first-served basis. The reservation fee is $500, which is deducted from the total cost of $2,950. Pups cost the same regardless of sex.
Stony Brook is a member of the Australian Labradoodle Club of America and is recognized as "excellent" by the Good Dog community. Your puppy will be tended to for health and for socialization; he or she will be vaccinated and dewormed by the time it's time to go home with you.
Labradoodle Breeder Information:
5. Australian Labradoodle Club of America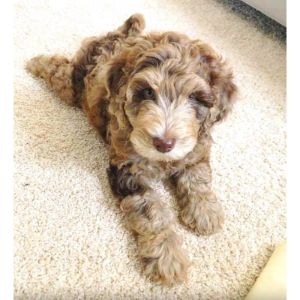 The Australian Labradoodle Club of America is a great resource to look to if you're considering adopting a labradoodle in Mississippi. The information within the website will help you decide whether these doodles are the right breed for you, and will also help direct you to reputable breeders in your area.
The ALCA allows breeders to list puppies for sale; you can filter dogs by state and then contact kennels directly. You'll find listings in Mississippi as well as neighbouring Alabama and Louisiana – there's almost certainly a puppy that's local to you!
ALCA breeders adhere to a Code of Ethics in breeding and raising dogs. You can feel confident that your puppy will come from a happy and healthy home, and that he or she will be well-socialized. Always interview kennel staff before putting money down on a dog, as kennels may not be frequently inspected.
Labradoodle Breeder Information:
6. Crockett Doodles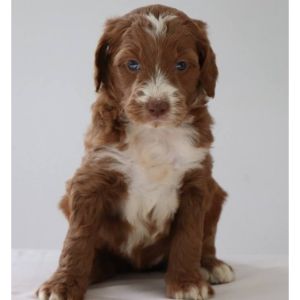 We love Crockett Doodles because they're a prolific breeder of healthy, quality puppies but the kennel has a family-run feel to it. This group specializes in quite a few doodle breeds, and you can almost always find a labradoodle available for adoption that you'll fall in love with instantly!
Crockett Doodles is not a Mississippi-based breeder. The kennel is located in Greenville, South Carolina, and has made its business – literally – to provide wonderfully healthy and socialized pups to families across the United States. Shipping and delivery of pups are available for a flat fee depending upon your zone – MS residents will pay $399 for ground delivery and $849 for air. 
Your puppy will come with a health guarantee and will have been vet-checked prior to going home with you. You'll be required to place a deposit on your dog, and the price will vary based on characteristics. For instance, the "base price" for your pup is $1,000 to $2,000, with additional fees for variations in size, colour, and gender.
Labradoodle Breeder Information:
7. Southern Pines Animal Shelter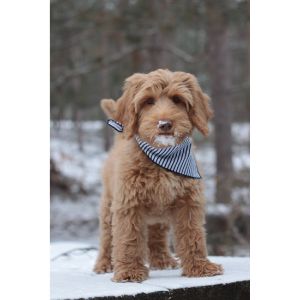 Adopting a new puppy isn't the right choice for every family. If you feel that you don't have the time to spend training a brand new pup, why not consider rescuing a dog from the animal shelter? Southern Pines Animal Shelter is just one of many in Mississippi where you can find a labradoodle – we chose this facility because of its great reviews in dog care and customer service.
Adoption fees at this shelter are based on a sliding scale, with "highly desirable" breeds costing slightly more than, for example, a dog whose breed has not been identified. Adopting an adult dog is a good option for older adults or busy families; the adoption fees for older Labradoodles are slightly lower at Southern Pines than the fee for younger ones.
All pets will come up to date with veterinary treatment appropriate to their age and will be spayed or neutered.
Labradoodle Breeder Information:
Conclusion For Best Labradoodle Breeders In Mississippi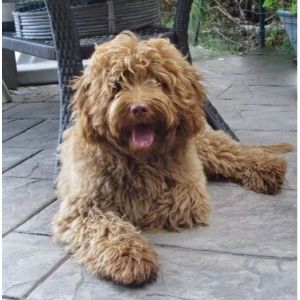 Labradoodles are a designer breed that has gained popularity among American families. If you feel that a labradoodle puppy – or adult – is a good match for your household, check out the breeders on this list. They are responsible and reputable kennels that care for the health and well-being of the puppies they produce, and they strive to match their quality puppies with their forever homes.
You will also like: